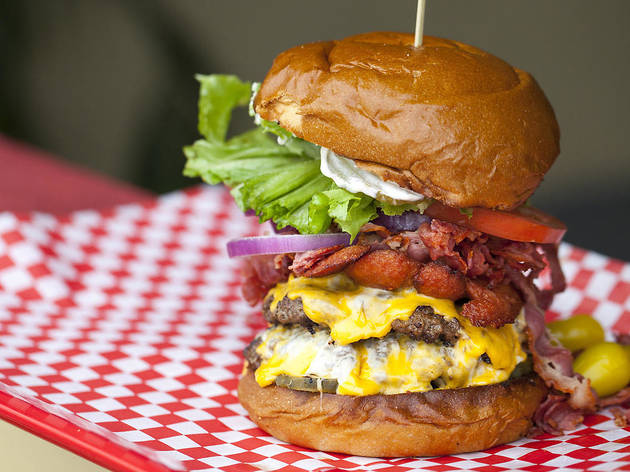 10 Black-owned businesses in L.A. to celebrate for Black History Month
They're Black-owned small businesses and unapologetically amazing
As Los Angeles and its residents continue to experience its share of challenges in the current climate, there's one thing that's clear: Black businesses are pushing against the odds. Amid all of the continuously rising obstacles, there are a handful of Black bakers, creatives and stores in Los Angeles that are either just opening or still standing firm while also positioning their products and services to the greater community at large. From an apparel company to a sandwich shop and from Pasadena to Long Beach, here's a list of 10 Black-owned businesses that are braving the uncertainty of 2021—and who you can support just in time for Black History Month.
10 Black-owned businesses in L.A. to celebrate
With few Black-owned beauty stores in Los Angeles, seeing the doors of BEAUTYBEEZ open is refreshing. Run by Brittney Ogike, the store sells hair and beauty care items while celebrating Black individuality in their brick-and-mortar location and online. Visitors to the shop can find tried-and-true products, explore new brands and grab items that are hard to find anywhere else (I'm talking about you, Black Girl Sunscreen).
Quelling the nag of your sweet tooth might be hard, but give in with Butter Bakery. Based in Pasadena and run by revered L.A. baker Devonna Banks, the online-order shop creates eye catching and mouthwatering confections. Her custom-made cakes are inherently opulent and her bars are undoubtedly sinful. However, it's her cookies that garner repeat business. Try her signature Crownies (a chocolate chip cookie and brownie hybrid) to experience a treat that will raise the bar for cookies forever. Toodaloo, Oreos.
Ask anyone who makes the best burger in Los Angeles and a simple question may spark a never-ending debate. Regardless of the answer, Hawkins House of Burgers is likely sitting comfortably toward the top. Run by Cynthia Hawkins, the restaurant is a community staple thanks to classic burger combos that won't break the bank—as well as the Instagram behemoth that is the Leaning Tower of Watts. Hawkins has operated for decades and their menu is a testament to why.
Finding authentic Jamaican food in Los Angeles can feel like you're Goldilocks. Step into a few restaurants, try the food and time after time it's just not right. That's not the case with The Jerk Spot. The unassuming strip mall eatery doesn't focus on aesthetics and design but places sole significance on quality and delicious food. Looking for jerk chicken, festival (reggae bread), plantains and D&G that tastes like what you would get in Kingston? They have it.
The Westlake neighborhood received a great addition thanks to the arrival of LaRayia's Bodega. The modest grocery store founded by LaRayia Gatson is a wellness oasis on West 6th Street. One of L.A.'s few bona fide bodegas, the store encourages healthy eating with a supply of vegan and vegetarian food, and natural items like vitamins and sea moss are always in stock, too. To help the surrounding community, Larayia's maintains a grocery section that sells familiar brands and baked goods at highly affordable prices.
Nestled just off of West Pico Boulevard on South Redondo Boulevard is Little Amsterdam Coffee. The shop, owned by Josh Mock, expertly blends drinks made of addicting flavors. The Amsterdam Latte, a secret mix of ingredients to which only friends are privy, carries a taste unmatched by any of the major coffee franchises. While their drinks can turn strangers into fans, their community efforts turn fans into loyalists. Little Amsterdam Coffee actively promotes local artists, coordinates school supply donations and hosts a community fridge of free healthy goods.
If exercise is a goal this year, then a gym that's dedicated to your success is paramount. Black-owned fitness center The Method makes working out—dare we say—enjoyable. Motivational art decorates the space, club lights illuminate your session and a steam room helps with recovery. Additionally, there are classes for any interest. Whether it's boxing with Gift Davis, full-body training with Nadège Ndjebayi or Muay Thai with Jojo Kim, a commitment to The Method will lead to results.
At the intersection of cozy and style comes Pasadena CLSC, an apparel company started by graphic designer Dennis Robinson with messaging that resonates. Dennis, who boasts a direct lineage to trailblazing baseball player Jackie Robinson, has created a clothing company that uplifts the Black community, instills creativity and promotes the city of Pasadena. When not busy producing clothing, Pasadena CLSC holds donation drives to bring gifts to local families. Ultimately, it's apparel and community giving at its finest.
In the midst of the pandemic, Drake Woodson bet on himself and opened a vintage camera store. His bold move has hatched a store for enthusiasts called Relics where visitors can find beautiful and fully functional Minolta, Canon and Olympus cameras amongst others. Designed to attract buyers interested in nostalgic film cameras, his store is a nod back to the days of 35mm film. For anyone picking up a photography hobby this year, get a Relic.
Serving stacked sandwiches with healthy ingredients can be difficult, but not for The Sammiche Shoppe. Owner Willie Jenkins combines his passion for offering quality food for the Black community with an ode to his grandmother (he named his restaurant after her pronunciation of "sandwich"). The spot has a menu of health-conscious sandwiches grounded in flavor, like the air-fried Lucy Mae Chicken Sandwich. To further serve the community, the shop regularly partners with local organizations to feed those impacted by Covid-19.