Silver Lake, Los Angeles: The ultimate guide to the neighborhood
Here's where to eat, drink and explore in the trendy L.A. neighborhood.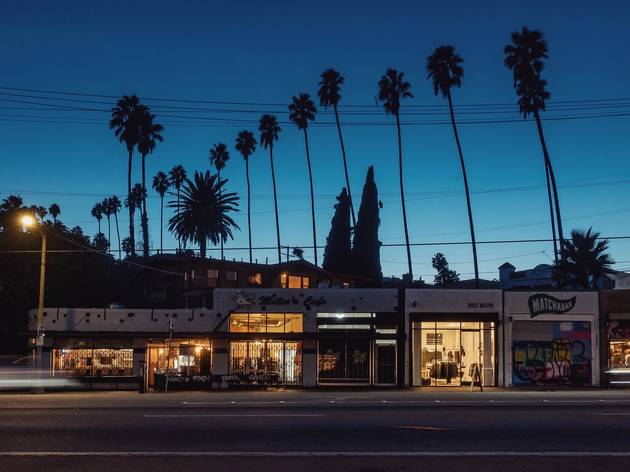 What's the deal with Silver Lake?
Silver Lake has persisted as one of L.A.'s trendiest neighborhoods thanks to a wealth of boutique shops and an ever-growing dining scene filled with leafy outdoor patios, coffee shops that take their beans very seriously, and one notably cool old-school tiki bar. Maybe it's maintained that status a little too comfortably, though: Bits of its mom-and-pop vibes remain, but the neighborhood's become increasingly crowded with high-end wellness brands and multi-million-dollar homes.
Where exactly is Silver Lake?
You'll find Silver Lake centered around its namesake reservoir, tucked between the 5, 2 and 101 freeways and in a relatively hilly area. Its other borders are hazier, though Hoover Street and Hyperion Avenue generally mark the western edge.
What will you find in Silver Lake?
A mix of patio restaurants, boho-chic bars and increasingly-upscale boutiques mostly along Sunset Boulevard, with Sunset Junction (where Santa Monica Boulevard terminates) being the closest thing the neighborhood has to a walkable center. Oh, and a lake—technically a reservoir.
If you only do one thing
Silver Lake Reservoir. You can run around it, picnic next to it or take your dog to play near it. And just down the street, you'll find a particularly charming stretch of Silver Lake Boulevard dotted with places to dine along the sidewalk.
Go off the beaten track
There are dozens of public, outdoor stairways scattered around Silver Lake's verdant hillsides. Though some homeowners have tried to prevent open access, make no mistake, these sets of stairs are for public use.
What else is nearby?
Neighbors Echo Park, Los Feliz and Atwater Village are similarly stylish. It's also not uncommon to see people attach the Silver Lake name to some overlapping blocks in Los Feliz, East Hollywood and Virgil Village.
The best things to eat, drink and explore in Silver Lake