April 2018 events calendar for Los Angeles
Plan your month with our April 2018 events calendar of the best activities, including free things to do, festivals and our favorite concerts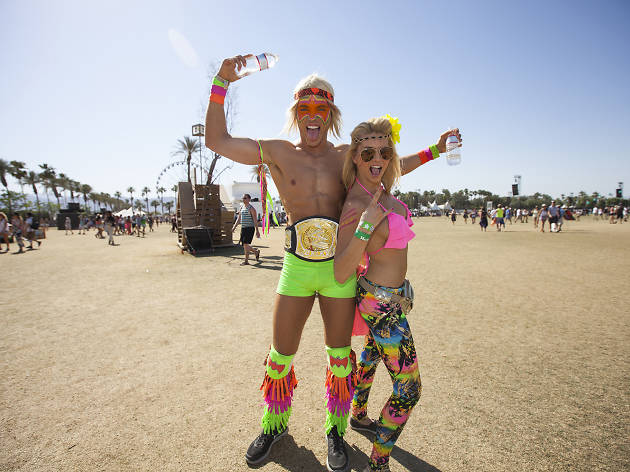 T.S. Eliot may have believed April is the cruelest month, but Angelenos have plenty of reasons to sing its praises: Concerts and festivals in L.A. kick into high gear this month as the weather warms up. A beer fest at L.A. Center Studios, cycling the city streets and our favorite music festival in the desert all have a place in our April events calendar, much-needed rain showers be damned.
RECOMMENDED: Full events calendar for 2017 and 2018
The masters of al fresco rooftop movie viewing are returning for their third season of screenings on the Montalbán's rooftop, and we have the exclusive details. Known for excellent film choices and a steady supply of snacks and booze, Rooftop Cinema Club is your snazzy, comfortable and less stressful alternative to other outdoor movie screenings. Taking full advantage of the Montalbán rooftop's beautiful city view, RCC promises to offer some of the most unique and incredible movie-going opportunities for film lovers throughout 2017. You don't even need to bring your own blanket or camping chair—Rooftop Cinema Club provides you with your very own comfy lawn chair, as well as blankets on request for the ultimate cozy experience. And instead of listening to the movie over loudspeakers, you'll get a set of wireless headphones so you never have to miss a word. The series is packed with a wide selection of audience favorites, kicking things off in April with Blade Runner, and carrying on with classics like Back to the Future and recent hits, including Moonlight.  The first batch of tickets is on sale now—click below to purchase general admission tickets for $19 or brand-new Rooftop Love Seats for $29. Doors open at 6pm each night and screenings begin at sunset. See you on the rooftop!
Book now
Read more
Brace yourself for the latest pop-up to completely dominate your social media feeds. The Museum of Ice Cream has arrived in Los Angeles, with 10 colorful themed installations spread across an airy warehouse space. You'll find the New York export at 2018 East 7th Place in the Arts District from April 22 until May 29. Find out more about it in our first look.
Book now
Read more