Heads up! We're working hard to be accurate – but these are unusual times, so please always check before heading out.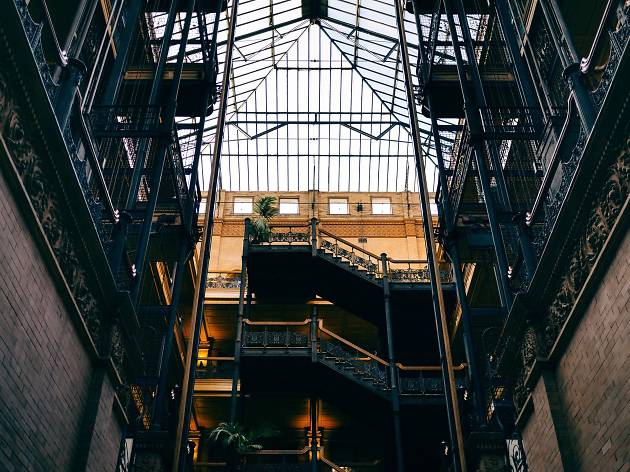 'Blade Runner' filming locations in L.A. that you can visit
Step into dystopian L.A. with a visit to these 'Blade Runner' filming locations in Los Angeles
It's 2019 and cop Rick Deckard (played by Harrison Ford) is tasked with tracking down a rogue group of synthetic humans through the streets of dystopian Los Angeles. Maybe that's about all you remember of Blade Runner's plot, but if you've seen director Ridley Scott's 1982 sci-fi classic (or at least, one of the seven different versions cut together) there's likely one aspect you certainly remember: the setting. The film transforms the city into a moody, smoke-and-fire–filled, neon-drenched metropolis where flying cars and floating video advertisements streak across the skyline. Most of those filming locations are still standing today, particularly in Downtown L.A., and you can visit, and even walk inside of, a number of the landmarks (and one studio tour)—which we've gathered below. And if you've never seen Blade Runner? Consider these filming locations a worthwhile tour of some of L.A.'s most beautiful buildings and landmarks.
The beautiful, light-flooded Downtown train depot doubles as the police station in the film. You can't just waltz into the section used for the movie, though; Union Station's historic ticketing hall, a popular filming and event spot, is only accessible through free art and architecture tours held every second Sunday from 10:30am to 12:30pm.
Walk through the archway entrance of this nondescript brick building on Broadway and you're greeted with a stunning, light-flooded alley of wood, iron and brick. You may barely recognize it in Blade Runner, though; blue-lit fog obscures nearly everything but the zigzagging staircases and glass ceiling during the film's climactic showdown with Roy Batty (as well as the creepy, toy-filled hideout for J.F. Sebastian). You'll have to do all of your gawking from the ground floor (and half a flight of stairs) as the rest of the building is private office space.
Blink and you'll miss it, but when replicant Pris goes in search for Sebastian, she finds him across the street from this historic venue, visible in the background of the scene. While you typically can't go inside, the 1917 theater—the first of the Grauman movie palaces—occasionally opens its doors for screenings, particularly during Last Remaining Seats and some off-site Cinespia events.
You won't find Blade Runner's buzzing underbelly in any alleyway in Downtown L.A. Instead, the film's neon-drenched East-meets-L.A. market was filmed on the Warner Bros. backlot. Take a ride on the studio tour and you'll catch a glimpse of this city stand-in.
While you can't actually step inside the Frank Lloyd Wright house that doubled as Deckard's home, that's alright: Only the exterior of the Mayan-temple–like textile block home was shot on location, while the memorably low ceilings of the interior were actually part of an on-set recreation. That said, you can still admire the home from the front gate.
Photograph: Courtesy CC/Wikimedia/Maretta Stiles
On Deckard's drive home, he passes through the unmistakable sparkly sheen of Downtown L.A.'s 2nd Street Tunnel. The white-tiled tunnel connects Figueroa Street with Hill Street and is accessible by both car and bike.