July 2018 events calendar for Los Angeles
Plan your month with our July 2018 events calendar of the best activities, including free things to do, festivals and our favorite summer concerts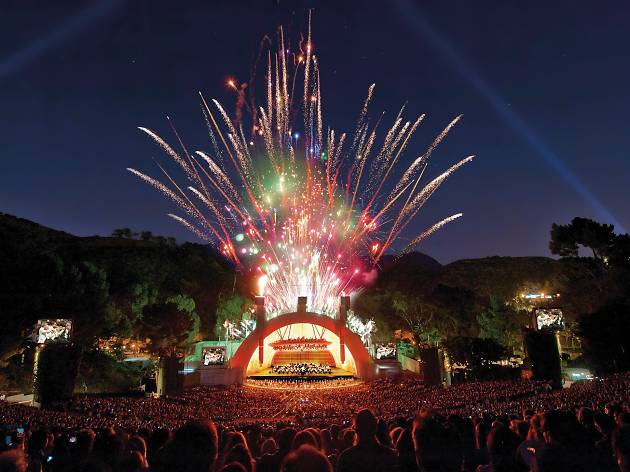 July kicks off the wild, infectious summertime spirit around LA and there's no shortage of things to do. Take advantage of warm summer nights and catch an outdoor movie screening, escape the heat and head for the beach or take an imprompu weekend getaway. Follow our guide to some of the best events and festivals in LA this month—including 4th of July events and parades. And of course, make sure to catch one of LA's excellent fireworks displays.
RECOMMENDED: Full events calendar for 2017 and 2018
L.A.'s all-female new-wave group comes out of semi-retirement for a fireworks-filled Fourth of July.
Read more
AmericaFest at the Rose Bowl is an explosive celebration of all things red, white and blue—from the classic American food, to a motorcycle stunt show, to the world-renowned fireworks display. The fireworks won't shoot off until just before close, but the Rose Bowl will open at 2pm Independence Day, at which time access to a goldmine of inflatable rides, games and crafts will be available for kid-friendly fun. Parking for the event will cost $20, but you can make it worth your while with an afternoon of tailgaiting outside the stadium.
Read more
If you're on the hunt for a cheap, lively way to celebrate Uncle Sam, shake it over to Grand Park, and watch Downtown L.A. light up for free! This Fourth of July, Grand Park hosts a unique block party, featuring scrumptious food truck fare, live music and more. The music begins while the sun is still high in the sky, so bring yourself an all-day picnic—no booze allowed, only empty water bottles—and relax. Your four-legged friends are totally invited, and, best of all, the event is Metro accessible
Read more
Sheer musicianship elevates Primus above a thrash-funk novelty act; Mastodon grinds out an impressively convoluted, amped-up take on prog metal.
Buy tickets
Read more
Just weeks after E3, the Anime Expo takes over the Los Angeles Convention Center for four days of panels, special events and plenty of cosplay. Thousands of fans come to celebrate the quirky art and culture of anime as figureheads and stars of the industry visit to speak and sign autographs. Plus, a massive wing of the convention is set aside specifically for gaming—both electronic and card-based.
Buy tickets
Read more
Durham, N.C. duo Sylvan Esso bring their electro-pop to L.A. Amelia Meath of Mountain Man and electronic producer Nick Sanborn clicked when they met at a bar, which led to a collaborative remix, which led to forming a band, which led to their eponymous debut album on Partisan Records, which led to this show.
Buy tickets
Read more
Eat|See|Hear travels to different locales throughout the city each Saturday during the summer, showing cult flicks on an inflatable HD screen taller than your average Malibu mansion. Bring your own bites or sample snacks from the impressive roster of resident food trucks and show up early for a set from local LA bands. Parking is free at most of the venues, and tickets for screenings at the Autry even include admission to the museum. What's more? If you want to skip the crowds and stroll in casually during the opening credits, spring for an exclusive "Fashionably Late" pass. All of the events dog-friendly, and a portion of ticket sales benefit Best Friends Animal Society in support of NKLA.
Buy tickets
Read more