LA city guide: A tour of Los Feliz in LA's Eastside
Your must-have LA city guide to dining hot spots, celeb hangouts and places to chill in the laid-back Eastside 'hood of Los Feliz.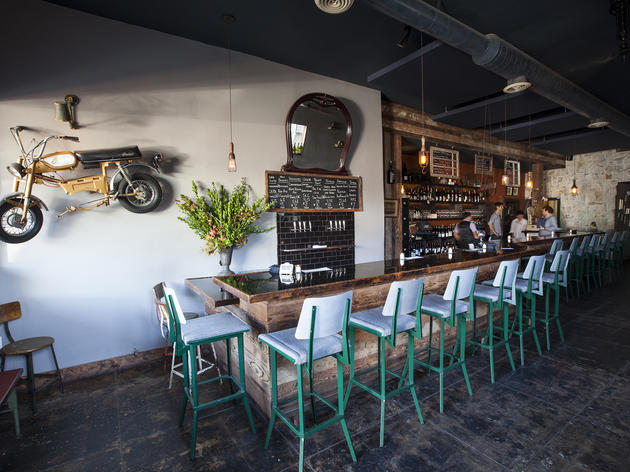 Time Out hit the streets of trendy Los Feliz to bring you the definitive LA city guide. Park once in this Eastside enclave and spend your entire day eating, drinking, shopping and playing. It's also super-close to the kind of special sites and places that invite lingering: have a picnic at Barnsdall Art Park, cruise around the artisanal coffee shops of nearby Silver Lake, hike to the iconic Griffith Park Observatory and Trails cafe or stroll alongside mansion-lined Los Feliz Boulevard. In many ways, Los Feliz is like a home away from home for East Coast transplants, except without the bone-chilling cold and sweltering heat.
Shop
For clothes-horse finds, such as the entire Rebecca Minkoff collection, head to artsy clothing store Confederacy. This 5,000-square-foot space, owned by actor and DJ Danny Masterson and celebrity stylist and former buyer Ilaria Urbinati, features J Lindberg, 3.1 Phillip Lim and Dior vintage. The '40s-inspired store imbues chic with high ceilings, refurbished redbrick walls and vintage telephone booths that serve as dressing rooms. A small outdoor courtyard is nestled between the front (women's) and back (men's) portions of the store. Across the street, Hotel de Ville, vintage eyewear stocks old-school couture sunglasses (think: Christian Dior) and hard-to-find brands in addition to newer items like its namesake collection made in France. Snapped your shades at that outdoor concert festival? This is the place to repair and restore glasses. There's also a selection of men's bow and skinny ties, Converse All Stars, flannel shirts and Levi's—to help you blend in with the local hipsters.
For custom leather goods, check out Jackie Robbins Leather + Jewelry. Hear those sewing machines buzzing and clacking away? That could be your new handbag being born. If you've vowed to never wear anything with a face, Carol Young's Undesigned shop—featuring sustainable clothing, shoes and jewelry—houses a variety of funky, vegan shoes and her Los Angeles–produced collections are made of organic cotton, soy, hemp, microfibers and bamboo materials.
Check out the discounted designer items (find A.P.C. sundresses and Band of Outsiders button-down shirts) at the only Steven Alan Outpost on the West Coast. For whimsical gifts, purchase a jewel-box card (a greeting set inside a jewelry box), handmade dolls, candles, stationary or a mystery bag filled with random items (such as a Chinese finger trap, fortune telling plastic fish and a plastic spider) at Spitfire Girl. Known for its nifty way with wood, the shop creates unique stationery, greeting and postcards printed on thin sheets of wood, offering a sustainable alternative for the too-cool-for-Hallmark set.
Vintage-inspired looks can be found just off Vermont Ave, at local favorite Una Mae's, which carries an eclectic mix of vintage and modern dresses, Tees and threads. The light-filled shop has gift items such as notebooks, bath products, scented oils and jewelry made by local artisans. The giant Squaresville around the corner is a vintage mecca. This two-story shop reeks of incense and mellow days, even though it's filled to the brim with tight racks of clothing, shoes and accessories, including '70s-inspired floor-length gowns and vintage designer garb.
For kids' clothes and gear, the posh-meets-hip La La Ling can't be beat—its pricey selection embodies the neighborhood's rock & roll vibe. Pick up vintage-inspired Beatles, Rolling Stones and NPR logo T-shirts and onesies for the fashionable toddler in your life, as well as design-minded and musical toys that'll please discerning arty parents. A chalkboard wall in the back keeps the kinder busy while you shop.
Eat & Drink
Drop by one of the largest locations of the famed Umami Burger chain and see what all the fuss is about. We suggest you bite into a towering carnitas burger, made with fresh ground pork, guajillo sauce and jalapeño sour cream ($12). Unique to this location, the burger is inspired by the taco stands found on almost every street corner. Which, if we had to pick one, we'd go next door to Yuca's, a dine-in James Beard Award–winning restaurant with a stand-alone taco hut just a few minutes away on Hillhurst Ave. The popular Cochinita Pibil (a Yucatan-style pork cooked in banana leaves) can be served in tacos, tortas, burritos and more.
For pizza, we love Mother Dough, where Neapolitan pies are loaded into a piping hot Sicilian oven and cooked for less than a minute each. The industrial-chic dining room (wooden oak tables, Edison bulbs) is open for dinner-only at 6pm. About the dough: it's freshly made each morning at 6am by owner Bez Compani. Little Dom's, features American-Italian comfort food in a lodge-like setting. Take a seat at the vintage wooden bar and order a nostalgia-inducing Grand Dad's Lemonade (Old Grand Dad bourbon, lemon, clover honey and thyme) or the Latino-inspired Esposas de Oro (Ilegal Mezcal Reposado, Cazadores Anejo, Bianco, Castilian bitters). For kitschy romantic dining, cozy up in one of the red leather booths or dine al fresco in the enclosed sidewalk patio.
For romantic ambience without the kitsch, head to local wine bar Vinoteca Farfalla, for more than 200 wines by the bottle and 45 wines by the glass, plus a dependable menu of Italian- and Brazilian-inspired small plates. Night owls and lounge lizards converge at Bar Covell, a dimly lit wine bar and man cave (a vintage motorcycle hangs on the wall) that pours a rotating list of wines in a sleek, laid-back atmosphere. There are several comfort food favorites (a melty croque-monsieur) that pair nicely with any pour. Looking for people-watching with your mussels? The iconic French bistro Figaro Bistrot offers street-side table service in a Los Feliz–meets-Paris setting, from the French writing on the windows to the buttery croissants, macarons and petit financiers in the pastry case.
For more casual cafe culture, walk over to Hillhurst Ave and sit at one of the five small tables inside the family-run Cafe Los Feliz. The pastries are mouth-watering, the flaky croissants come in savory and sweet, and the freshly brewed French coffee is a perfect pairing. The moist hazelnut teacakes taste like mini Nutella muffins. Down the street, the roomier Alcove Cafe & Bakery offers a large, shaded garden patio with mismatched tables and chairs, and an extensive breakfast, lunch and dinner menu serving organic items. Pull up a stool at the bustling Alcove Big Bar for a handcrafted cocktail made with freshly squeezed juices and homemade syrups. Save room for dessert—there are a variety of cakes, cookies, cupcakes and packaged chocolates (red velvet milk chocolate and dark chocolate mimosa). The long line to order is worth the wait—and cashiers may even give you a cool glass of iced tea to help ease your pain.
Back over on Vermont Ave, edgier locals and curious tourists dig Fred 62 for retro American dining. Sit at one of the vintage-car booths or alongside the '60s-inspired ice cream fountain and sip on milkshakes poured into tall glasses. The menu offers whimsically named items like The Bearded Mr. Frenchy (corn flake–crusted French toast) and the Punk Tart (a pop tart with ice cream), as well as diner fare like chicken pot pie. Fred 62 has been open since 1962 and is one of the last remaining local spots that's open 24/7. Up the street, longtime Los Feliz mainstay House of Pies, serves a variety of freshly made pies (favorites: Bavarian chocolate banana cream, flakey butterscotch and the popular strawberry), available by the slice.
Play
Local landmark Wacko Soap Plant, more commonly known as "Wacko's," is a psychedelic-inspired shop that first opened in 1971 as a family-run store selling handcrafted soaps and scented oils. It's evolved since then to a hideout for local hippies and punkers looking for junky and collectible books, greeting cards, toys, bobble heads, vintage candy, posters, plush pets, taxidermy, fossils, action figures and more. The store also houses an art gallery in the back, La Luz de Jesus, which hosts opening receptions and first Friday events that draw in the locals.
For literary outings and readings, visit the iconic Skylight Books, one of the city's most successful independent bookshops, kept strong by its fervent fans. A handpicked selection of titles from local authors shares space with locally published literature, zines, graphic novels and ubiquitous best sellers. The knowledgeable staff can answer your questions while giving you a detailed account of their favorite reads. With a central skylight, wooden beams and high ceilings, this light-filled airy bookshop is a peaceful escape. Pick a book and read on the wooden bench surrounding the indoor tree and the shop's resident cat, Franny, might just curl up beside you.
At the end of your day in Los Feliz, slouch toward the infamous Dresden Room restaurant commonly known as "the Den." (Check its memorable cameo in Swingers.) Cozy up with a date in a large white booth in the lounge for live jazz entertainment by Marty and Elayne—the musical couple has been performing here five nights a week since 1982. Sip the specialty Blood and Sand cocktail (made with scotch, vermouth, cherry liquor and freshly-squeezed orange juice) and unwind at this local mainstay. The popular open mic sessions are held every night of the week and the Dresden Room's Facebook page keeps a full schedule and details.
Why I love Los Feliz...
See what locals love the most about Los Feliz's creative culture.
Lisa Sprouss, saleswoman at Hotel de Ville and former local resident
"There's a very relaxed energy here. On Saturdays, we'll even close up shop to go have dinner at Mexico City and then just come back and reopen when we're done."
Bez Compani, chef-owner of Mother Dough
"I lived up the road from here for 10 years when I was a bachelor, before I got married and had children and had to move away. So when I was looking for a place for my restaurant, I knew I wanted Los Feliz. I'm a low-key guy. I love to go to Daily Donuts, up the street on Franklin, or sit at Cafe Figaro with a glass of wine. I'm intrigued by every store here, from the glamour and chicness of Confederacy to the wackiness of Wacko. My son even got his first haircut at Sweeney Todd's Barber Shop."
Steve Saladino, manager at Skylight Books
"It's a very creative, artist community with young families and young adults. Customers hang out here, meet friends, go to the movies next door and get drinks after."