March 2017 events calendar for Los Angeles
Plan your month with our March 2017 events calendar of the best activities, including free things to do, festivals and our favorite concerts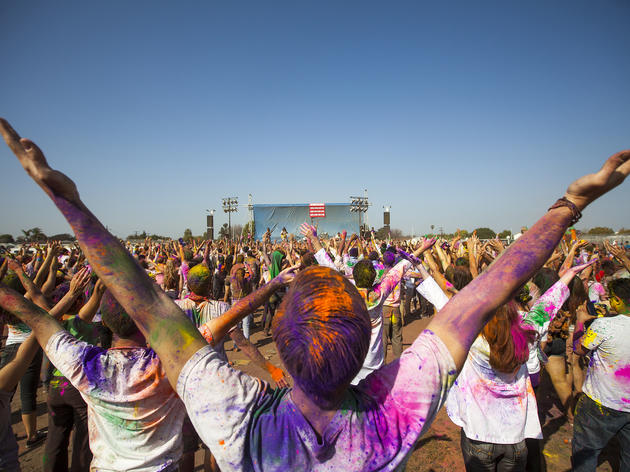 Shed that extra, light sweatshirt—spring is here. Fill your lungs with the sweet, less-smoggy air on one of the best hikes in L.A. or stretch every muscle at a yoga class. Whether you're looking for things to do around town or a weekend getaway to Ojai, there are plenty of springtime happenings to find in our March events calendar.
RECOMMENDED: Full events calendar for 2017
Amid all the mirrored surfaces and hazy ambiguities of Olivier Assayas's bewitching, brazenly unconventional ghost story, this much can be said with certainty: Kristen Stewart has become one hell of an actor. The former Twilight star was easily the standout feature of Assayas's last film, the slightly stilted study of actors Clouds of Sils Maria, quietly yanking the rug from under the feet of Juliette Binoche. Here, Stewart doesn't need to steal the film from anyone: She's in virtually every crisp frame of it, holding the camera's woozy gaze with her own quizzical, secretive stare and knotted body language. Her performance is a galvanizing human influence on the film, even as her character, introverted American-in-Paris Maureen, seems forever on the verge of voluntary evaporation. A haute-couture clothes buyer and general gofer to an insufferable A-list celebrity (shades of Sils Maria, though Assayas is on a very different thematic path), practicing medium Maureen is haunted, in all senses, by the recent death of her twin brother. Stalking his former abode at night, seeking a final communication, she encounters a spirit or two—but whose? And are those insidious, anonymous texts that start invading her phone from another amorphous entity? As Maureen's already fragile composure begins to fray, it's hard to tell if she's plagued by absence or uncanny presence: Even her boss is barely visible, leaving a trail of curt notes and messages in her wake. Among the many things that ap
Read more
The virtue of courage is high up on the list of Disney princess must-haves (just below kindness, beauty and a strapping prince in tight pants). So three cheers for Dreamgirls director Bill Condon and star Emma Watson for having the courage to make a live-action musical adaptation of Disney's adored Beauty and the Beast with 2017 gender politics and a diverse cast. Not only is this new Belle the studio's most feminist princess to date, the update boasts the first (and second) interracial kiss to ever appear in a Disney movie, as well as the first openly gay character. And it's all done with a lovely feeling of integrity. Today's Beauty and the Beast is a lavish pull-out-all-the-stops musical. Watson brings sincerity to the role of Belle, the only bookworm in an 18th-century French village. (Her singing isn't bad either). Luke Evans is hilarious as her sexist meathead suitor, Gaston, whose charming come-ons include: "Do you know what happens to spinsters in the village when their fathers die? They beg for scraps." Josh Gad (who voiced Olaf the snowman in Frozen) is Gaston's adoring sidekick Le Fou. The pair's one-sided bromance is a highlight. Belle's inventor dad (Kevin Kline) is on his way to market when he takes a wrong turn and finds himself locked in the gothic castle belonging to the Beast (Dan Stevens from Downton Abbey, hiding behind a furry face and a CGI-supplanted physique). Of course, the Beast is actually a dashing prince, transformed by a kind witch as punishmen
Read more
"It's morphin' time!" fans will yell, as waves of light explode, color-coded armor creeps onto bodies, and tears of recognition are wiped away. Rarely has a franchise dominated childhoods as thoroughly as the '90s-era live-action Mighty Morphin Power Rangers, devoured on TV and cemented with action figures and toys. Today's grown-up kids aren't ready for the reboot, but they should be: The movie knows to make playground fun out of the material. Set to the suburban backdrop of California's fictional Angel Grove, the story (for those not in the know) follows a rag-tag team of teens chosen to defend Earth from evil Rita Repulsa. What this Power Rangers does—unlike the show—is explore the complexities of our core team: They're imperfect but perfect enough to be selfless and save the world. Despite spending the majority of its running time with lead heroes Kimberly (Naomi Scott) and Jason (Dacre Montgomery), the main player of the group is autistic Billy (Me and Earl and the Dying Girl's RJ Cyler), whose enthusiasm and charm are contagious. Kudos to the movie's subversive streak for using a great talent like Bryan Cranston to basically play a gigantic head (Power Ranger mentor Zordon). Bill Hader does justice by robot Alpha 5's iconic squeals while Elizabeth Banks delivers an exaggerated yet powerful villain that should have hit the airwaves 25 years ago: She makes it look like a blast, while devouring gold (don't ask—it's part of her plan). Here, Rita takes a little time off fr
Read more
In the near future, Major is the first of her kind: a human who is cyber-enhanced to be a perfect soldier devoted to stopping the world's most dangerous criminals. When terrorism reaches a new level that includes the ability to hack into people's minds and control them, Major is uniquely qualified to stop it. As she prepares to face a new enemy, Major discovers that her life was stolen instead of saved. Now, she will stop at nothing to recover her past while punishing those who did this to her.
Read more
You can't re-create your past, but you can relive it in your head over and over again, seeing it differently as you become someone new each year, month, week and day. That's the big, trippy idea at the heart of Danny Boyle's T2 Trainspotting, a frenetic but also reflective film about the past colliding with the present. It has some soaring highs and a few lows, but it's never lazy, even if it doesn't match the one-off magic of the 1996 Britpop-era original. Frankly, how could it? T2 sees Renton (Ewan McGregor) arriving back in Scotland from Amsterdam, where he's been working in "stock-management software for the retail sector" ("choose life," indeed) and where his marriage has taken a wobble. Back home, he seeks out childhood friend Spud (Ewen Bremner), to whom life also hasn't been kind in an altogether more devastating way: Drugs remain a constant in this universe. Renton also reconnects with Sick Boy (Jonny Lee Miller), who now runs a blackmail and prostitution racket with business partner Veronika (Anjela Nedyalkova in one of several underwritten female roles; Shirley Henderson and Kelly Macdonald suffer the same fate). The missing piece of the puzzle is Begbie (Robert Carlyle), still seething about being sold out by Renton and who's in prison—but not for long. Perhaps there's just too much going on for the melancholy to fully hit home. T2 works too hard to be both a buzzy, scuzzy revenge story—complete with barroom fights, nighttime chases and low-rent porn scams—and a
Read more
Scope out 130 pieces from 64 artists at this annual juried group exhibition housed inside of the Soap Plant/Wacko complex. You can pick up works from some familiar names as well as largely undiscovered, emerging talent including commercial illustrators, graphic designers, tattooists, scenics, students, street taggers, animators and working gallery artists.
Read more
A horror film with the power to put a rascally grin on the face of that great genre subverter John Carpenter (They Live), Get Out has more fun playing with half-buried racial tensions than with scaring us to death. To some, that will come as the slightest letdown: The movie is a touch too in love with its big idea—that meeting your white girlfriend's parents might be hazardous to your health (even if, as we hear, they "would have voted for Obama a third time"). Chris, a serious young photographer (Daniel Kaluuya), clearly adores Rose (Girls' Allison Williams). Still, their imminent trip out of the city to her family's secluded mansion fills him with dread. That randomly darting deer they smash with their car on the way up doesn't help Chris's fraying nerves, and the way the animal stares him down during its last gasps feels like a warning. Get Out is sharp and cutting during its buildup—you'll never want this section to end—and the addition of two awkwardly ingratiating adults (Catherine Keener and Bradley Whitford) makes a comic meal out of white liberal privilege with every "cool" handshake and turn of phrase ("Hug me, my man!" Rose's dad exclaims, drawing Chris in). Meanwhile, the movie brews a fine tension between the limits of parental largesse and Chris's own independence, while a disquieting number of black servants look on like wide-eyed zombies. The writer-director of these vignettes is Jordan Peele, of the defunct but essential Comedy Central show Key & Peele. Wh
Read more
Through more than 100 paintings and prints as well as dozens of sculptural antiquities, Picasso and Rivera: Conversations Across Time explores how both artists mined their respective ancient cultures. Specifically, it follows the artists into and after World War I, when Picasso began to incorporate Greco-Roman mythology into his painted Iberian narratives and Rivera turned to muralism and Aztec imagery as a means of establishing Mexican unity and identity.
Book now
Read more
Comic-Con International brings its unique brand of super-fandom to Orange County at this annual convention. Comic, anime, gaming, movie and TV lovers can head to the Anaheim Convention Center for three days full of sneak peeks, Q&As, premiere screenings and special guests. And no comic convention would be complete without a costume contest; register by March 17 to participate in the large-scale onstage Masquerade competition.
Book now
Read more
Show more