March 2020 events calendar for Los Angeles
Plan your month with our March 2020 events calendar of the best activities, including free things to do, festivals and our favorite concerts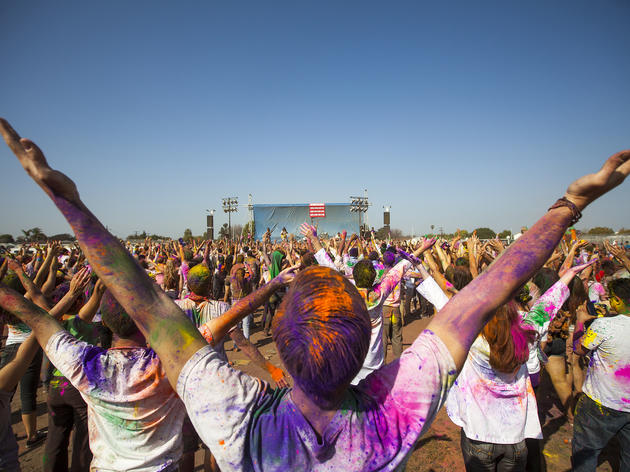 Shed that extra, light sweatshirt—spring is here. Fill your lungs with the sweet, less-smoggy air on one of the best hikes in L.A. or stretch every muscle at a yoga class. Whether you're looking for things to do around town or a weekend getaway to Ojai, there are plenty of springtime happenings to find in our March events calendar.
RECOMMENDED: Full events calendar for 2019 and 2020
Time Out loves
St. Patrick's Day in Los Angeles takes a little bit of planning—as far as drinking holidays in a car-centric city go—but with our guide, you'll be toasting the Irish in no time.
You've undoubtedly been bombarded with the same tired questions from non-Angelenos: How do you celebrate Christmas without snow? Don't you wish you had real seasons? With unwelcome weather patterns out of the equation, we like to think that LA's amazing events set milestones for us to look forward to. From homegrown festivals like FYF, CicLAvia and LA Pride to blockbuster bashes like Coachella, we've rounded up our favorite events throughout the year. Whether you're looking for something to do today, this weekend or in the coming months, look no further than our Los Angeles events calendar.
Selling Fast
Things to do
Glendale Galleria, Glendale
Come on down to the Glendale Galleria and try to escape the foul-mouthed fourth graders' least favorite spot—the classroom—in this official South Park-inspired escape room.
Theater
Pantages Theatre, Hollywood
L.A. once again gets its shot at Broadway's hottest ticket, Hamilton. The hip-hop historical hootenanny by Lin-Manuel Miranda (everything winner for In the Heights) uses several musical genres to craft a totally unexpected look at the Founding Fathers and the creation of America… though Miranda has said, "We take it as a given that hip hop is the music of the Revolution." There's British pop (for King George), soul, modern girl-group groove and a full-on rap smackdown about the role of the federal government between the first secretary of the treasury (Alexander Hamilton) and Thomas Jefferson himself.
Theater, Circuses & magic
Dodger Stadium, Echo Park
In its newest show, the French Canadian megatroupe Cirque du Soleil once again delivers the spine-tingling spectacle that is its raison d'être. Strung together by a gossamer-thin plot, Volta incorporates street-style sports like BMX riding and double dutch jump rope alongside traditional circus arts; its themes include smartphone addiction, reality shows and the search for belonging. Check out our full review of the touring show from when it was in Chicago.
Find out what's happening in April
Free
Things to do, Festivals
Various locations in L.A.,
This fun neighborhood stroll highlights the numerous artists, musicians, shops and galleries of Mar Vista, where huge vivid murals brighten exterior walls everywhere you look. Since launching in 2015, the quarterly event has dramatically expanded, now featuring several clusters of activity along Venice Boulevard. Catch local musicians and performers throughout the evening, artists selling their works as well as creating new ones on the spot, grab food from trucks, and browse galleries and shops that stay open late. The walk takes place the first Thursday of March, June, September and November, each time featuring a different theme and the artists are curated by Monique Boileau and Mitchelito Orquiola.
Things to do, Exhibitions
California African American Museum, USC/Exposition Park
This CAAM exhibition examines the legacy of Carl Jones and TJ Walker's Cross Colours clothing line, an African-American–owned brand that skyrocketed in popularity following its placement in the first season of The Fresh Prince of Bel Air. Expect to see vintage textiles, media footage and rare ephemera.
GYG Los Angeles TTD Attractions