The best pool parties in Los Angeles
You don't have to go to Las Vegas for a pool party, Los Angeles' poolside scene is just as good of a time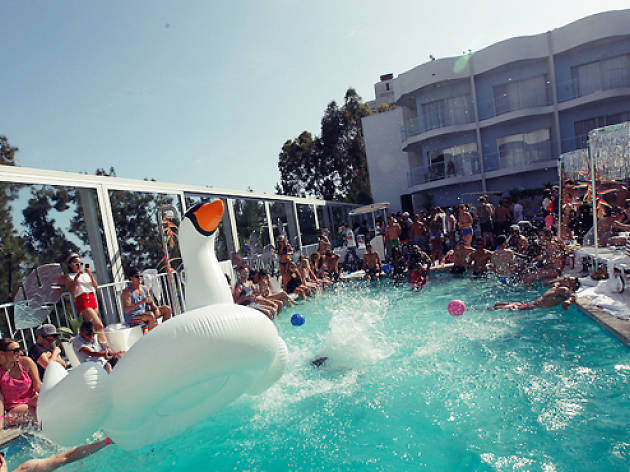 Los Angeles provides a pretty much endless summer, but when the actual season rolls around, you'll find the best of LA's nightlife at the pool. The season officially kicks off with a splash of pool parties thrown at shindig-friendly hotels around town. If you're looking to lounge (or dance) by the pool, music in ear and cocktail in hand, be prepared to arrive early or grab a hotel room the night before, as most parties cap out at 500 people. Of course, the fastest way to a coveted cabana or table space is via bottle service packages, which can run hundreds of dollars, but you'll buy the best seat in the house. Regardless of how you get in, here are some of the best summer pool party options in LA.
RECOMMENDED: Full guide to things to do in the summer in Los Angeles
Our favorite pool parties of 2016
Much like Ace Hotel Palm Springs and its Swim Club, the Mondrian is home to Skybar, a pool and bar that have one of the best views of LA. The pool hosts a variety of pool parties throughout summer, including events by Wicked Delight (Wicked Paradise + Afternoon Delight), Rhondesia (A Club Called Rhonda) and Wavey (The Well Downtown)—all of which take place Memorial Day, Fourth of July and Labor Day weekends. Every Sunday through September, there will be talent on the pool deck from 1-8pm and there will be signature programs like Dive In (a poolside screening series) throughout the week. The pool is closed to the public on Saturdays unless otherwise promoted.
Read more
The Ace Hotel is home to the Swim Club, which hosts a variety of pool parties throughout summer. The pool will host Eat, Drink, Dance, Sleep; Repeat with Hit City; Wine Not and Plan Check during Memorial Day Weekend. The event is free to hotel guests and Swim Club Members. Day passes are available to outside guests for $25, and F&B are additional (listed). Dig Deeper will arrive June 3-5 with ESP Institute
taking place July 16 and 17 and PIAPTK the weekend of July 22-24. Later in the summer, Burger Oasis will arrive at the hotel, from Aug 5-7.


Check prices
Read more
Our favorite pool parties from 2015