Things to do in Los Angeles today
Today's best things to do in Los Angeles—including free and cheap activities, concerts, screenings, shows, parties and more. It's your social emergency savior.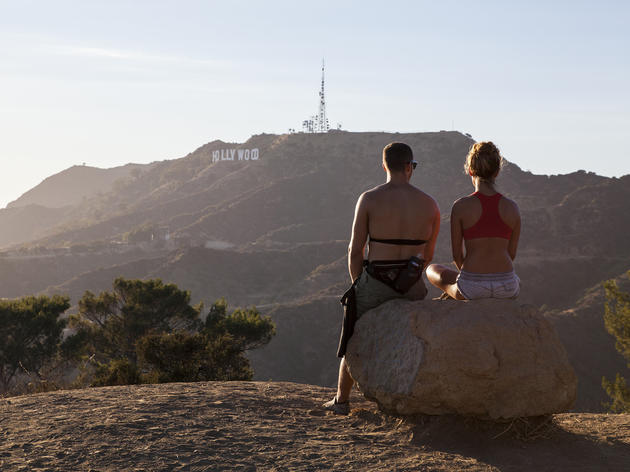 Looking for last minute plans tonight? Figuring out how to impress a date? Find out the best things to do today in Los Angeles with picks for our favorite concerts, screenings, comedy shows and more.
The film version of Paula Hawkins's popular 2015 missing-person novel is taking flak from fans before they've even seen it. First, in a major crime against casting, the role of unstable heroine Rachel is played by Emily Blunt (too skinny, too pretty). Second, the filmmakers have swapped the shabby Victorian terraces of suburban north London for the white picket fences of upstate New York. Yet in finished form, the film's biggest problem isn't either of those things but that, as a thriller, it's stylish but weirdly not gripping. That's a major problem for an adaptation of a book so impossible to put down, you could happily find yourself missing a first date just to get through another chapter (only a slight exaggeration). As it happens, Blunt is perfect as Rachel. Yes, she's gorgeous (to compensate, make-up artists have given her some really chapped lips). But she's convincing as a messy and miserable alcoholic whose daily commute into the city takes her past her old house, where her smug ex-husband Tom (Justin Theroux) now lives with his smug new wife Anna (Rebecca Ferguson) and their baby. Construction on the tracks means that the train Rachel takes every morning often grinds to a stop right outside their house, giving her a direct view of the happy family. A habitual drunk dialer, Rachel is a borderline stalker: In addition to Tom, she's also obsessed with the perfect-looking couple who live a few doors down—and when that other wife vanishes, Rachel turns amateur detectiv
Read more
"Once a major, always a major," a military official tells Tom Cruise's Jack Reacher at the outset of his latest adventure, the title of which sounds dangerously close to its own critical punch line. "You're a legend around here." One wonders if the line was requested by Cruise himself. Even when the chips are down—and as chips go, the Reacher series has never been a high-value coin—Cruise's major, indefinable magnetism proves constant. Which is just as well, since Cruise otherwise barely lifts a finger to elevate Edward Zwick's comfortably rote, '90s-flavored chase thriller above its station. This time, the ex–Army man is on the lam from corrupt elements of his former unit and out to prove the innocence of a younger commander accused of treason (played by Cobie Smulders, not quite living up to her surname but game enough). If Zwick's sequel improves on Christopher McQuarrie's inaugural, incoherent 2012 entry, it's not through any special initiative on the film's part. But it's efficient, unfussy and doesn't try to think any faster than it can run.
Read more
Members (Andre Gower, Robby Kiger) of a monster fan club meet Count Dracula, Wolfman, Frankenstein, the Mummy and Gill Man.
Read more
Casper (voiced by Malachi Pearson) is a kind young ghost who peacefully haunts a mansion in Maine. When specialist James Harvey (Bill Pullman) arrives to communicate with Casper and his fellow spirits, he brings along his teenage daughter, Kat (Christina Ricci). Casper quickly falls in love with Kat, but their budding relationship is complicated not only by his transparent state, but also by his troublemaking apparition uncles and their mischievous antics.
Read more
Friedkin's film about the possession of a 12-year-old girl works as an essay in suspension of disbelief and on the level of titillatory exploitation. Although harrowing, its effects depend entirely on technical manipulation, and with Friedkin's pedestrian handling of background story and supporting characters, we're left more or less willing the film towards its climax. Sure enough, during the act of exorcism the girl obliges with a spectacular levitation. It would all be forgiveable, somehow, if the film was at all likely to alter anyone's perceptions one jot. But all The Exorcist does is take its audience for a ride, spewing it out the other end, shaken up but none the wiser.
Read more
Rafe Khatchadorian (Griffin Gluck) has an epic imagination and a slight problem with authority, and these things collide when he transfers to a middle school where students are expected to follow the rules. This doesn't sit well with Rafe. With help from his new friend Leo (Thomas Barbusca), the mischievous lad concocts schemes to drive his tyrannical principal (Andy Daly) crazy while also using his charm and wits to impress a girl (Isabela Moner) and battle the bullies.
Read more
Comedic rock star Kevin Hart takes center stage in this groundbreaking, record-setting, sold-out performance of What Now?-filmed outdoors in front of more than 50,000 people at Philadelphia's Lincoln Financial Field -- marking the first time a comedian has ever performed to an at-capacity football stadium. The film takes Hart back to his hometown for the culmination of the biggest comedy tour in history.
Read more
Teenager Max McGrath (Ben Winchell) discovers that his body can generate the most powerful energy in the universe. Steel (Josh Brener) is a funny, slightly rebellious, techno-organic extraterrestrial who wants to utilize Max's skills. When the two meet, they combine together to become Max Steel, a superhero with unmatched strength on Earth. They soon learn to rely on each other when Max Steel must square off against an unstoppable enemy from another galaxy.
Read more
Madea (Tyler Perry) winds up in the middle of mayhem when she spends a hilarious, haunted Halloween fending off killers, paranormal poltergeists, ghosts, ghouls, and zombies while keeping a watchful eye on a group of misbehaving teens.
Read more
See more of LA's best screenings