Upcoming concerts in LA
Check out our calendar of upcoming concerts in LA to find out which of your favorite bands have shows in the city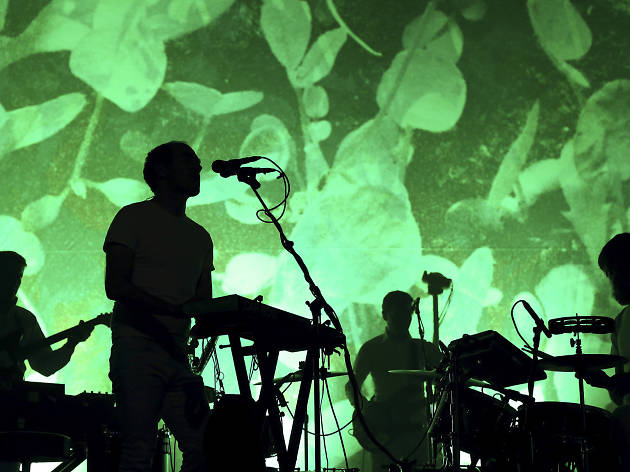 Whether you're looking for local bands or Coachella-caliber headliners, there are plenty of upcoming concerts in LA every night of the week. We've scoured venue listings and scoped out new artists to bring you everything from secret shows on Sunset Boulevard to free concerts. All of the city's best music is right here in our calendar of upcoming concerts in LA.
After years of confronting the typical pop-group problems—quibbling, intra-band romance, addiction, figuring out how to transition away from shoulder pads—Culture Club has reunited—again, after a 2014 tour cancellation. Boy George hit town behind a new solo LP earlier in 2014, but the nostalgia factor ought to make this gig even bigger.
Read more
Though its upstart, anti-establishment edge from its days as "Fuck Yeah Fest" is gone, FYF has come into its own as more than just an also-ran musical festival. A few location changes and growing pains later, the Downtown-adjacent festival has attracted a commuter crowd that seems to grow in number and shrink in age each year. FYF has still managed to keep room for local buzz bands while reeling in (last year's) Coachella-caliber headliners—chalk that up to sharing a promoter—without charting a course for the desert. This year's lineup includes Kendrick Lamar, Tame Impala, LCD Soundsystem, Grace Jones, Air and more.
Read more
The inaugural Ohana Festival will take over Doheny State Beach in Dana Point for two days, with headlining sets from Pearl Jam frontman Eddie Vedder and Lana Del Rey. Saturday's highlights include Elvis Costello, Band of Horses, X and Mudhoney, with City and Colour, Corrine Bailey Rae and Ryan Bingham on Sunday. The fest's name, as Lilo & Stitch fans can tell you, comes from the Hawaiian concept of family, and as such the beachfront festival is staging everything from an environmental exhibition curated by surfer Kelly Slater to a luau night live auction on Friday.
Read more
See more concerts in August 2016
Lekman combines shimmery Afropop guitar hooks, reggae beats and droll, Morrissey-like delivery in a way that comes off as comic and charming rather than annoying and twee. Twas ever thus: The Swedish singer has been making records since the early aughts, gently tapping into the vein of observational, wry humor championed by the likes of Belle and Sebastian and the Magnetic Fields.
Read more
Contrary to popular belief, the grunge supergroup wasn't a Pearl Jam-Soundgarden collaboration; soon-to-be-PJ members Stone Gossard and Jeff Ament formed Temple of the Dog with singer Chris Cornell as a tribute to their former Mother Love Bone bandmate, singer Andrew Wood (who overdosed on heroin in 1990). Though Eddie Vedder sings on the band's hit "Hunger Strike" as well as backgroudn vocals on a few other tracks, he's not confirmed for this reunion tour—though we wouldn't be surprised if he popped up at a few shows.
Read more
The unlucky London group continue their remarkable comeback, after their initial run of success in the mid-aughts was dampened by label chaos and personal tragedy. Here they bring their melodic, epic and—thankfully—nicely understated alt rock to LA.
Read more
Show more
After a wimming performance at this summer Twilight Concerts, this Austrailian three piece takes its dreamy, dance set on the road with a stop at the Wiltern.
Read more
Adored and decried in almost equal measure by the country-rock/alterno-pop community, Bright Eyes main man Oberst steps out solo. Expect songs with clever lyrics cloaked in a sweet wooziness and stripped-back, piano warmth, but also with gritty, kick-ass rockisms and occasional acoustic interludes.
Read more
The Dandy Warhols were never anyone's idea of visionaries—even their best work is steeped in glorious West Coast emptiness. The Portland, OR, quartet once functioned as a dapper sponge, soaking up the culture and funneling various trendy sounds through its drone. In the '90s, this meant paying homage to the '60s; the early '00s brought the band up to Reagan-era pop. Now, the Dandies catch up with contemporary sounds as the newest effort, Distortland, polishes up its songcraft with a modern pop sheen thanks to production flourishes from Jim Lowe (known collaborator with T-Swift and Beyonce).
Read more
Ring in the New Year with confetti, pyro and 30,000 of your closest friends. Nearly 30 dance acts invade San Bernardino's NOS Events Center for this year-end fest, which has now expanded to two nights. This year's lineup is yet to come out, but last year's toast to the new year included the likes of Kaskade and DJ Snake.
Read more
Seasonal concert calendars