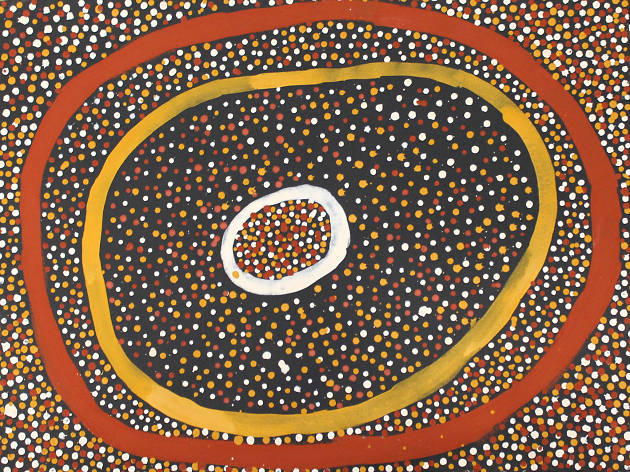 Aboriginal Art
Many visitors want to take away a piece of Indigenous art as a souvenir. But it's not quite that simple, and it pays to do your research
Aboriginal art is no one thing – it's as varied as any other body of art. In the past, the art market has tended to divide it roughly into ethnographic or 'traditional' art (such as the Western Desert 'dot paintings' and bark paintings coming out of the Northern Territory) and contemporary art. But that's a contentious division – partly because of the value, financial and cultural, ascribed to one type versus the other – and the terminology is outdated. A better way to see it is that there's a spectrum of different styles, mediums and materials, all within the scope of contemporary Aboriginal art.
A large proportion of this art is produced in community art centres in Central and Northern Australia, which are home to well-known collectives like Papunya Tula Artists, who spearheaded the Western Desert art movement of the 1970s. These centres are owned and ideally also managed by the artists; buying from them is a guarantee of the authenticity of the work – and that the artist was paid fairly and not exploited by any other middle-man or gallery. If you're not travelling outside Sydney, many of these centres have online galleries where you can see available works. 63 Todd Mall, Alice Springs 0870. 08 8952 4731. www.papunyatula.com.au.

If you want to see pieces from these areas in the flesh, one option is Aboriginal & Pacific Artin Waterloo, which sources directly from reputable community art centres like Tjala Arts in South Australia. Owner Gabriella Roy has been in the business for decades and is respected for both her curation of the gallery and her ethical practice in dealing with the artists. It's one of the few places in Sydney where you can be sure that you're buying authentic, high-quality art at a fair price. 2 Danks St, Waterloo 2017. 02 9699 2211. www.aboriginalpacificart.com.au.
One key problem for artists and buyers of Central, Northern and Western Desert art is the persistence of 'carpet baggers' who buy directly from artists, paying small amounts, and re-sell to Sydney galleries at a large mark up. Unfortunately, even where galleries claim to source their art ethically, it can be hard to be certain. There is an Indigenous Art Code that provides a legal framework for commercial dealings and sets ethical standards; prospective buyers should look for galleries who are signatories to the Code.

Besides this, you should always ask for details of the work's provenance (who made it, where, and when), proof of authenticity (did the artist named actually make this work?) and try and do your own research (if they say they source from an art centre, look up that centre online and take five minutes to check whether it's Indigenous-owned, and whether it does supply to that gallery).
While the tourist art market focuses on works from remote areas, it's worth remembering that Australia's Aboriginal population is predominantly concentrated in Sydney. Bearing this in mind, prospective art buyers might want to check out Boomalli, a not-for-profit Sydney art cooperative formed in 1987 by a group of local artists, including Michael Riley, Brenda L Croft, Tracey Moffatt and Bronwyn Bancroft. Reacting against the media's fetish for 'traditional' or 'authentic' art, Boomalli spearheaded the urban Indigenous art movement in Australia. They continue to showcase work by founding members, emerging artists, and from Greater Sydney and regional NSW. 55-59 Flood St, Leichhardt 2040. 02 9560 2541. www.boomalli.com.au.

RESOURCES

For more information on community art centres in Northern, Western and Central Australia, see:
Association of Central Australian Aboriginal Art and Craft Centres
www.desart.com.au
Association of Northern, Kimberley and Arnhem Aboriginal Artists (ANKAAA)
www.ankaaa.org.au
www.aboriginalart.org
A list of Aboriginal owned and operated art centres in the Top End.

To learn more about Indigenous art, pick up a copy of Hetti Perkins' brilliant TV series Art+Soul on DVD from the Art Gallery of NSW shop.