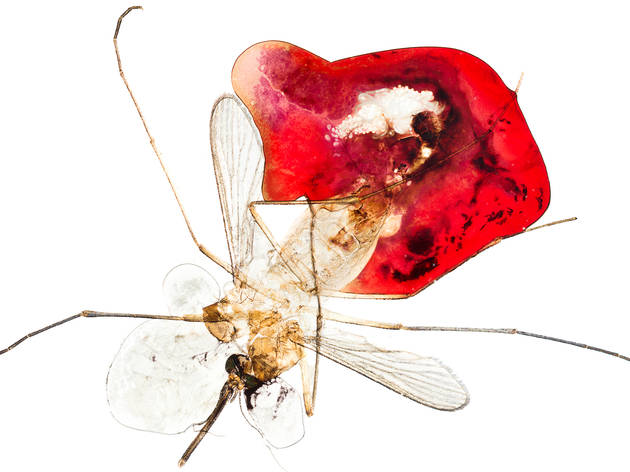 Art and science bleed into one another at Science Gallery Melbourne's first-ever exhibition
The smell of blood is unmistakable. But have you thought about how the metallic scent makes you feel? The first work that visitors will encounter in Science Gallery Melbourne's inaugural exhibition explores this exact question. As the smell hits, cameras will emotion-map visitors' faces, recording their responses. Some faces may register fear; others hunger, calmness, or nostalgia. According to Dr Ryan Jefferies, creative director of Blood: Attract and Repel, this piece – by Australian artists Ollie Cotsaftis and Sarah McArthur – is the beginning of a journey that will encourage visitors to interrogate the many responses we have to the very fluid that keeps us alive.
"Throughout the exhibition there is a constant positive/negative dichotomy," says Jefferies, who was formerly the curator of the University of Melbourne's Harry Brookes Allen Museum of Anatomy and Pathology and has a PhD in infectious diseases. "Blood is crucial for us, but we feel uncomfortable about it, so why is that?"
Blood is the first exhibition for Science Gallery, located at the University of Melbourne. It's the sixth in a series of Science Galleries in cities across the world, all of them tied to universities. The project aims to close the gap between art and science in highly participatory (and at times, confronting) exhibitions, and to highlight the creativity inherent in science in the hope that more young people will pursue scientific careers.
There are 22 works in Blood by artists across the world, selected after a call-out in 2016 and curated by a panel that included an artist, haematologist and cardiologist. Many of the pieces confront taboos and stigma: 'Blood Objects' by German designer Basse Stittgen encourages visitors to pick up and hold sterilised objects made from the blood of people infected with diseases like HIV and Hepatitis B. 'Haem', by Norwegian artist Cecilia Jonsson, evokes the sheer life-giving power of blood viaa compass that is constructed using iron extracted from 69 donated placentas that were chopped up and cooked.
Jefferies has no doubt that visitor reactions to these pieces will vary enormously – but it's no accident that the final work in the journey is a reminder of what we have in common. In 'Pulse Index' by Mexican-Canadian electronic artist Rafael Lozano-Hemmer, visitors will put their finger on a sensor that will image their fingerprints and take their pulse at the same time. As more people participate, thousands of fingerprints will all be projected onto a large wall, beating at different rates. "It's a really nice work to end on, because it's this idea that blood is what makes us individual, but it also connects us all. We all have blood. We're all human."