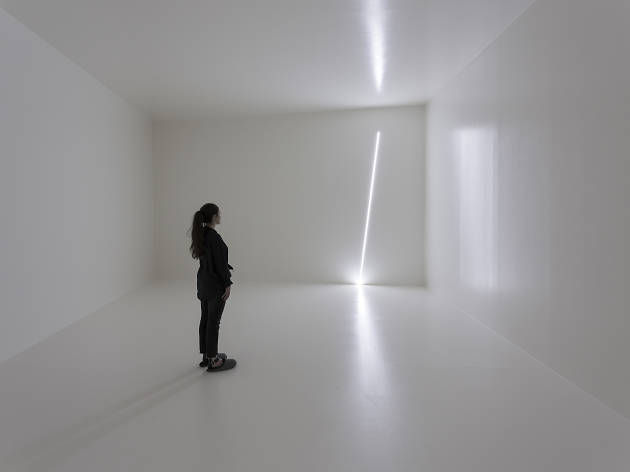 Haroon Mirza is bringing his boundary-smashing art to ACCA
The London-based artist and DJ is making a scene for Melbourne Festival
Unlike many artists who fiercely guard the fruits of their labours by enforcing intellectual property rights, Haroon Mirza wants to loosen the reins of ownership. Since his early years working as a DJ, curating and sampling other artists' work, Mirza has thought the strict copyright laws in western nations are more restrictive than productive.
But last year something happened that made Mirza question his perspective. Fashion label Louis Vuitton rolled out a global campaign of window displays that Mirza says appropriated some of his artworks. The artist was never consulted by the brand and only learned of the campaign when it started popping up in windows around the world.
"I was kind of shocked by it, but at the same time don't necessarily disagree with it," he says. "It's just strange that an organisation of that sort of status – that has that sort of relationship with contemporary art, and commissions contemporary artists, and has a zero tolerance, according to their website, to counterfeiting – would do something like this and then not accept responsibility."
So how did Mirza respond? Instead of considering legal action, he created a series of artworks using Louis Vuitton products called 'Rules of Appropriation', and exhibited them in a 2018 London show.
Mirza's attitude to authorship and intellectual property is reflected in just about every aspect of The Construction of an Act, which is opening at ACCA in September and is billed as Mirza's first solo exhibition in Australia. But Mirza might take issue with the description of the exhibition as "solo".
There are seven works on show, which all use electricity, sound and visuals to challenge your senses. Together, they treat the ACCA galleries like one massive musical instrument.
"The installation of all these works is actually one work," Mirza says. "You have to imagine it as scenography more than an installation of artworks."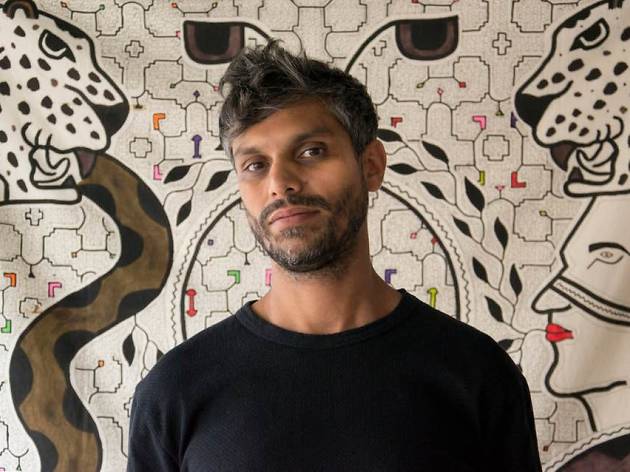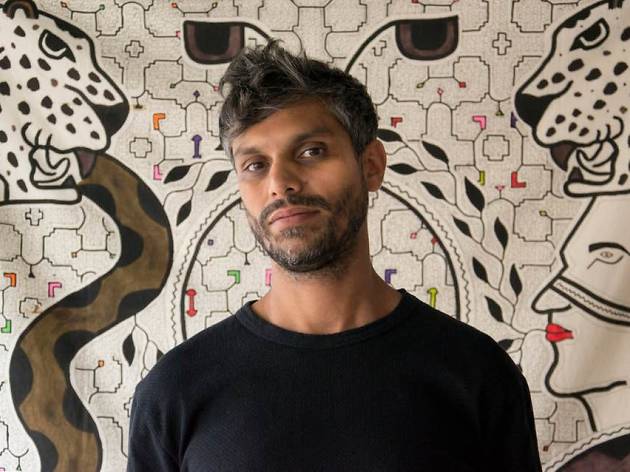 Photograph: Gaia Fugazza
One of the works is a copy of Mirza's 2013 work 'Pavilion for Optimisation', which is a massive reverberation chamber, in which overwhelming sound bounces off every surface. The audio that you hear is amplified and generated live from water crashing from a showerhead and from an ant farm embedded with a live contact microphone. Another is the 2017 piece 'Stimulate Pineal Function', which features a Marshall speaker playing electrical signals at three different frequencies that are superstitiously thought to stimulate the pineal gland.
There's also a brand new work called 'Construction of an Act', which uses a Google home device to respond to pre-recorded video, a strange half-sung recorded interview and electrical signals. Hanging above the work is a chandelier that lights up in concert with the signals, allowing you to see the electricity.
But Mirza's artworks are really only the starting point for the exhibition, which will see a series of artists come into the space and "finish" the show. In the first week, composer James Rushford will compose a score in response to the exhibition. In the second week, London choreographer Julie Cunningham will create a new dance work.
"It's creating a pseudo-opera or a quasi-opera," Mirza says. "But the way that it's made is kind of the wrong way around – starting with the set and the scenography. It's more like the mechanics of opera than it is opera, and about how an opera should not be made."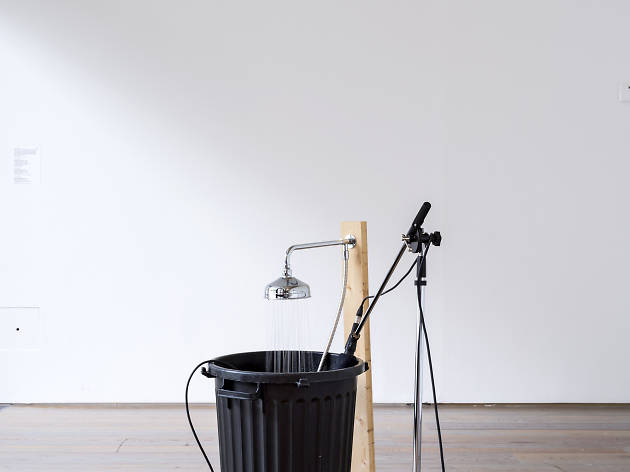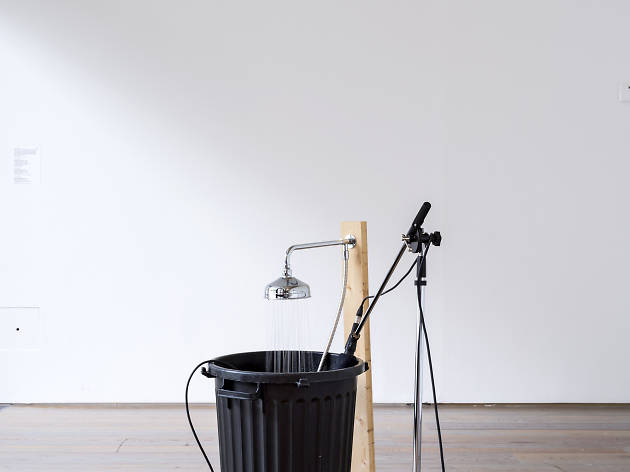 Photograph: Bettina Matthiessen
The work that will be created is inspired by a story that Mirza recently found himself inadvertently connected to. Several years ago, Mirza used a YouTube video in one of his artworks of Olivia Arévalo Lomas, an elderly Peruvian shaman and community leader, singing Icaro (a traditional healing song). He was drawn to her story and the Icaro, which is a traditional practice the indigenous people of Peru are fighting to protect.
Last year, Mirza received an email from a journalist informing him that Lomas had been murdered by a Canadian man who came to Peru allegedly seeking healing. It was a shocking story (in fact, the man was lynched by members of Lomas's community in a widely-publicised revenge killing) that stuck with Mirza and forms the base of his new artwork. But chances are that neither Lomas nor her murder will come to mind when you experience the artwork; Mirza translated parts of her Icaro into English and used it as the base of a sci-fi opera text.
Of course, that use of a traditional song raises important questions about ownership that Mirza, who comes from a Muslim family and notes some similarities between the Icaro and Adhan, the Islamic call to prayer, is keen to address. They're particularly difficult questions when the world is becoming more aware of the problems associated with cultural appropriation.
"At what point is the discussion around cultural appropriation paralysing to cultural exchange?" Mirza asks. "There's one thing which is exploiting someone or something for financial or other gain, or being derogatory, which is obviously unacceptable, but at the same time there might be something to be gained from other practices."
It's easy to imagine that somebody who started their career working with other artists' music as a DJ would develop an inquisitive and critical attitude to ownership. But Mirza says, in part, you have to have that attitude to be a DJ in the first place.
"DJing is collage," he says. "Actually, there are so many words for it; it's bringing existing material together to create something different. Not necessarily new, but different; to juxtapose things to create a relationship that's not already there."
But that's not to say that the art world doesn't work with appropriation in exactly the same way, Mirza says. It's just rarely acknowledged so openly, which is something Mirza's entire approach to art is bound to challenge.
"Art is actually an industry like any other industry, like the music industry or the fashion industry, and within that industry there are conventions. One of those conventions is that there's an artist and it's that artist's exhibition; they're the sole author of the work. But that's just not true. It's never the case; especially at the level I work at. There might be hundreds of people involved."
Haroon Mirza: The Construction of an Act is at ACCA from September 14 to November 17.
Need more art in your life?
From high art to the experimental and indie, here's your hit list.