Joseph Kosuth: A Short History of My Thought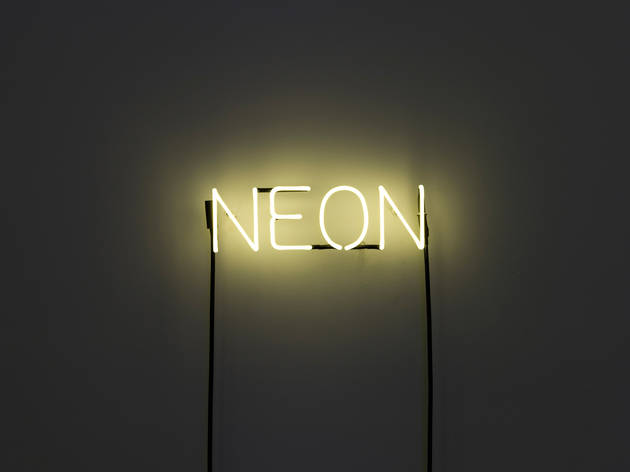 1/3
Joseph Kosuth 'Neon' (1965)
2/3
Joseph Kosuth 'A Conditioning of Consciousness' (1988)
3/3
Photograph: Wolfgang Wesener
Joseph Kosuth
The grand-daddy of conceptual art is taking over two levels of Anna Schwartz Gallery for Melbourne Festival
When it comes to conceptual art, people are more familiar with the names John Baldessari and Sol Lewitt than they are with Joseph Kosuth – but the Ohio-born painter was a forerunner of the movement, which blossomed in 1960s New York and upturned the very idea of what 'art' is.
Whereas LeWitt defined 'conceptual art' as art for which "the idea or concept is the most important aspect of the work", Kosuth used the term to denote art as an expression of ideas. Instead of adding window dressing and 'aesthetic', his self-reflexive early works stripped the 'art work' back to its base concepts: 'Neon' (created in 1965, when he was just 20), featured the word 'Neon' in neon-lit tube lighting; his installation 'One and Three Chairs' (1965) placed a physical chair between a photographic print of a chair and a printed text definition of 'chair' – and invited the audience to consider which of the three was the more 'chair'.
Sounds maddening – and certainly, Kosuth's work can be quite dry and analytical; but in this era of 'fake news' and visual saturation, dare we say that an interrogation of how we create meaning is timely?
A suite of text-based (and often neon-based) works from across Kosuth's 50-year practice will take over two levels of Anna Schwartz Gallery this month as part of Melbourne Festival. The artist will also be present, giving a lecture on Thursday October 5 at the State Library of Victoria.
Melbourne Festival's artistic director, Jonathan Holloway, describes Joseph Kosuth's work as "brain food rather than soul food," but also admits to being seduced by the spectacle of his neon-based works. "Some of it is so exquisite – and I see it as a sort of precursor to that neon textual world that has become so ubiquitous."