NGV Architecture Commission 2016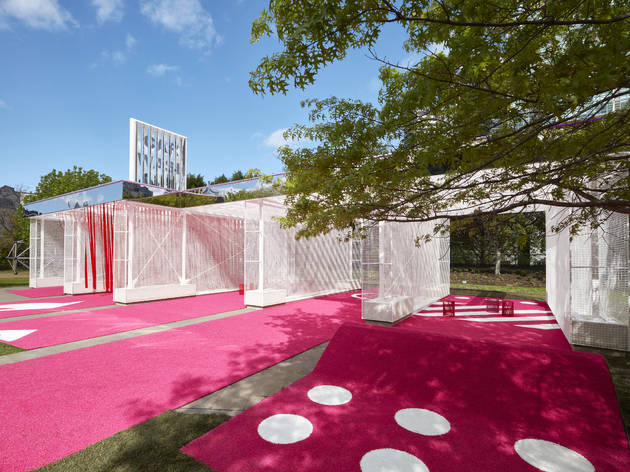 1/5
2/5
3/5
4/5
5/5
What is a surreal neon pink car wash doing in the NGV garden?
Last year, the National Gallery of Victoria unveiled the first in its series of annual Architecture Commissions: a huge, sail-like structure made from hand-folded pieces of pink polypropylene. Designed by Melbourne-based John Wardle Architects, the piece was chosen in an open competition, where the winning design would live in the NGV's Grollo Equiset garden for six months as a hub for talks, workshops and live music performances. The semi-permanent structure was a hit with locals and tourists alike, becoming a popular summer picnic spot (not to mention a favourite on Instagram).
The second Architecture Commission has been unveiled, and it's even more unusual than its forebear. Titled Haven't you always wanted…?, the work is a surreal take on the suburban car wash by Melbourne-based M@ STUDIO Architects.
Why a car wash? Art doesn't always pay much attention to the urban fringe. In Haven't you always wanted…? M@ STUDIO Architects draws our attention to a structure that has become a symbol of suburbia – and of all that is ordinary, pedestrian and functional – and shifts our perception.
You'll find it past the NGV's waterwall, past Lee Mingwei's Moving Garden and through to the back of the entrance hall. Stepping outside, you find yourself drawn to a 23 metre-long rectangular structure: striking and surreal in pink, white and silver. Five 'car bays' are divided by walls made from cricket netting. Each bay is preceded by a stretch of bright pink astroturf. Unlike a real car wash, playing inside is encouraged: one bay engulfs visitors in hanging red plastic strips, and another is filled with bursts of cool mist. The structure is based on a real car wash in Blackburn, and it's this sense of not-quite-right familiarity that makes the experience delightfully dream-like.
As Ewan McEoin, co-head of the NGV's Department of Contemporary Design and Architecture explains in his essay on this commission, "M@ STUDIO Architects' hyperreal, hyper coloured slice of suburbia reminds us that anything can be considered beautiful, depending on who is looking".
Haven't you always wanted…? will live in the NGV's garden until April next year, and is free to visit from 10am to 5pm every day. During summer it will play host to talks on art and architecture, as well as live music concerts.