Ramesh Mario Nithiyendran: In the Beginning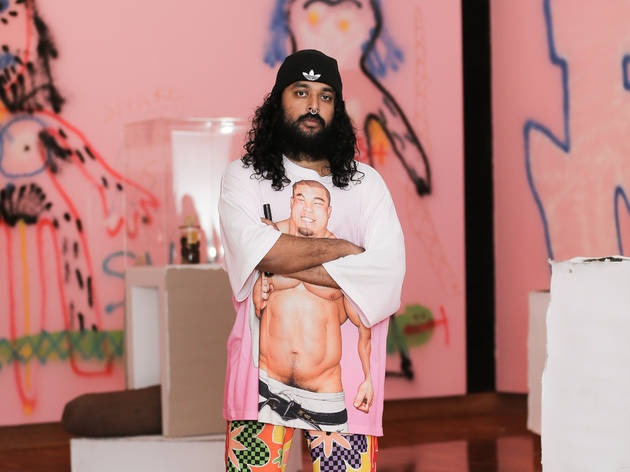 1/5
Photograph: Alexandra Drewniak
Ramesh Mario Nithiyendran in his exhibition 'In the Beginning' at Ian Potter Museum of Art, Melbourne (2016)
2/5
Photograph: Christian Capurro
Ramesh Mario Nithiyendran 'Untitled Figure 10', 2016
3/5
Photograph: Christian Capurro
4/5
Photograph: Christian Capurro
5/5
Photograph: Christian Capurro
The young gun ceramicist from Sydney gets a major show at Ian Potter Museum that mixes sculpture with objects and artworks from the archives
Inside Ian Potter's light, airy, lofty-ceilinged space, Nithiyendran's explosion of colour, texture and cheeky humour is a showstopper that will put a smile on your face.
The walls are candy-coloured and covered in graf and drawings by the artist, mostly of the artist – cheerfully nude. His twitter handle is resplendent in chunky graf, and tagged at various points around the perimeter.
The star attractions, however, are Nithiyendran's ceramics: explosions of colour and form – misshapen human-like figures, naked, gender fluid, occasionally very well endowed. One has human teeth pressed into its clay mouth; others have human hair. Many wear necklaces of shells.
Nithiyendran has included objects and artworks from the Potter's Collection alongside his own works. A painting of flowers, by Philip Wilson Steer, is affixed to the wall above a drawing of the artist nude and reclining – a spoof of Manet's famous painting 'Olympia'. In the next room, a taxidermied monitor lizard perches atop a vitrine containing several self-portraits by the artist.
The title of the exhibition references creation myths and Nithiyendran's ongoing exploration of the idea of artist as a god-like creator of beings (and thus worlds). His world is one where sex is frank, gender is fluid, and Eurocentric aesthetics and values are upturned.