Reconciliation Week at the NGV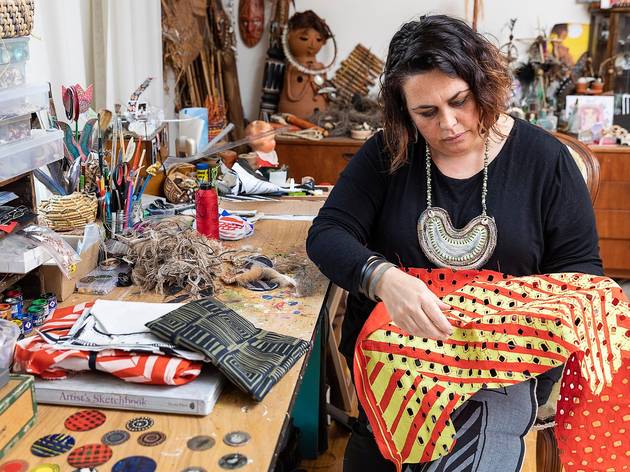 Time Out says
The gallery is hosting several online events to mark the annual week of reflection
The 2020 Reconciliation Week theme of 'In This Together' was chosen in 2019, so organisers could never have known the additional meaning the theme would hold. The annual event (May 27 to June 3 every year) marks the anniversary of two highly significant events in Australia's journey towards reconciliation (the 1967 referendum and the 1992 Eddie Mabo native title decision) and encourages all Australians to engage with the history of the nation and reconcile it together.
This year many events cannot run as normal, but organisers have endeavoured to work around restrictions. The NGV's Reconciliation Week programming for 2020 features a series of free online events that explore Australia's contemporary Indigenous artists.
The program kicks off on May 27 with a behind the scenes look at comedic but often brutally honest work of Destiny Deacon (who's planned autumn retrospective exhibition has been rescheduled to October). There will also be an in-conversation event on Indigenous design, engineering and agriculture featuring Kokatha and Nukunu artist Yhonnie Scarce; and Reconciliation Week events targeted at teens and children under five.
On Wednesday, June 3, the NGV will be hosting a live, in-studio tour with Gunditjmara and Torres Strait Islander artist Lisa Waup (watch it on the NGV's Instagram page). Waup is an award-winning artist based in Melbourne who is known for making woven vessels interlaced with feathers and found objects, representative of her history and connection to country.
Waup is also the programs coordinator for Baluk Arts on the Mornington Peninsula ("baluk" is a Boonwurrung word for a group of people FYI) and will be speaking with the NGV's Hannah Presley about how this role has changed during the epidemic, as well as her time working in isolation.
Visit the website for the full program plus dates and times.
Details