Six highlights of the NGV Triennial
We take a deep dive into six unmissable artworks that you'll find at the NGV's free summer blockbuster (Dec 15-Apr 18)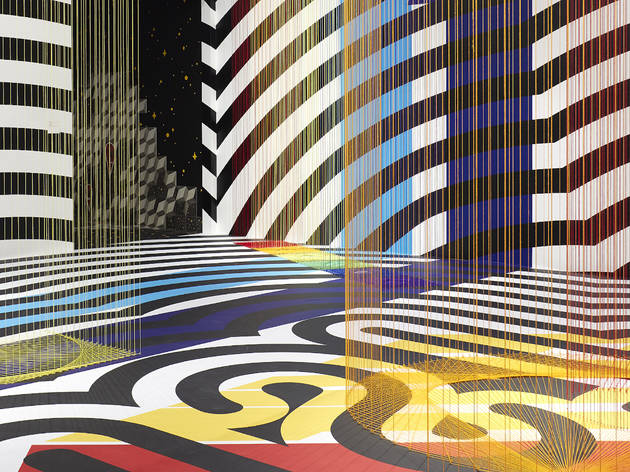 This summer, over 100 artists and designers from 32 countries will take over the four floors of the National Gallery of Victoria for the inaugural NGV Triennial. The key to fully immersing yourself in this mammoth exhibition is to leave your expectations at the door, and get set to encounter mind-expanding work from some of the world's top contemporary artists and designers. You'll get up close to everything from virtual reality works to architecture, animation, live performance, painting, film, fashion design, sculpture and tapestry. You'll lose yourself in interactive maze-like experiences. And you also won't pay a thing. That's right: the NGV Triennial is free, meaning you can visit as many times as you wish, discovering something new each time.
As a jumping-off point, we've selected six pieces from the NGV Triennial that you won't want to miss. For more information on the exhibition, visit the NGV website.
Yayoi Kusama
1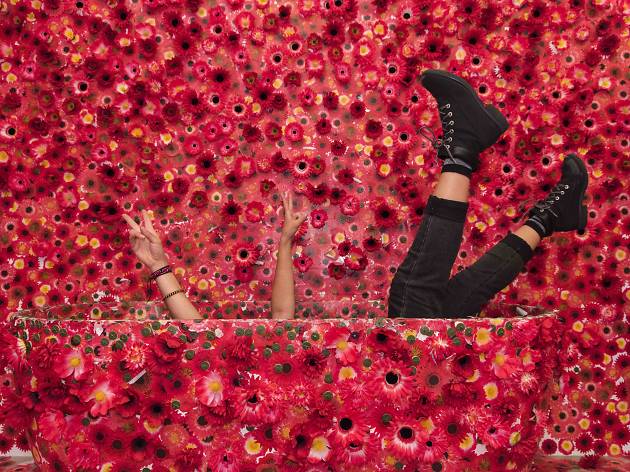 Photograph: Supplied
'Flower obsession' (2016-17)
By now, no doubt you've seen Japanese artist Yayoi Kusama's work on your Instagram feed. Kusama's career spans more than six decades; but these days, she's best-known for her use of polka dots and her mind-blowing 'infinity mirror rooms'. Her perception-bending works play with the concept of infinity and obliteration, and in her brand new work for the NGV Triennial, she will trace back to her childhood in 'Flower obsession'. The piece will recreate a domestic space, wherein visitors are invited to place a single red flower and place it in the room. As the exhibition progresses, flowers will eventually cover every object, wall and surface, transforming it into a beautiful dream-like space.
Richard Mosse
2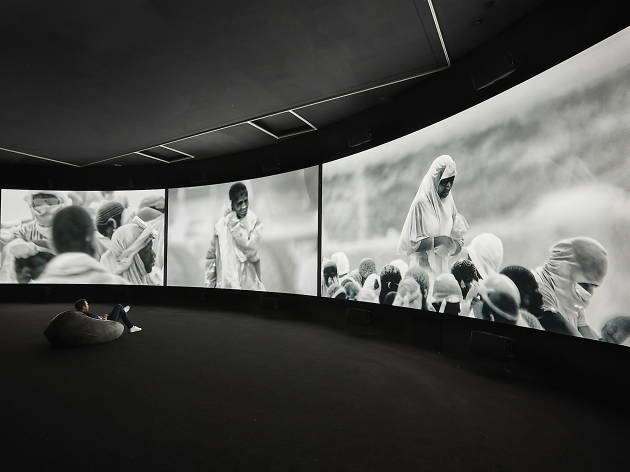 Photograph: Sean Fennessey
Irish artist Richard Mosse's work often engages with hard-hitting contemporary political issues – and this work is perhaps one of his most impactful yet. Mosse used a long-range thermal imaging camera which can record subjects up to 50km away in total darkness to record the bombing of Syria and the subsequent refugee crisis. The technology was originally developed for military use, but Mosse used his footage to create 'Incoming'; a multi-channel audio-visual installation that is profoundly moving. The camera cannot read skin colour, but reads heat radiation, so that his subjects – caught in the midst of tragedy – glow with their own body heat.
Xu Zhen
3
Photograph: John Gollings
'Eternity-Buddha in Nirvana...' (2016-17)
This leading Chinese artist has worked across sculpture, video, photography, performance and painting – but at the NGV Triennial, he will focus on sculpture for a piece that is designed to break down cultural barriers by combining Eastern and Western traditions. The full name of this work is 'Eternity-Buddha in Nirvana, the Dying Gaul, Farnese Hercules, Night, Day, Sartyr and Bacchante, Funerary Genius, Achilles, Persian Soldier Fighting, Dancing Faun, Crouching Aphrodite, Narcissus Lying, Othryades the Spartan Dying, the Fall of Icarus, A River, Milo of Croton '. It sounds like a mouthful, but in a nutshell, the work comprises the form of a colossal reclining Buddha, which is surrounded by replicas of Graeco-Roman sculptures.
Ron Mueck
4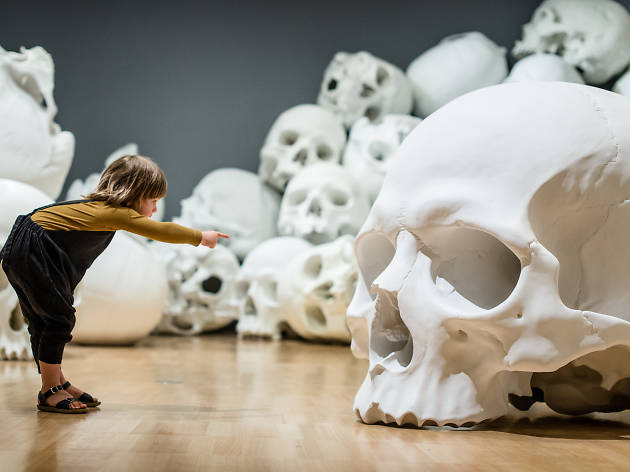 Photograph: Eugene Hyland
Melbourne-born but UK-based, Ron Mueck is one of the country's most successful contemporary artists. He's worked with Jim Henson (the creator of the Muppets) creating props, he's exhibited works in galleries all over the world, and at the NGV Triennial, he will present a brand new work which will be his largest work to date. 'Mass' has been commissioned by the NGV, and according to the curators, "can be read as a study of mortality; a dwarfing of the visitor by those who have lived before".
Nendo
5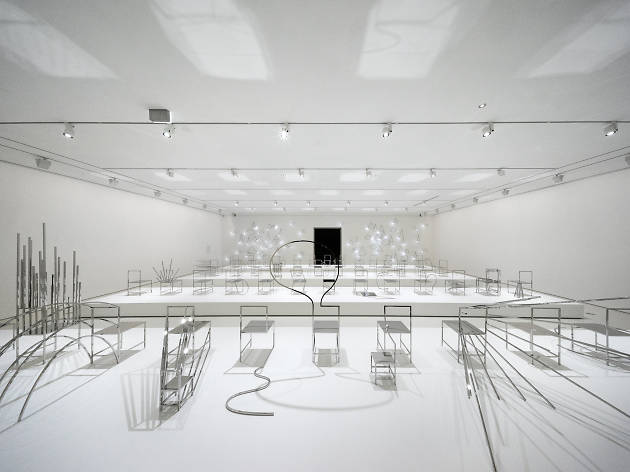 Photograph: John Gollings
'Manga chairs' (2015) and 'Trace sconce lights' (2016)
Chairs inspired by Manga comics? You bet. Acclaimed Japanese designer Oki Sato is the founder and chief designer of forward-thinking design studio Nendo. The NGV Triennial has acquired 50 of Sato's 'Manga chairs' and 50 'Trade sconce lights', which will become part of the NGV's ever-growing contemporary design collection. The chairs are re-imagined using elements of Manga; think speech bubbles, symbols and effect lines.
TeamLab
6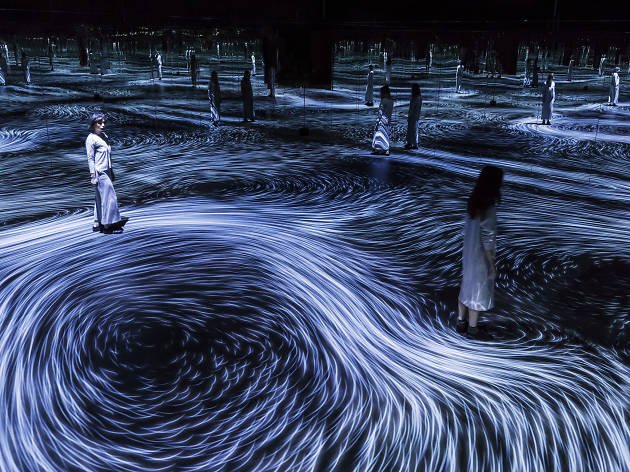 Photograph: TeamLab
'Moving creates vortices and vortices create movement' (2017)
We hope you're ready to lose sense of reality. Tokyo-based art collective (which has over 300 members) call themselves 'ultratechnologists'. What does that mean, exactly? Basically, they create cutting-edge immersive digital works designed to interact with the natural environment. This time around, they'll transform a large space into a vortex-like environment that will act in the way that water responds to human presence.