Get the adrenaline pumping this summer with Adventure Park's new waterslide
Slide into summer with Victoria's biggest new waterslide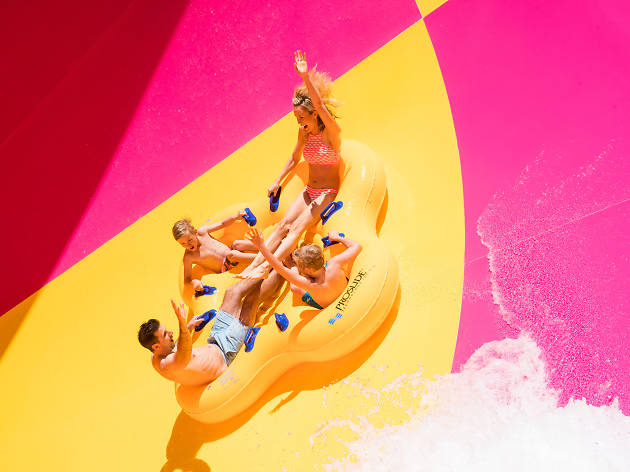 Some people go to waterparks for the wave pools and ample sun lounges – and then some people go for the heart-racing waterslides. If nothing makes you happier than a shock of adrenaline to the system then Adventure Park Geelong has a treat in store for you.
The Tornado is Adventure Park's newest, biggest and longest waterslide yet and the only one of its kind in Victoria. Guests intrepid enough to brave the slide will climb to the top of the mighty 24 metre-high tower, spiral down 205 metres of twists and turns before finally dropping into the eye of the storm: a massive funnel.
Feel the bottom drop out of your stomach as you experience a moment of zero gravity when you drop over seven metres into the funnel. Don't worry, thoughts like "this is insane" and "how is this physically possible" are normal, as is going vertical when you slide all the way up the sides of the funnel and make your way towards the spout.
Melbourne and its surrounds might not have the year-round warmth of the Gold Coast, but it's fast showing it can hold its own in the waterslide department. The Tornado is unlike any other slide in the state and took six months to be installed at Adventure Park Geelong after being constructed in Canada by Proslide.
Despite being almost the textbook definition of 'death-defying' the Tornado is a family friendly water slide. So long as you stand 120 centimetres or higher you're good to hop on the slide with up to three others. Daredevils will also be delighted to hear that there is a sister waterslide for the Tornado in the works as part of Adventure Park's $8 million water park expansion (opening for the 2018/2019 season).
And for those who identify more with 'relaxing on a sun lounge' level of excitement there's good news: the Tornado waterslide precinct also includes hundreds of new sun lounges surrounding the slide's splash pool. Lie back under a shady cabana and listen to the excited screams and splashes of the more adventurous.
There's plenty more than just waterslides at Adventure Park of course. If you're not wanting to get wet but still want a thrill then opt for the Crazy Coaster. Not only do you zip up and down the tracks, you also spin 360 degrees while doing so. Then there's the Wave Swinger: the carnival favourite where you're strapped into a chair suspended from a spinning tower. Do yourself a favour and leave lunch until after you've given it a swing. If you've got kids head straight for the Red Baron and Little Buggy Speedway to give them a chance to fly their own mini plane or car.
Hankering for that hit of adrenaline? Adventure Park Geelong is just under an hour drive from Melbourne and a ten minute drive from both Geelong and Queenscliff. You can ride the Tornado every day during Adventure Park Geelong's season with unlimited rides included with park entry. Day tickets and season passes can be bought through Adventure Park's website.