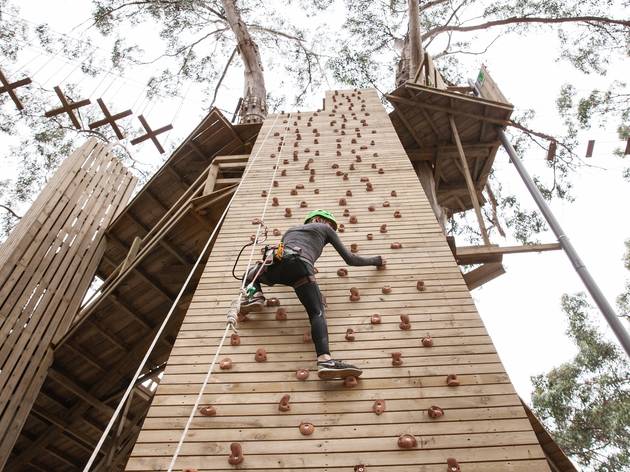 1/9
Photograph: Supplied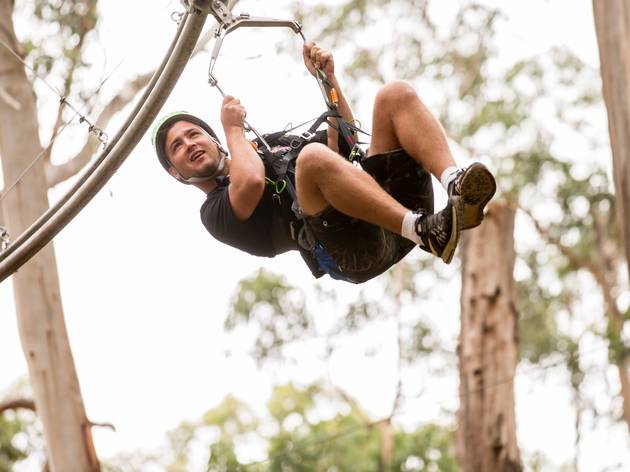 2/9
Photograph: Supplied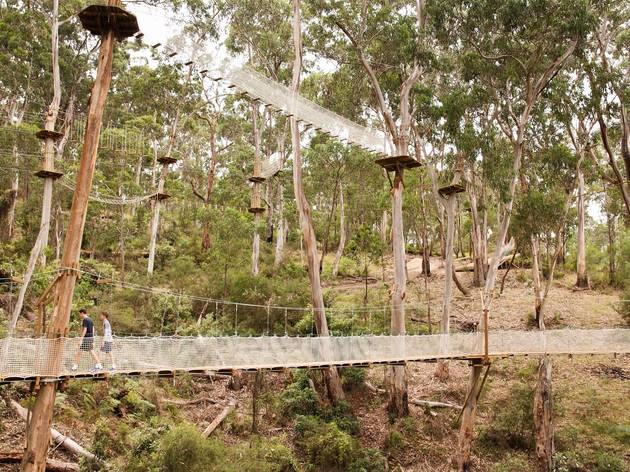 3/9
Photograph: Supplied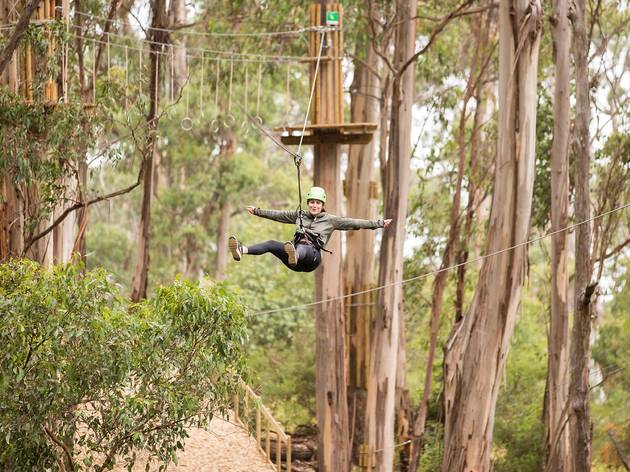 4/9
Photograph: Supplied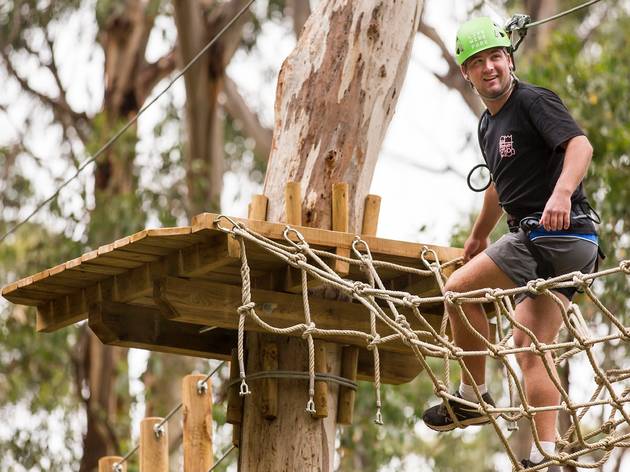 5/9
Photograph: Supplied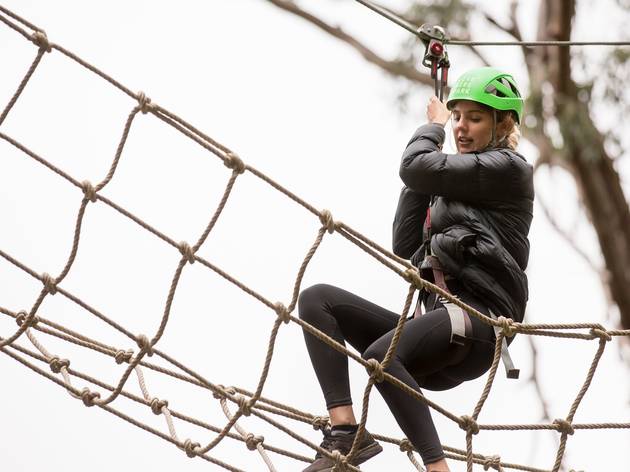 6/9
Photograph: Supplied
7/9
Photograph: Supplied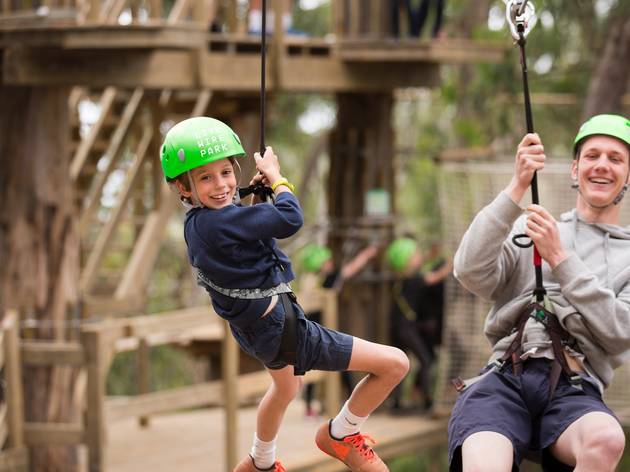 8/9
Photograph: Supplied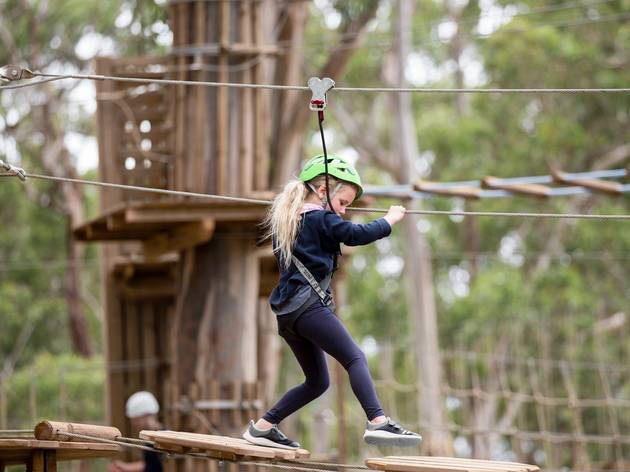 9/9
Photograph: Supplied
Time Out says
This high-flying adventure park near Lorne will challenge your body and mind
Live Wire Park is passionate about two things: adrenaline rushes and sustainability. The high-flying elevated adventure park is the first of its kind in Australia to go completely off the grid: the park runs on solar power, collects and treats its own rainwater, and has worked hard to reduce its environmental impact during construction.
But enough about the park's eco cred – you're here for some hair-raising, heart-stopping action, and you won't be disappointed. Live Wire Park is essentially a huge adventure playground just outside of Lorne where you'll climb, swing, leap, wobble and fly through towering eucalyptus forest.
The park has four experiences: the Canopy Circuit, the Shockwave Zip Coaster, the Short Circuit and the Super Circuit. If you're here for a challenge, book in for a two-hour stint on the Super Circuit, where you'll be pushed to your limits physically and mentally. That's not hyperbole – from wobbly wire bridges to vine-like rope crossings, some of the mid-air obstacles you'll face on the circuit really will stump you.
Our advice? Put your best foot forward, literally. Though using your arms first is instinctive, many of the activities on the super circuit are easier to tackle if use you feet first instead.
What makes these activites a bit different from most high-ropes courses is that they're almost entirely self-directed. Once you latch onto the guidewires on the ground you're connected until you safely return to the earth. That means you don't need a guide to assist you and you can tackle each activity at your own pace. There are five paths you can take on the circuit with the difficulty level increasing numerically (path one is the easiest, path five the hardest). At the end of each path is arguably the best part: a zip line through the trees and back to solid ground.
Those with absolutely no understanding of fear will be delighted by the Tarzan Swing and Quick Drop activities, but remember there's no shame in having to chicken out. So high up in the trees, it's pretty common to see parents giving their kids a bit of encouragement to jump, but almost equally common to see kids doing the same for their parents. The Super Circuit has 53 activities to complete, and it's possible to do them all in the two-hour time period if you're fit. For younger kids and teens the Short Circuit offers a taste of the Super Circuit in a smaller, 26 activity-sized package.
The Super Circuit and Short Circuit are a workout, so if you want your thrills sitting down head over to the Shockwave Zip Coaster. One of only four existing zip coasters in the world, the Shockwave is a tremendous 525-metre twisting stretch of zip line suspended through forest. It's hard to fathom how exhilarating it is until you're on it, with the course designed weaving so close between the trees it feels like you'll crash (don't worry, you won't).

Included in the admission price ($5-$10) is entry to the peaceful canopy walk, which is a great way to stretch out post-exhilaration. If you're lucky you might even spot a koala or two. All other experiences come at an additional cost ($30-$55 per person), but the sense of achievement makes them well worth it. Book in advance if you're visiting during busy periods as the park fills up fast.
Details
Address:
180 Erskine Falls Rd
Lorne
Melbourne
3232

Price:
$5-$55
Contact:
Opening hours:
Daily 8.45am-5pm
Users say