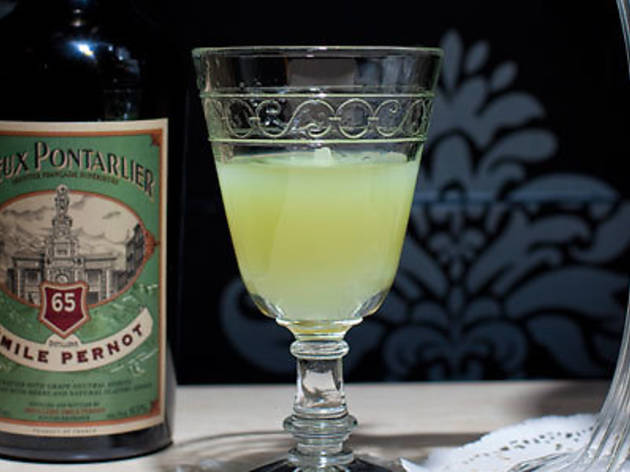 Time Out says
Melbourne prepares to see green with the opening of its own Absinthesalon
Absinthe: for many the word conjures long supressed memories of turning 18 and steaming, aniseed-flavoured hangover. But it's entirely likely you've been duped into thinking you were drinking absinthe, but were in fact imbibing a cheap knock off. Never mind, soon you can experience the real absinthe when popular Sydney absinthe den, Absinthesalon expands to Melbourne in December.
When Gaye Valttila and Joop van Heusden opened the original Absinthesalon in Sydney in 2009 they were told it would never work, but it has stood the test of time and now it's opening in Fitzroy so that more Australians can discover the herbal aperitif beloved by van Gogh and Toulouse Lautrec.
The Sydney edition, which is a 30-seater baroque-style bar, has been serving only absinthe for seven years and is known for its strict three drink limit. Absinthesalon Melbourne will hold fast to the same rule, but twice the number of curious souls will be able to partake in the green spirit traditions, hailing from the 1700s, at the contemporary 70-seat Melbourne venue.
Interior architect Rebecca Lombardo and her builder husband Vince Marino are responsible for Absinthesalon's southern migration, and they've painted the history of absinthe on the floors, ceiling and walls of the bar. A cast of actors, performers and artists are employed to guide guests through the ritual of absinthe drinking, choosing from the 30 varieties of French, Swiss and even Australian made absinthe on the menu, and then preparing it at your private table, complete with ornate fountain.
It may come as a surprise (or disappointment) to discover that you won't see La Fée Verte (the green fairy). Absinthe was originally created as a medicinal elixir made with three key ingredients; anise, fennel and wormwood – so it might make you feel good but won't make you hallucinate. Artemisia Absinthium (wormwood), is where absinthe draws its name and it was historically used by the Ancient Greeks and Egyptians as a cure-all. It was then Swiss based French Doctor, Pierre Ordinaire who decided to distil the herbs in alcohol, preserving the medicine. They gave it to the French troops during the Algerian War who a caught the taste for it and took their cravings back to the boulevards of Paris.
To drink your absinthe in the traditional manner pour a dose into a glass and then place a spoon across the rim with a sugar cube on top. Slowly drip cold water over the sugar cube and into the absinthe. When the water hits the absinthe the flavour blooms as the oils emulsify and the liquid becomes opalescent. Don't even think of setting your sugar cube alight for the traditional French ritual.
Fancy drinking the real absinthe? Absinthesalon Melbourne is open from December in Fitzroy. Bookings are advised and can be made via email at hello@absinthesalonmelbourne.com.au.
Details
Best selling Time Out Offers