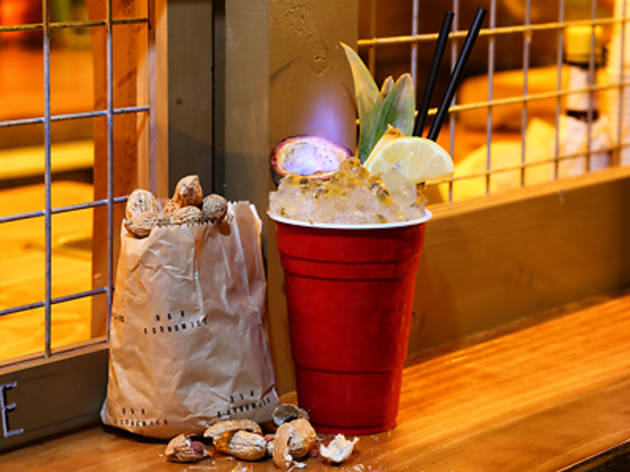 1/17
2/17
3/17
4/17
5/17
6/17
7/17
8/17
9/17
10/17
11/17
12/17
13/17
14/17
15/17
16/17
17/17
Welcome to Bar Economico: Matt Bax's fastidiously designed Latin American 'rum brothel' that's the antithesis of his acclaimed cocktail bar Der Raum
If you knew Der Raum – the members-only house of cocktail artistry – first impressions of Bar Economico will render a solid 'what the hell?' In place of the glittering bottle installation and high-tech cocktails (which have migrated with Bax to his Munich bar, Gamsei), Bar Economico has peeling turquoise walls, $10 Mojitos and Tecate in a can. It's a loud, shabby, Reggaeton-playing bordello of rum, where drinks come in plastic cups and you can chuck your nut shells on the floor.
This is a bar built for robust drinking. Hand-scrawled signs pinned to the bar's cage enclosure may say that spitting and gambling are 'prohibito', but the crew are happy for you to get a little loose. We're told there's even been a flashing of some boob.
That's not to say that the drinks here aren't made with skill, precision and a keen respect for ingredients. The menu may be a short list of tropical party drinks, but this is still a Bax bar. He's the man who put a jihad on Midori and commercial cordials and who's fanatically committed to doing everything right.
To that end, you'll still find the top shelf stacked with rare rums; there are self-serve squeezy bottles of lime juice and sugar syrup for DIY drink doctoring, and the likes of talented booze wench (their words, not ours) Amanda Lines-Baran giving the mint for your Mojito an expert flavor-releasing spank.
A Threesome is a refreshing mix of spiced rum, fresh pineapple, pisco (Peruvian wine brandy) and cachaca (a raw sugar cane spirit) and the fanciest thing you'll ever swig from a kegger cup. A lot of the drinks steer sweet – the Jamaican Blackstrap of lime, dark rum and ginger beer with both sugar and pomegranate syrups gives your pancreas a right hook and a kick – but hell, nothing's stopping you from taking a nip of coarse rhum agricole straight-up, sailor-styles with a beer and salted lime chaser.
Cocktails are all either $10 or $15, maxing out with the tikitastic Don's Zombie at $20 (as well it might being a boozy smash-up of three aged rums, pineapple, passionfruit and fire). Beers are a fiver. Bags of peanuts are free. Those are three very good reasons to come early on a Saturday for DJDJ No Request's '50s swing and luau set, and stay till you can't feel your legs. Not from the booze, mind. The stools are just authentically uncomfortable.
On that note, Bax's attention to detail can be a pain in the arse. The room is intentionally too bright, too bare and you have to purchase $5 drink tickets in a separate booth like it's the Big Day Out. But that's all part of the charm. If Der Raum was a fine oil masterpiece, Bar Economico is a graffiti scrawl across Richmond saying: 'take your pants off and have a good time.' We fully intend to. You should too.
Venue name:
Bar Economico (Closed)
Contact:
Address:
438 Church St
Richmond
Melbourne
3121

Opening hours:
Wed-Sat 5pm-1pm