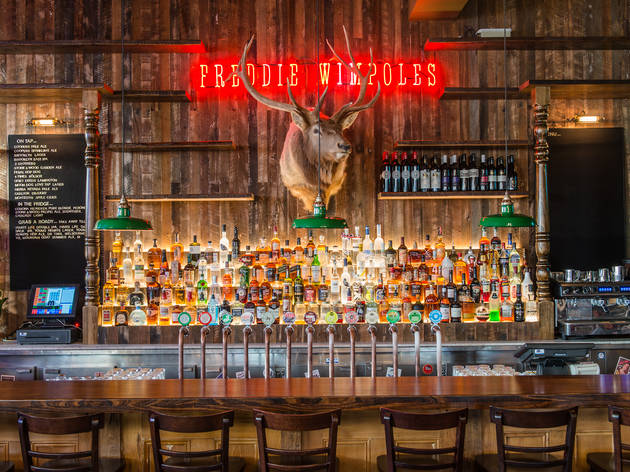 1/5
Photograph: Eugene Hyland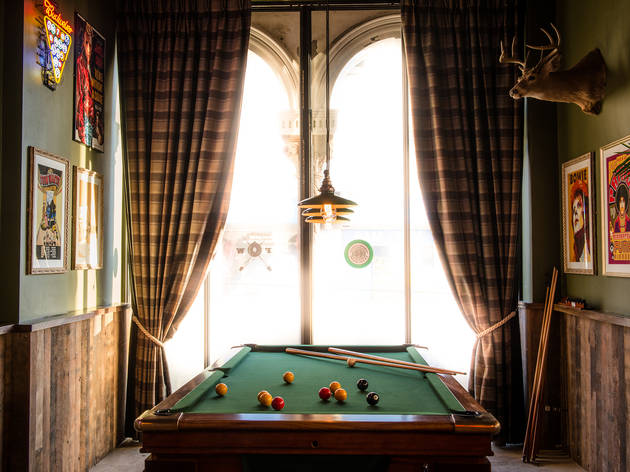 2/5
Photograph: Eugene Hyland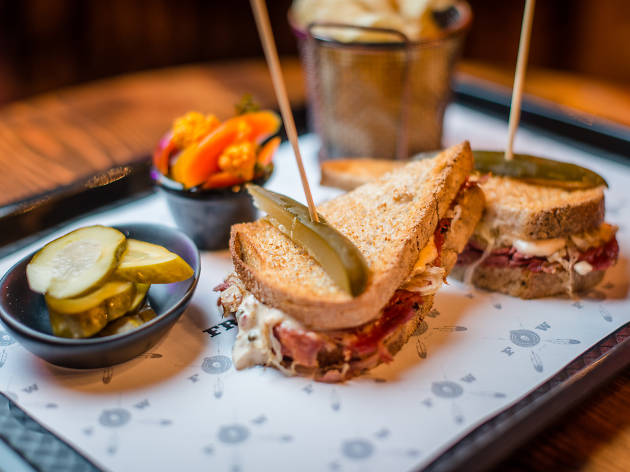 3/5
Photograph: Eugene Hyland
4/5
Photograph: Eugene Hyland
5/5
Photograph: Eugene Hyland
Time Out says
St Kilda's latest America-themed bar nails the nostalgia of the grand ole USA
Despite our chagrin with American politics (seriously, is that guy for real?) our obsession with the food and drink of the USA seems to know no bounds. The latest addition is Freddie Wimpoles*, occupying the ground floor of The George Hotel in St, Kilda. In America they don't have pubs (apart from deliberate imitations) but rather neighbourhood sports bars. Freddie does a pretty good impression. This could be a trendier version of a bar from True Blood or Roadhouse, with neon beer signs, untreated dark wood paneling and taxidermy for days (including fat chickens, a large ferret and an impressive elk gazing out benevolently from above the bar).
On a Wednesday evening the place is relaxed but very much alive, the crowd of 25-40s folks engaged in animated conversation. Post up at the bar on a comfy high backed bar stool (an American necessity most Aussie bars have yet to master) and order a pint of one of the many beers on tap including Sierra, Feral, Quiet Deeds and Two Brothers Growler alongside Carlton and Coopers Dark. Instead of overpriced Bud or Miller's they've kept the cheap stuff local. Happy hour goes for three, with cheap pints of Brooklyn and $6 Pabst Blue Ribbon tall boy cans. You could also play a game of pool, or hit up the jukebox for the Beach Boys or Stevie Ray Vaughan track of your choice.
Cocktails are simple but with a serious trick or two, executed with surprising deft and balance in such a casual environment. A Smoky Old Fashioned is served in a 19th century-style glass bottle, well-balanced and with a pleasant fresh smokiness, free of the bong-water grossness of so many smoked cocktails (pro tip bartenders: clean your smoke guns). The only thing missing is decent ice. The food is bang on too, with hot dogs and subs taking centre stage. The French Dip is a sandwich of thinly-sliced roast beef on a fluffy bun perfect for soaking the beef jus that comes on the side, and horseradish aioli for acid and spice. Take the recommendation to add Swiss cheese. It's an exercise in roadside diner nostalgia, and if you've never experienced this American post war classic, this is the place to do it.
As Melbourne winter tightens its grip, Freddie's is a warm and friendly place to spend an evening in the warm glow of neon and candles. They'll even happily make you a cup of tea at 10pm. They've struck the right balance of reminiscent without being cheesy, cocktails without being a cocktail bar, of good beer without being wanky and good times without being too rowdy. Freddie Wimpoles won't blow your mind, but it will soothe your soul.
*Freddie Wimpole was the owner of the George Hotel from 1873 and became mayor of St Kilda in 1886. He was also the director of the Melbourne Co-Operative Brewing Company in the late 1800s, the company that would become Carlton United Breweries. He also had a beard that would make the hippest Collingwood tattooist weep with envy.
Time Out Awards
2017People's Choice Award
Details
Address:
125 Fitzroy St
St Kilda
Melbourne
3182

Contact:
Opening hours:
Sun-Wed noon-1am; Thu-Sat noon-3am
Best selling Time Out Offers