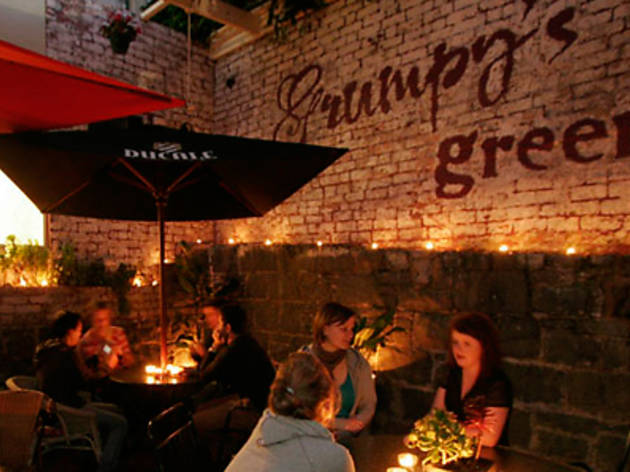 Grumpy's is under new management, meaning more music, meat on the menu and some serious mulled mead
What happens to those hip, beautiful people smoking cigarettes and wearing the same T-shirt for days on end when they get older? Seems like they hang up their skinny jeans, embrace their inner dag and end up at Grumpy's. This isn't a bad thing. The crowd at Grumpy's are relaxed, convivial and more likely than not, going to welcome you to join their table while they regale you with stories of "That one time when…"
Grumpy's Green has gone through a bit of a change recently under the new ownership of Benjammin Murrell. Those tired, ripped pieces of furniture are gone, replaced with lounge sets noticeably lacking that sticky layer of booze and sweat which once seemed so normal. Outside, the wooden benches are mended and therefore sturdy enough for you to feel safe enough to lean back and notice the addition of some street art, giving the concrete courtyard some colour. Sonically, everything is clearer because the sound system has had an upgrade – important when you're known for being a live-music venue. You'll also notice a DJ booth is on stage, because after some local live acts, you'll encounter "Grumpy's DJs playing heaps grouse music," as promised on their posters stuck to the windows.
There are a few additions to the bar as well, with more interesting beers on tap such as Two Birds Sunset Ale, 2 Brothers Grizz American Amber, Boatrocker's Hop Bomb IPA and the not-so-sweet Pink Lady Cider Co. If you're looking for something different, the colder months see the addition of mulled cider and mead to the menu. The mead is sweeter than the cider, though has some guts to it from the very prominent spice of star anise and cinnamon.
The new menu has banished that curious kangaroo pizza: in its place, jalapeno poppers, miso roasted eggplant and slow-cooked pork ribs on mash. There is still a focus on locally sourced produce and ethically raised meats, but the food no longer seems like the work of a kitchen MacGuyver pulling together strange flavour combinations with a whole lot of condiments. The new menu allows the ingredients speak for themselves.
The new Grumpy's isn't trying to do away with the old Grumpy's. It's just pulled its socks up, polished its shoes and has learnt how to sit back, relax and enjoy the music.
Venue name:
Grumpy's Green
Contact:
Address:
125 Smith St
Fitzroy
3065

Opening hours:
Tue-Fri 4pm-1am; Sat-Sun noon-1am