How to make the perfect Old Fashioned
Multi-award winning bartender Luke Ashton explains how to use Woodford Reserve to make the classic cocktail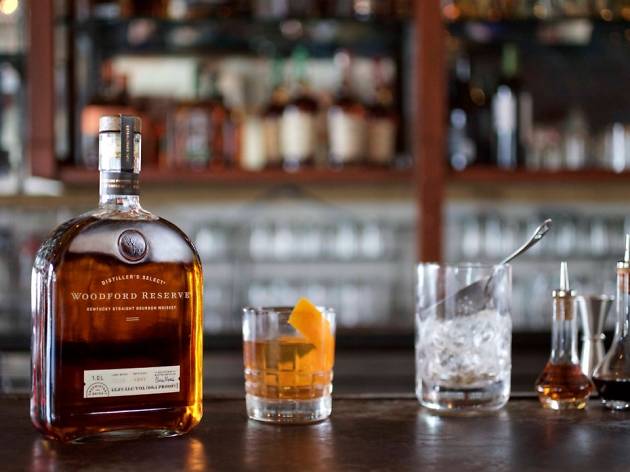 The Old Fashioned is an exercise in minimalism, like Italian cooking. There are four essential ingredients: spirit, bitters, sugar and water. Every ingredient needs to be there. No bitters and you've got sweet, watered-down whiskey. No sugar and you've got a bitter and astringent 'snake oil'. No whiskey and you have the saddest of all non-alcoholic cocktails.
Key to a quality Old Fashioned is a quality base spirit. For me, the flavour profile of Woodford Reserve works particularly well, with flavours of warm spice, vanilla, cacao and citrus peel, all of which are highlighted and accentuated by the other ingredients in the cocktail. The bitters will add length and complexity. The sugar will bond the other ingredients and provide a vehicle for coating your mouth with the unctuous flavours of the whiskey. And the orange peel, while not one of the four essential ingredients, works like the 'Valencia' filter on your Insta post, softening the edges with a warm citrus hue.
For my perfect Old Fashioned cocktail, the technique I most prefer is as follows. There are definitely quicker ways to make it, but the extra time is definitely worth it.
Ingredients
• 60ml Woodford Reserve Bourbon
• A sugar cube
• 2-3 dashes Angostura aromatic bitters
• A bar spoon (or teaspoon) of soda water
• Small strip of trimmed orange peel
Method
1. Place the sugar cube on your bar spoon and dash the bitters directly onto it, before adding it to a chilled mixing glass.
2. Add 1 bar spoon (4-5ml) of soda water to the bitters-soaked cube – the carbonation in the water will help to break down the sugar cube.
3. Lightly crush the sugar cube, before expressing the oils from the peel into your mixing glass and then dropping it in. With the flat end of your bar spoon or a muddler, lightly grind the peel into the sugar. Take the time to make sure sugar is turned into a smooth, pastelike texture.
4. Add your whiskey and stir to combine.
5. Fill your mixing glass with quality ice. Stir to chill, dilute and combine your Old Fashioned.
6. Strain your mixing glass (to remove the mixing ice and peel) into a chilled double rocks glass with a single large ice cube.
7. Lastly, garnish with a large strip of trimmed orange peel. Express the oils from the peel by twisting it over the drink and then place on top of the ice cube.
The DNA of the Old Fashioned, with its four ingredients, allows for a myriad of variations to be created. Think about swapping out the traditional Angostura bitters for a bitter Italian Amaro such as Montenegro or even a Fernet Branca – these are a bit sweeter than Angostura, so dial back or eliminate the sugar entirely. For a variation with some native Australian ingredients, swap out your sugar and some of your bitters (keeping just 1 dash) for a 15ml measure of Mac by Brookie's, an Australian liqueur made using roasted wattle seeds and macadamia nuts.
Luke Ashton's This Must Be the Place was Time Out Sydney's Bar of the Year 2017.
Melbourne bars where you can get a great Old Fashioned during Old Fashioned Week.