Legend Award: Time Out Bar Awards
All hail the mother of Pearl, who helped make Melbourne's bar scene a world beater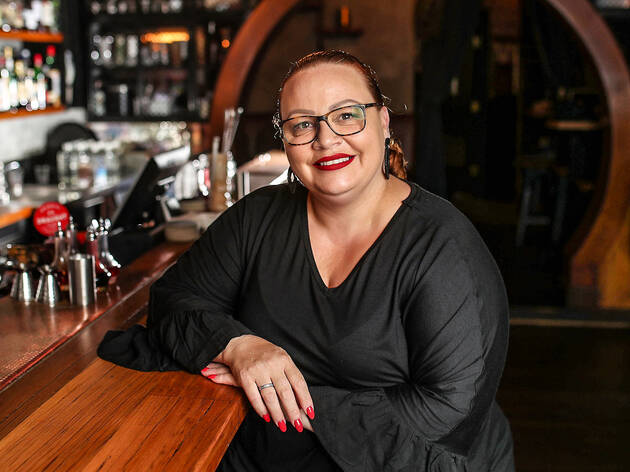 Success rarely comes without struggle, as Tash Conte, owner of Fitzroy cocktail bar Black Pearl, knows all too well. It's been 16 years since the Conte family made the decision to transform their failing restaurant into the world-class establishment cocktail-seekers flock to today. While Black Pearl is now a thriving, multi-award-winning business, this wasn't always so. "I think people forget that [Brunswick Street] was a very difficult street back then," Conte says. "We reached a point with the restaurant where I just had to say to dad, 'We can't do this anymore. We just can't.'"
Even after shifting the venue's focus from the kitchen to the bar, getting a foothold took serious grit. "The first three years were horrific. There were times when we'd only get a couple of people coming in all night. The first week we opened someone spray-painted across our frontage, 'Fuck off back to Chapel Street.' This area was all pubs back then."
The family at the heart of this business is not just connected by blood. Conte considers every one of her team to be a member of the clan. "For me, it's all about everyone being on the same page. We all have to work for a shared goal, which I see as making sure everyone is comfortable and happy in the space, because they're here 50 hours a week, you know." This nurturing ethos has not only made Black Pearl a place patrons return to again and again, but also a proving ground for top bar talent. While too humble to admit it, Conte has a reputation as a kingmaker in the Australian bar scene, with a roll call of Black Pearl alums amongst the most sought-after bartenders in the land.
But surprisingly for a venue synonymous with cocktail perfection, mixology skills are not the main traits Conte looks for. "People don't just come back for the cocktails, they come back for the hospitality. I can teach anyone how to make a drink, but I cannot teach you to be a good host, how to have a good sense of humour and how to hold a conversation. Those are the most important things I need behind that bar.
See the rest of the 2019 winners
From Bar of the Year to Best Bartender, here's who took home the gongs at the 2019 Time Out Melbourne Bar Awards.