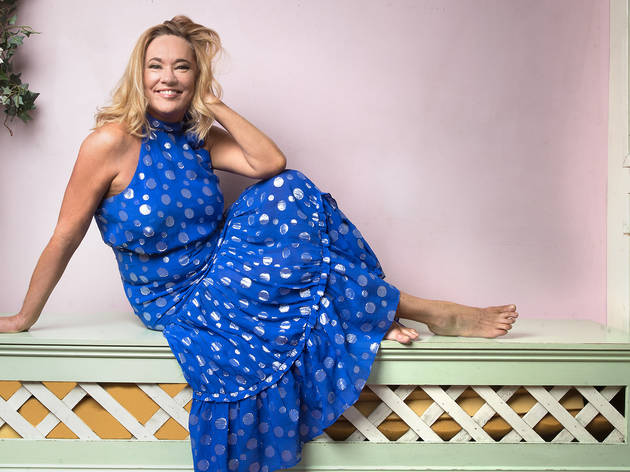 Legend Award: Time Out Bar Awards
One of Melbourne's greatest hospitality mentors is also Melbourne's most-loved 'madame'
"A lot of people have a snigger when I say my name is Miss Pearls, but I find it empowering. I am in my fifties now, but I am proud to say it is just me." Miss Pearls is the madame, matriarch and co-owner of rooftop bar Madame Brussels, which is in its 14th year of operation. Miss Pearls is a character, quite literally, as she is a persona that was created when Vernon Chalker (who is no longer part of the business) found the site, transformed the former brothel into the space it is today and approached Miss Pearls to be part of the business.
"My first job in hospitality was working in a strip club on Friday afternoons serving food," says Miss Pearls with a wail of laughter. "It taught me a lot about men and women and what to do and what not to do." Before Madame Brussels, there were no spaces specifically designed for women to drink in Melbourne. "We wanted to bring a convivial, rambunctious, fun place where people could enjoy a drink together. We shifted the goalposts when it came to having fun. We don't take ourselves too seriously, even though our product is polished. We pride ourselves on giving you a good time."
To say that Madame Brussels gives you a good time is an understatement. Staff have access to a daily wardrobe that is as much costume as uniform and are encouraged to express their creativity and sexuality at events such as the Aphrodisiac Orgy. As part of her job at Madame Brussels, Miss Pearls has dressed up in lingerie, sung 'Happy Birthday' in the style of Marilyn Monroe, jumped out of cakes and swung from chandeliers, all while maintaining an air of professionalism.
Despite the antics, Miss Pearls runs a tight ship, teaching her staff how to manage different personalities, rostering, ordering, how to drill down on the cost of goods, how to manage daily challenges and old-fashioned hospitality, all while staying relevant. "My secret to staying relevant is to never change," Miss Pearls says. "The Madame is growing old, gracefully."
It is well known in the hospitality industry that if you work as a staff member at Madame Brussels, you are graduating from Miss Pearls' Finishing School. Some of her graduates have gone on to work as reps, manage highly awarded venues, open some of Melbourne's favourite bars and establish their own liquor brands. "I am super-proud to have given my staff the keys, the education and the confidence to open their own successful businesses or run outstanding venues. They are family to me."
See the rest of the 2019 winners
From Bar of the Year to Best Bartender, here's who took home the gongs at the 2019 Time Out Melbourne Bar Awards.
Best selling Time Out Offers