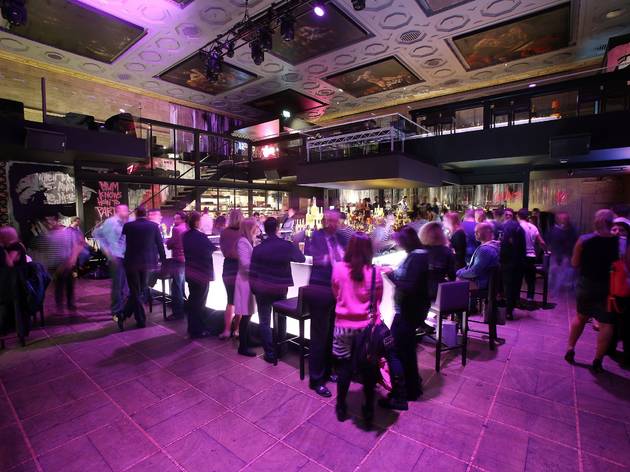 1/9
Photograph: Graham Denholm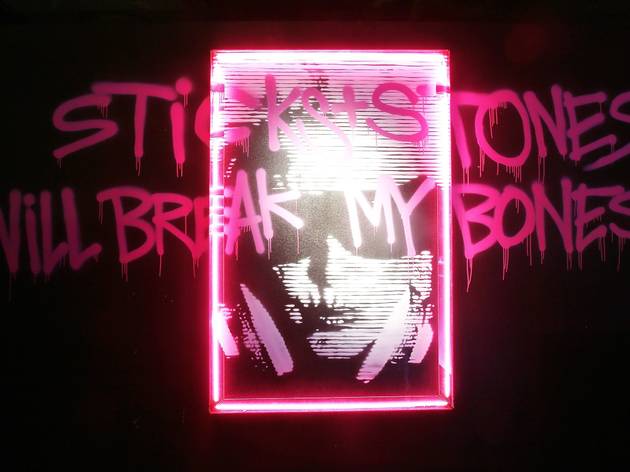 2/9
Photograph: Graham Denholm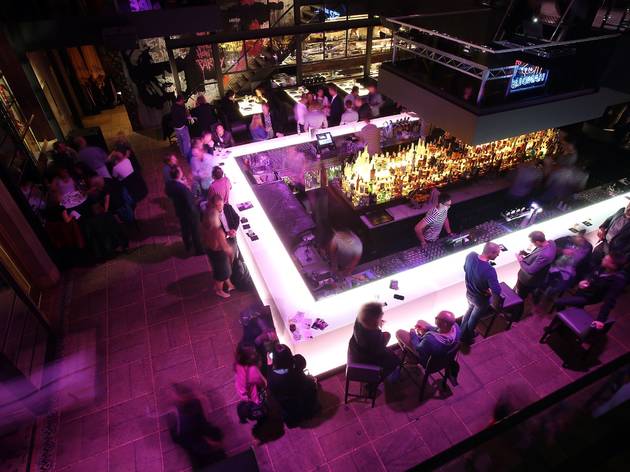 3/9
Photograph: Graham Denholm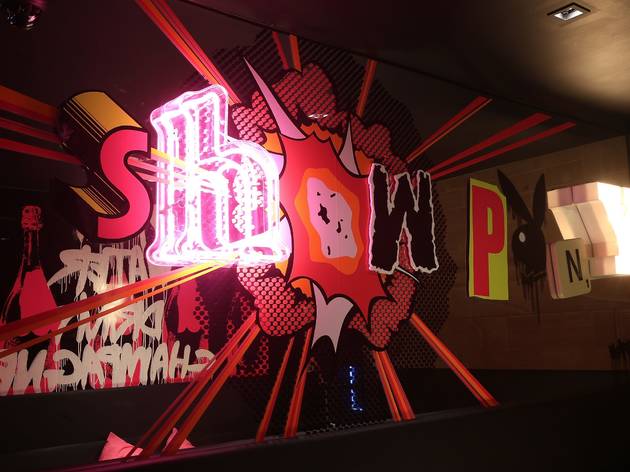 4/9
Photograph: Graham Denholm
5/9
Photograph: Graham Denholm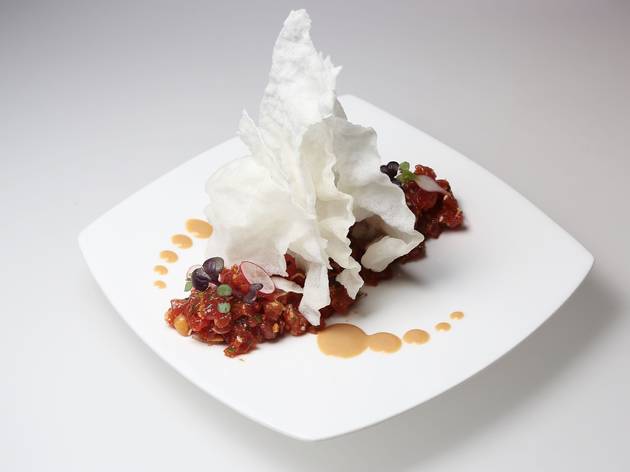 6/9
Photograph: Graham Denholm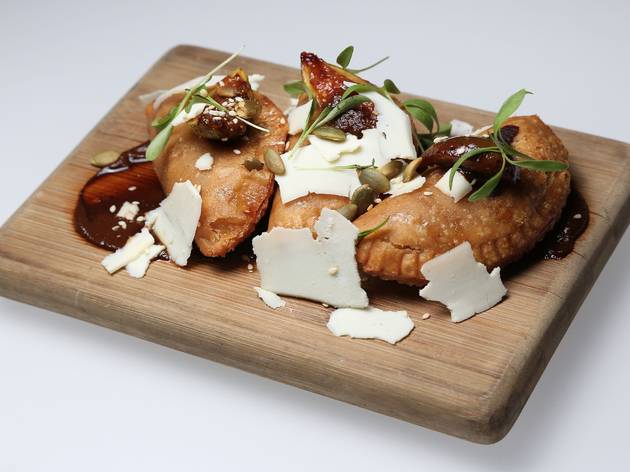 7/9
Photograph: Graham Denholm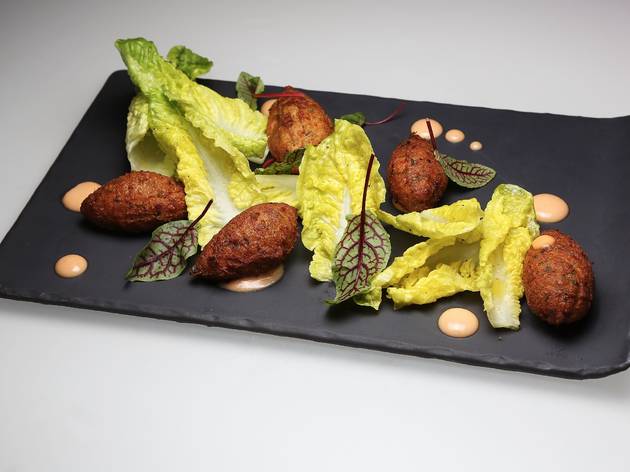 8/9
Photograph: Graham Denholm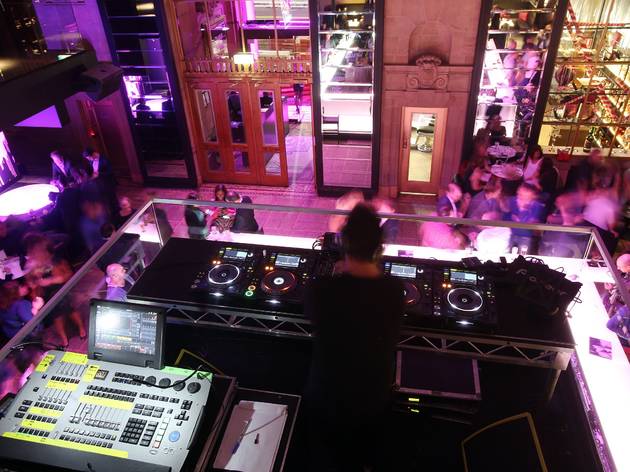 9/9
Photograph: Graham Denholm
When a bar knows no labels, but fits them all depending on the day
Bar, nightclub and notorious pick-up venue is quite a reputation to be handed in your first month of trade, but Ms Collins owns it all with no shame or pretense, making it refreshing for the up-market drink scene.
It used to be the multi-faceted venue with several cuisines, styles of drink and a cigar room known as Silk Road, but Ms Collins has painted over classic chiaroscuro Renaissance images with rollers carrying thick, black paint, pasted them on the ceiling to reference the Sistine Chapel and added a sculpture of a horse threatening to fall from the entrance next to bold pastels and racy neon signs. It sounds a sham, but works whether the venue is pumping club nights where the drink of choice is a vodka, lime and soda or sparse with the late-night business contingent sipping on top shelf spirits while eating from the three-chef strong consulted menu.
The food comes from a supergroup of chefs: Huxtable's Dan Wilson, Paul Wilson of Mr Wilson and Dan Poyner. Each chef celebrates a different culinary vision to showcase a three cuisine-tiered menu, infused with Latin American, pan-Asian and contemporary Australian influences. Highlights include Daniel Wilson's Spicy Thai tuna tartare, Paul Wilson's steak taco sandwiches and Dan Poyner's soft shell crab sliders. The good news is that it is well varied, cheap and cooked by trained chefs rather than a catering mob, meaning that the product is tasted before it is served, consistent and well translated.
House cocktails sound hard, fast and sweet with concoctions using ingredients like Japanese whisky, Chandon, homemade all-spice syrup and fig jam making the list, but given the time, the worded up bartenders are happy to tailor drinks according to tastes. Be warned though; spirits come at premium prices and a martini of any variety could easily push $30. Given the club crowds at the end of the week, champagne is an obvious feature with mass-produced, by-the-bottles starting in the hundreds.
Approach Ms Collins with caution: know your crowd, budget and tastes and you'll be guaranteed a hoot.
Venue name:
Ms Collins
Contact:
Address:
425 Collins St
3000

Opening hours:
Tue-Sat 4pm-late
Transport:
Nearby stations: Southern Cross; Flinders Street
Rating Breakdown
5 star:

0

4 star:

0

3 star:

0

2 star:

0

1 star:

1
Firstly let me say this: DONT BELEIVE ANY OF THE NONSENSE POSTED BY PAID BLOGGERS. This is just a bar with ridiculous pretensions about being a food venue. It is an insult to the average punter that they try to position their snack menu as something gastronomic...with their chefs having no credentials beyond working in a burger joint. Let me give one example of the stupidity of their menu of overpriced snacks. One of their 'chefs' menus has a beef curry at 21 dollars. What is delivered is little more than a large spoonful. What? You want rice with that? Sorry, but chef "what's his name" didn't think to include that in the dish. Seriously? A curry dish with no rice? Shall I soak up the sauce with a napkin? But wait says the waitress...the other no-name-chef has a dish on his menu that is saffron rice with shredded coconut....and you can order a tiny bowl of that for 8 dollars. If you are still hungry after those meagre portions then you can order some fries. But don't be surprised if they turn out to literally be a dozen of sweet potato fries. And not just any artisan sweet potato fries...SHOESTRING artisan sweet potato fries.
The verdict...DO NOT EAT HERE...eat elsewhere and then come here for a drink. Or don't.