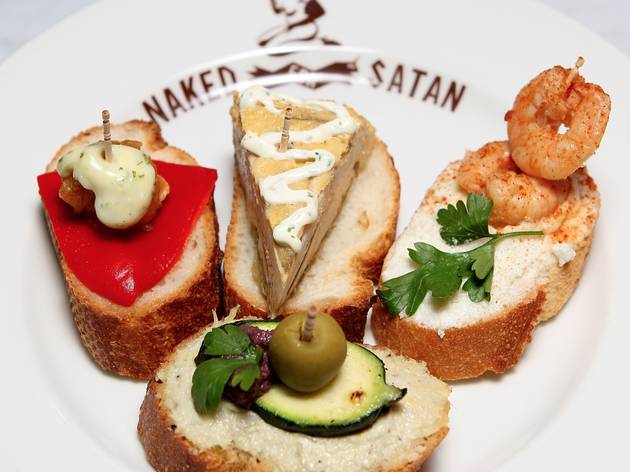 1/11
Photograph: Graham Denholm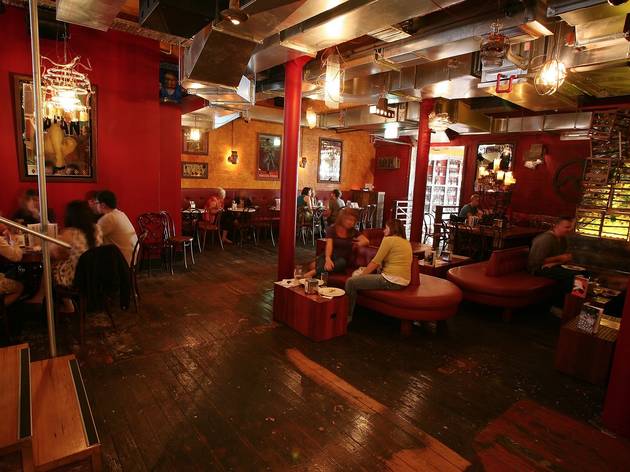 2/11
Photograph: Graham Denholm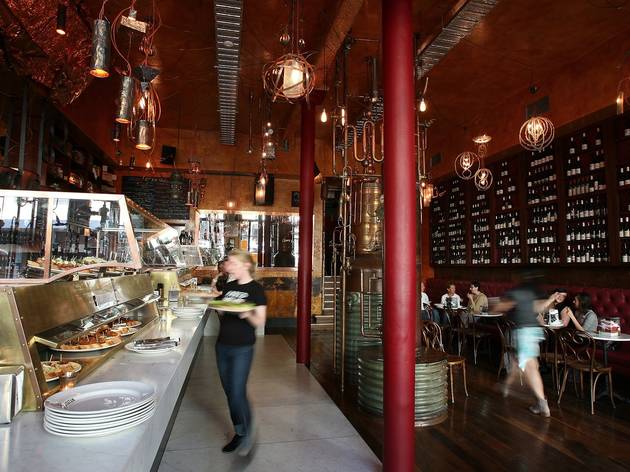 3/11
Photograph: Graham Denholm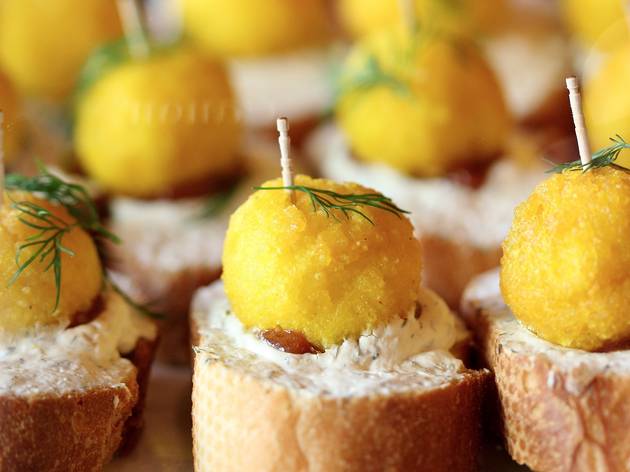 4/11
Photograph: Graham Denholm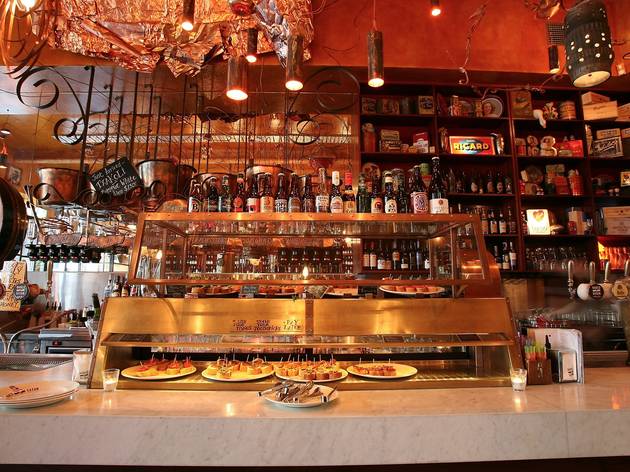 5/11
Photograph: Graham Denholm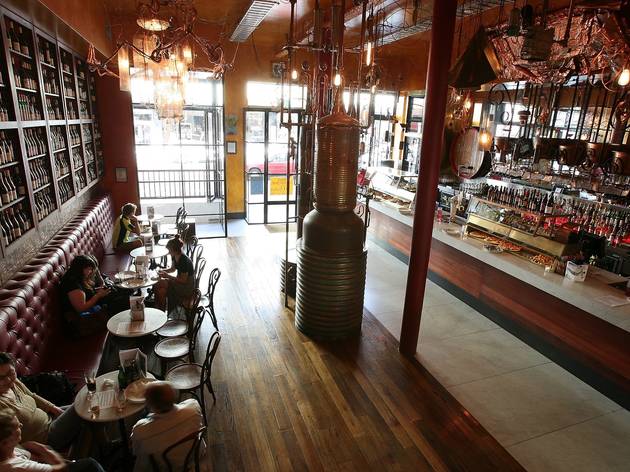 6/11
Photograph: Graham Denholm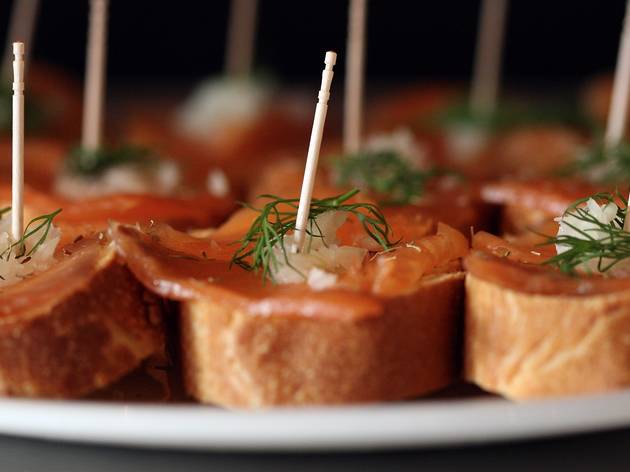 7/11
Photograph: Graham Denholm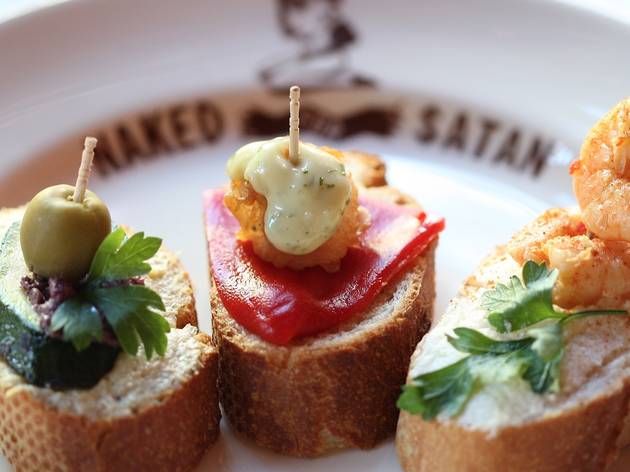 8/11
Photograph: Graham Denholm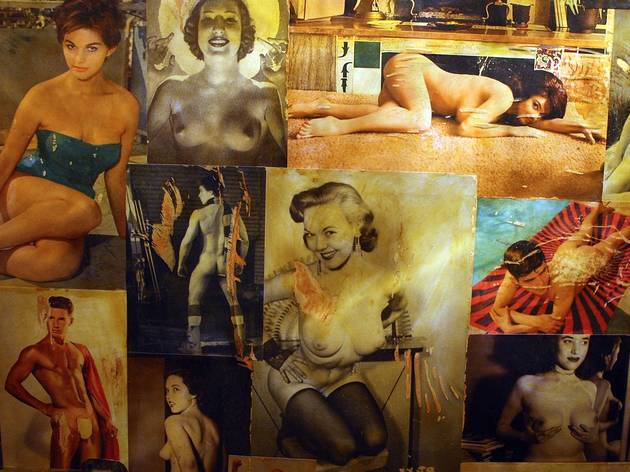 9/11
Photograph: Graham Denholm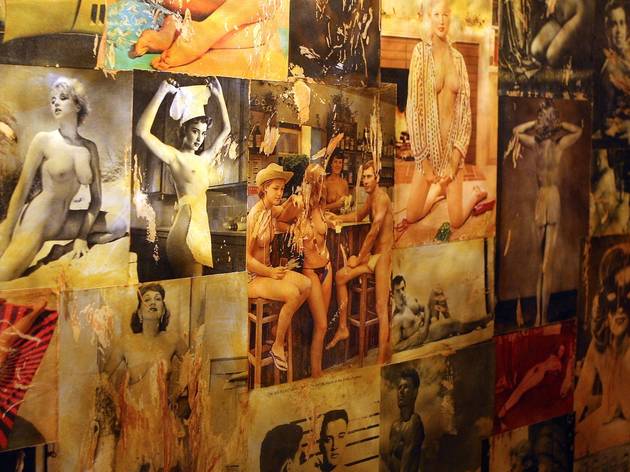 10/11
Photograph: Graham Denholm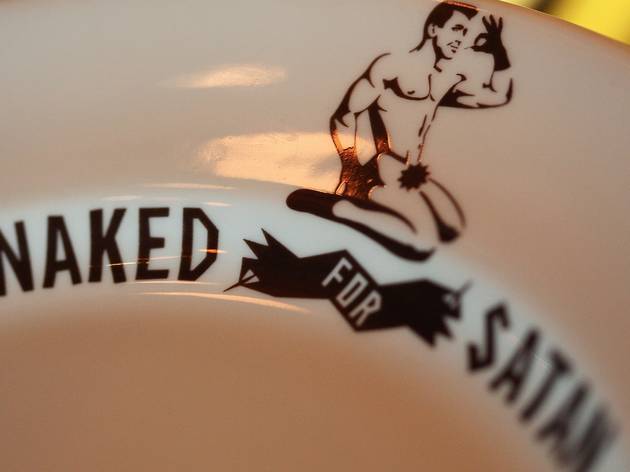 11/11
Photograph: Graham Denholm
It's very easy to succumb to the deadly sin of greed at this dark temple to snacks
Naked for Satan specialises in pinxtos and vodka. For those unfamiliar with the former (pronounced 'pinch-os'), they're a diminutive bar snack usually speared with a toothpick or skewer to hold the morsel together and served in Basque country taverns – and in this Spanish-style bar on Brunswick Street.
Its name gives no hint of the décor, the spacious ground floor being more opulent kook than hellish bare, with its banquette seating (crimson, naturally), wall of wines, dangly curio light fittings and portly copper vodka still dominating the middle of the room.
A marble bar is dedicated to displaying the selection of pinxtos and, with around 15 platters on show, it's a self-service Basque buffet. Simply grab a plate and load up. Most of the pinxtos consist of a slice of fresh sourdough breadstick topped with familiar savoury combinations such as artichoke and goat's cheese, pumpkin and mushroom or smoked salmon and dill.
A devilishly moreish nibble, the pinxto is a fun and novel way to eat. Some are more memorable than others: we particularly appreciated the generous wedge of potato tortilla drizzled with aioli, the salty/sweet anchovy and caramelised onion combination and the light and creamy prawn number dusted with paprika. Happily, there are also two sweet options to round out the party: a decadent pistachio chocolate ball with a wicked hit of rum and the more angelic and delicately-flavoured orange ricotta cannoli.
When you're done, consolidate your toothpicks and ferry your plate to the counter to tally up your bill. Each morsel is 50c, which makes it all-too easy to succumb to the most easily embraced of the seven deadly sins – greed. But don't worry, the laid back staff won't judge your enormous collection.
The variegated congregation on the Friday lunchtime we dropped in suggests that word has travelled: office groups rub elbows with friends catching up for a TGIF drink and prudent pensioners keen to capitalise on the fresh, affordable fare, and maybe even indulge in a snifter.
The diversity of drinks leads one into temptation. A vodkaphile's heaven, Naked for Satan offers 22 house-infused distillations (from cherry and chilli to chocolate and sugarcane) as well as boutique beers, ciders, wine (mostly Australian, but with a handful from Spain) and theologically themed cocktails (glass of Stigmata, anyone?).
One rarely associates chez Satan with adjectives such as comfortable and hospitable, but if this is what hell is like, damned away.
Venue name:
Naked for Satan
Contact:
Address:
285 Brunswick St
Fitzroy
3065

Opening hours:
Sun-Tue 12 noon-midnight; Wed-Sat 12 noon-1am