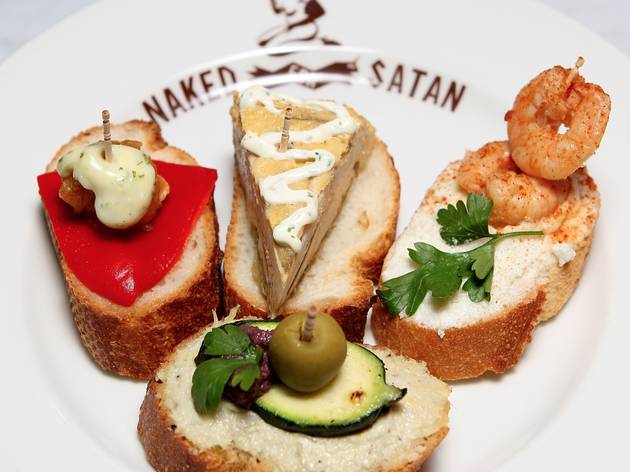 1/11
Photograph: Graham Denholm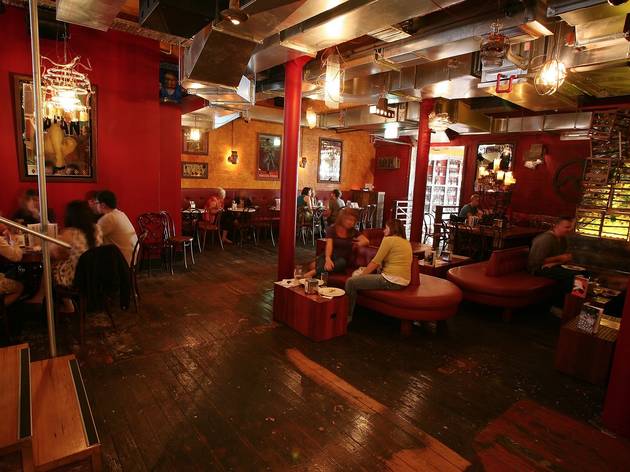 2/11
Photograph: Graham Denholm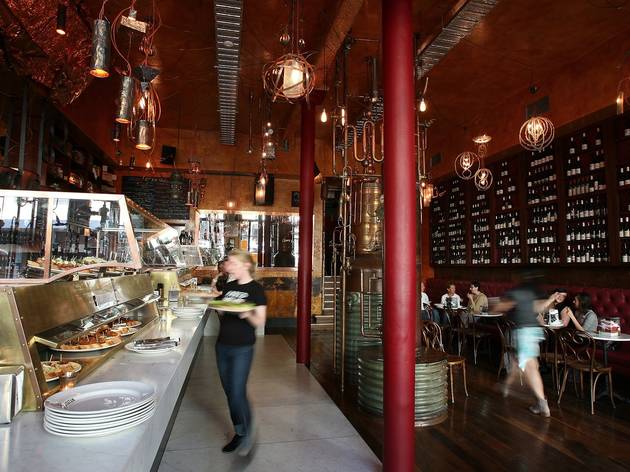 3/11
Photograph: Graham Denholm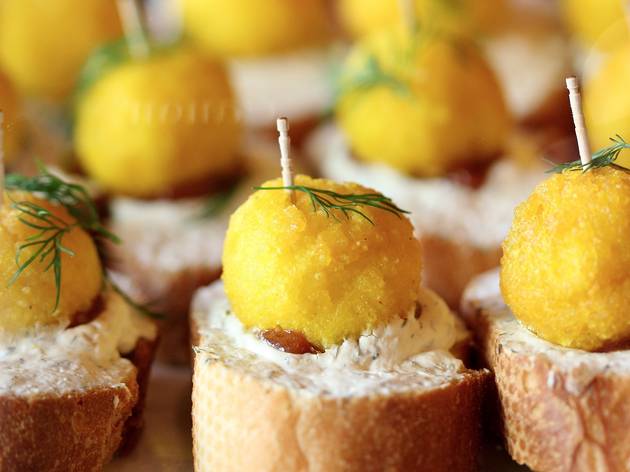 4/11
Photograph: Graham Denholm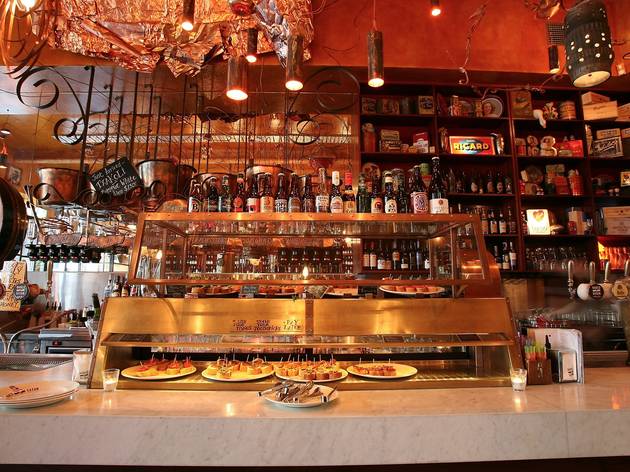 5/11
Photograph: Graham Denholm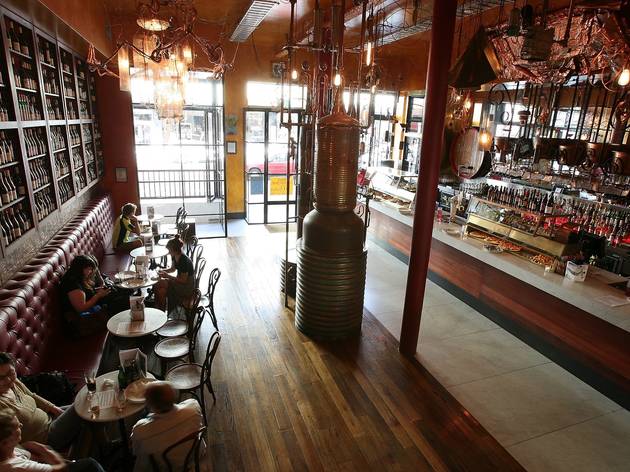 6/11
Photograph: Graham Denholm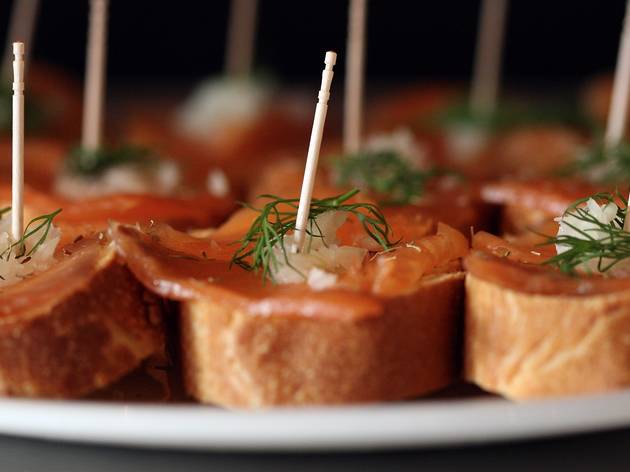 7/11
Photograph: Graham Denholm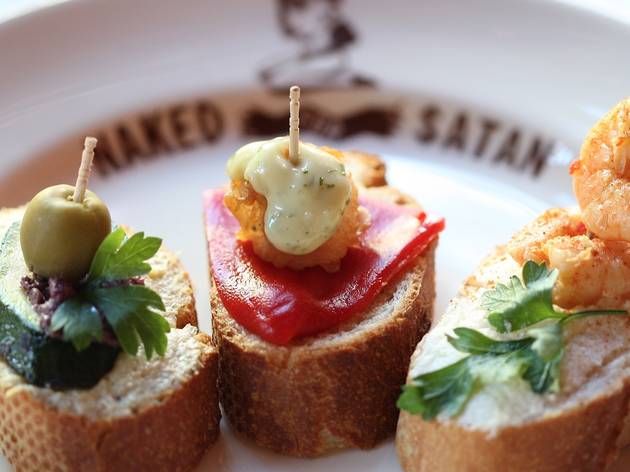 8/11
Photograph: Graham Denholm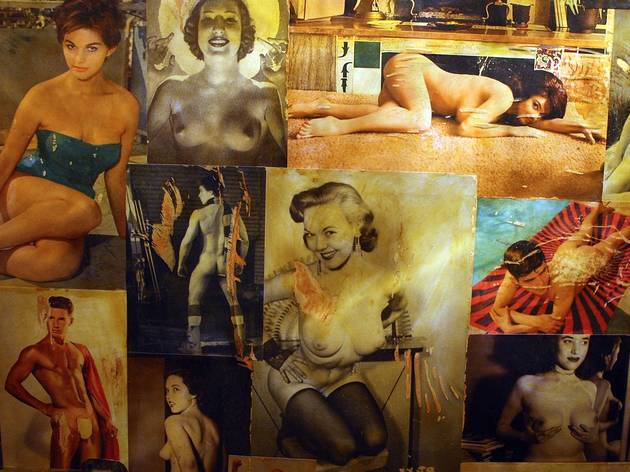 9/11
Photograph: Graham Denholm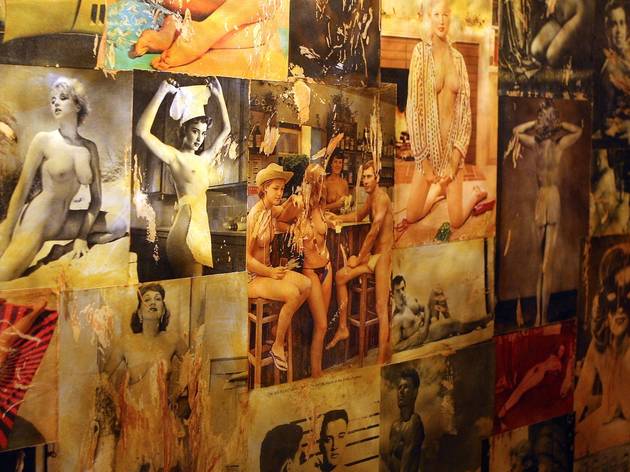 10/11
Photograph: Graham Denholm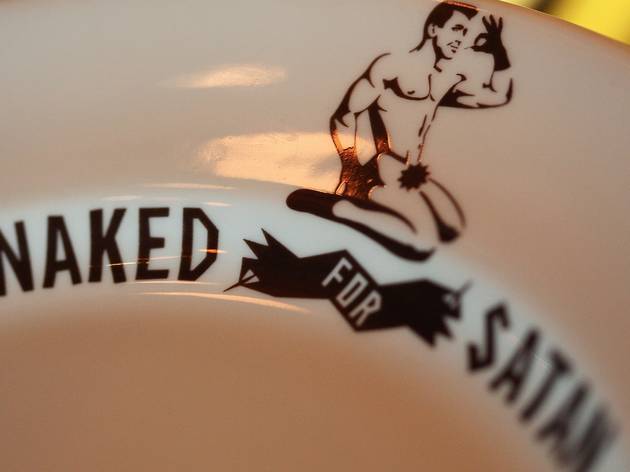 11/11
Photograph: Graham Denholm
Ignore the name – pants are definitely required at this Basque-style bar
So what is in a name? Would a pintxos by any other linguistically intimidating name taste as trendy? Naked for Satan, sporting a risqué moniker, a fresh style of snacking and owners with restaurant pedigrees up the wazoo, has the potential to become one of Fitzroy's great hits. It's bold and brassy with découpage of naked people on the walls, and when approaching the warm glowing entrance, you are welcomed by a doorman (unless you don't satisfy the unwritten dress code). They want to keep the riff raff out, but the gesture always feels a little kitsch - like wrapping a sofa in plastic to keep it 'nice'.
So what is it they are jealously guarding? The aforementioned pintxos, for one thing. Pronounced 'pin-choss', the tapas-style morsels are displayed in large glass-fronted cabinets at the front bar, promising a bountiful rainbow of colours and flavours. Folds of paper-thin wagyu salami, fatty slices of smoked salmon with pickled onion and little white anchovy, peperoncini and olive 'kebabs' sit in shiny anticipation, trying to woo hungry drinkers.
You fill a plate, totter off, trundle back to refresh, or snaffle a load-bearing staff member. At the end of the night, simply present your toothpicks and they tally your bill. It's almost like Spanish yum cha, and while the concept and cost is fantastic ($2 per pintxo), there are some teething troubles. Up to 16 offerings means that the less popular pintxos end up sitting in sad abandonment, and since 90 per cent of them are set atop plain slices of sourdough, the appeal wanes with the freshness. They would perhaps be better off focusing on say, six plates, regularly refreshed.
In the same vein they seem to be trying too hard with the drinks menu. Cocktails sport names such as Lucifer's Lovejuice, Bloody Satan and Dirty Diablo. Thankfully, but underwhelmingly, they are revealed to be your stock-standard Bloody Mary and Cosmopolitan, and despite featuring their house-infused vodkas they're a little lacking.
Overall, it's a fun concept, and it's cheap. In time, they'll find the market they're looking for.
Venue name:
Naked for Satan
Contact:
Address:
285 Brunswick St
Fitzroy
3065

Opening hours:
Sun-Tue 12 noon-midnight; Wed-Sat 12 noon-1am
You may be interested in: