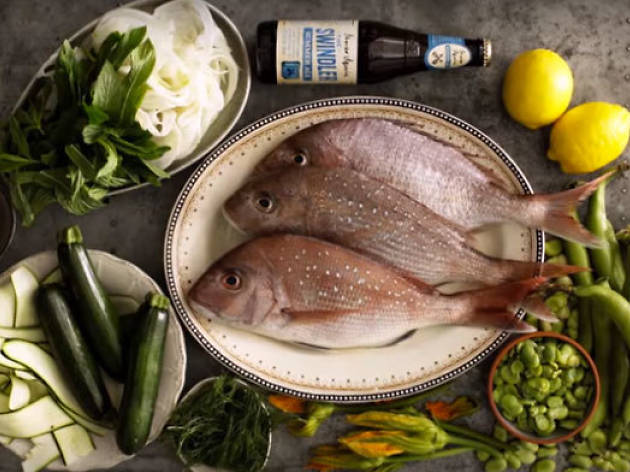 Recipe for whole roasted snapper
Beer battered fish is delicious, but there is so much more you can do when cooking seafood with beer
For many people, fresh seafood and cold beers is the taste of summer, so Coogee Pavilion's Jordon Toft, inspired by the malt based and tropical aromas of James Squire's new summer ale, the Swindler, walks us through his recipe for whole roasted snapper, a salad of fennel, mint, broad bean and zucchini flowers.
INGREDIENTS
- 2 600g plate size snapper, cleaned
- 1 lemon, sliced into disks
- 1 sprig of mint
- 60ml olive oil
- Salt and pepper
- 1 fennel bulb, sliced finely
- 1 cup of torn mint leaves
- ½ cup broad beans, podded and shelled
- 10 zucchini flower petals
- 2 x zucchini, sliced lengthways
- ½ cup fennel fronds
- Pinch of fennel pollen (find it in the spice section)
- Juice of a lemon
- 100ml extra virgin olive oil
METHOD
- Preheat oven to 220°c
- Score snapper with a sharp knife and season liberally, inside and out, with olive oil and salt and pepper.
- Place lemon slices and mint sprig in the snapper's cavity and rest in a roasting tray. Place in the oven to cook for 10-14 minutes.
- Slice fennel and zucchini finely using a Japanese mandolin for best results and place in a bowl large enough to hold the salad. Add mint, broad beans, zucchini petals and fennel fronds to the bowl.
- When the flesh of the fish gives with light pressure remove from the oven and place on a serving plate.
- Mix lemon juice and extra virgin olive oil together and dress the salad, season with salt and pepper and place by the side of the fish.
- Dress the entire plate with a few lugs of olive oil and sprinkle with the fennel pollen.
- Enjoy your meal with James Squire's The Swindler Summer Ale.
More delicious food to go with beer
Gastropubs are shaking up the standard parma with gourmet versions of pub grub. You can still get a steak and chips, but the steak will likely be Wagyu and may come with oysters as a starter.
Best selling Time Out Offers