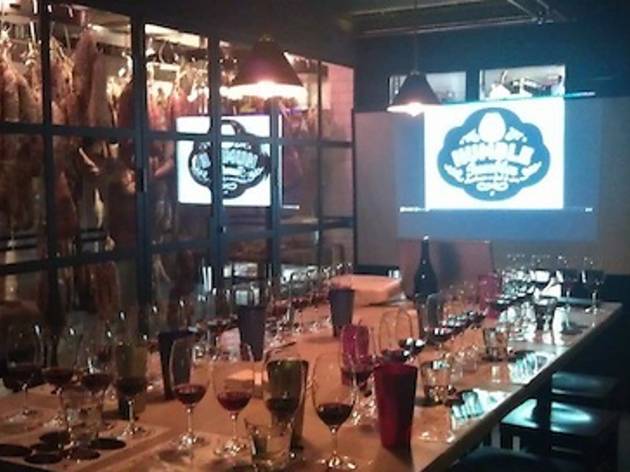 The Humble Tumbler has been schooling Melburnians on spirits, wine and beer since 2013 by way of "liquid-learning" in short courses and master-classes. Now, they're upping their culinary game by adding sake to the lesson plan after founder, Clare Burder, picked up some serious sake knowledge at the International Sake Education Council in Tokyo.
The interactive short courses run once a week, over four weeks for wine, and three weeks for craft beer and whisky. The one-night master-classes – centered around themes like "Weird Beer", "So Frenchie: So Delicious" and "Scotch Vs Japanese Whisky" – run for two and a half hours. All lessons include matching cheeses and other delicious tasters like housemade charcuterie to complete the educational experience. Enter through the Kodiak Club and head upstairs to one of their many culinary adventures.
Short Courses
The Humble Tumbler Wine Course: Adventures in Food and Wine
A four-week course learning how to taste and talk about wine, styles, varieties, regions and how to match food and wine.
The Humble Tumbler Craft Beer Course: Adventures in Hops, Malt and Yeast
The three-week craft beer course covers all the good stuff: style, origin, tasting, quality evaluation, food matching and lots more.
The Humble Tumbler Whisky Course: The Water of Life
The three-week course covers Scotch, Irish, American, Japanese and Australian whiskies, plus matching food, quality evaluation, history and heaps more.
Wine Masterclasses
Dinner Party Hero Winter Edition
The ultimate food and wine matching masterclass: Think wine appreciation 101, introduction to wine style, food and wine matching and how to buy wine confidently. The class covers sparkling, white wine, red wine and dessert wines.
Fortified Wine and Sherry
This once-a-year masterclass is dedicated to all things fortified, including sherry, tokay (topaque), muscat, vintage and tawny port. Learn how these wines are made, how they're aged, the flavour profiles, the regions, styles and category classifications.
So Frenchie, So Delicious: An Introduction to French Wine
Suitable for beginners through to seasoned wine lovers, this masterclass will take you through the varieties, styles and character of the Champagne, Loire, Chablis, Burgundy, Rhone and Bordeaux regions, and the all-important classification systems which govern each region.
Sake Masterclasses
Embrance the Umami: An Introduction to Sake
Your sake raconteur Clare Burder is here to guide you through the fundamentals: how sake is made, the grading system, rice strain and regionality, flavour profiles, food matching plus some interesting history thrown in for good measure.
Sake Vs Wine Showdown @ Charlie Dumpling
Clare has teamed up with the makers of Melbourne's finest dumplings, Charlie Dumpling, for a sake-versus-wine showdown. Five umami-popping dumplings, five wines, five sakes.
Whisky Masterclasses
Scotch Vs Japanese Whisky: A Showdown
Whose whisky reigns supreme? Scotch has the benefit of history and an assumed quality, not to mention big brands and lots of money. Hot on their heels, Japan is winning legions of new whisky fanatics. With the aid of a selection of the finest whiskies, explore both countries in detail so you can decide for yourself.
Whisky 101: An Introduction to the Finest Drink on Earth
Finest drink on earth? This masterclass will cover everything you need to know about ordering, buying and appreciating whisky, as well as the fundamentals of whisky production, food matching and quality evaluation.
Craft Beer Masterclasses
Bring it on: Weird Beer in 2014
This special masterclass is designed to give crazy beers, which generally don't fit into the craft beer short course, the love they deserve! Think sour beers, all sorts of barrel-aged examples and beers which have been tinkered with in wineries.
Venue name:
The Humble Tumbler
Contact:
Address:
Lvl 2
272 Brunswick St
Fitzroy
Melbourne
3065

Price:
$95-$300