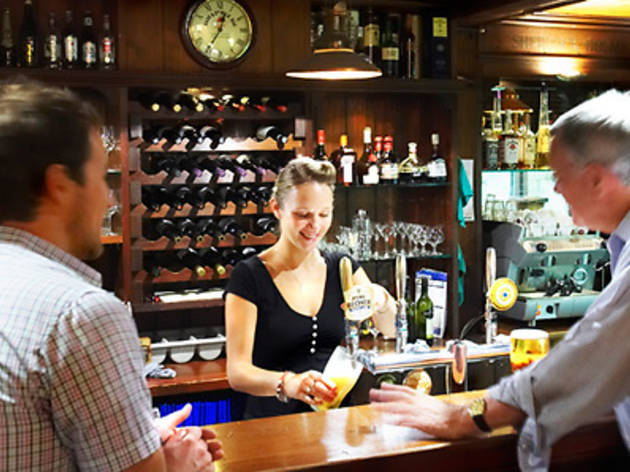 The Sherlock Holmes extends a warm welcome to all manner of Irregulars
Established in 1985 in the basement of what appears to be a much older building, the Sherlock Holmes pays tribute to the great fictional criminologist while evoking the London of old. A gas lamp in the stairwell gives the address as 221b Baker Street, a deerstalker cap sits behind the bar, and various sections named after characters in Holmes' social circle leave no ambiguity over who the absent star of the show is. To make the most of the experience, try to find a seat in the small, elevated Moriarty's Corner, near Doctor Watson's bar: it's filled with pokey little alcoves, bricked over fireplaces and mysterious cupboards, not to mention a selection of profiles of interesting British personages from Vanity Fair issues of the 1870s. The caricatures are fabulous and feature some truly excellent hats and beards, and the profiles themselves, verbose by modern standards, are an interesting read if you're waiting for someone. There are several internal windows with stained and age-warped glass, which serve no conceivable purpose except to deepen the illusion that this is a pub so old it was built on bits of other pubs.
The rear section of the pub is pleasant in its own right, being lined with old paintings of ships and offering more seating than the front, but its plainer, more open plan layout is a lot less atmospheric. In the front section, you're able to pretend you're in an old pub in modern day London: in the rear, you're simply right where you are. The Sherlock Holmes has three televisions in total, which might have been the kiss of death but they are at least kept quiet and unobtrusive. The menu is largely old fashioned pub fare – steaks, bangers and mash, lambs fry and bacon. According to the menu Dr Watson was very fond of parmas, so you'll find a goodly number of those.
It would be nice to say that Sherlock Holmes himself would feel at home here, but he really wasn't a pub kind of guy. He'd be more likely to disguise himself as a Chinese sailor and infiltrate an opium den or stay home injecting cocaine than to drop into his local for a Guinness. Anyway, you can't go out when you're fictional. This is however a fine spot for Anglophiles, amateur detectives, and those who respect a fine set of whiskers.
Venue name:
The Sherlock Holmes
Contact:
Address:
Basement
415 Collins St
3000

Opening hours:
Mon-Wed 11.30am-11pm; Thu-Fri 11.30am-late; Sat 2pm-late
Transport:
Nearby stations: Flinders St; Southern Cross