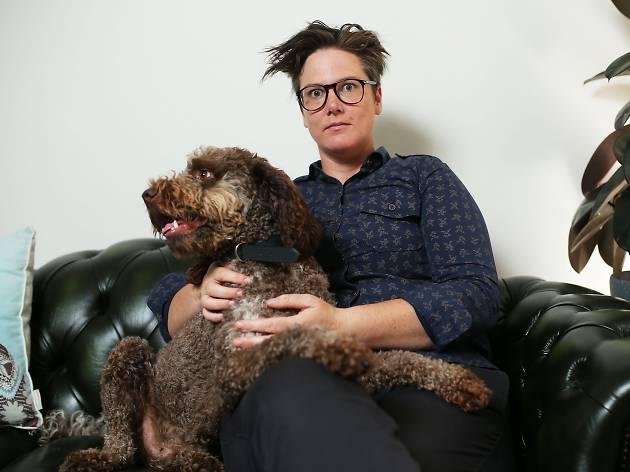 At home with Hannah Gadsby
After years of gigs, TV appearances and international tours, Gadsby is relishing the calm before the storm when we visit her for tea and biscuits
Hannah Gadsby sits in her kitchen on a warm but drizzly day. The backdoor is open, and outside, her veggie patch is flourishing. Gadsby lives in a renter's golden egg – an affordable inner-urban one bedder, with a massive garden, large rooms, and a cubby house. The trade-off is the outdoor dunny.
The Tasmania-born comedian's veggie patch looks like it could sustain the local community. Impressively, Gadsby's grown it in less than a year, which may be due to good green-thumb genetics. "My great-grandfather, Dick Gadsby – I come from a long line of dicks – his passion was gardening," she says. "Then my grandfather, Stewart, who was also known as Dick, he and Grandma Vulva (not really) would travel around Australia and steal native plants and then take them back to Tasmania and sell them – they had a nursery. Then, my Dad had a vegetable garden that was as big as my backyard. I applied myself and it turned out that I was alright after all."
Gadsby lives alone, but doesn't find herself wanting for company. Her brother owns a fruit and veg shop down the road, other mates live locally and then there's her dog, Doug. "Doug is a huge presence so you never feel really lonely, he's a shadow and always up in your grill," she says.
The quiet life is feeding Gadsby's muse. She's currently writing her new show, Dogmatic, in which she'll delve into the life choices (questionable or otherwise) that have led to her current situation in her usual droll storytelling manner. "I found that pottering is very conducive to my creative process, so now, I find myself being incredibly creative because I've got such much to procrastinate with," Gadsby says. "It's a wonderland of pottering in my house now. I've got gardening and I'm teaching myself woodwork – I'm putting bits of wood together to make useful shit."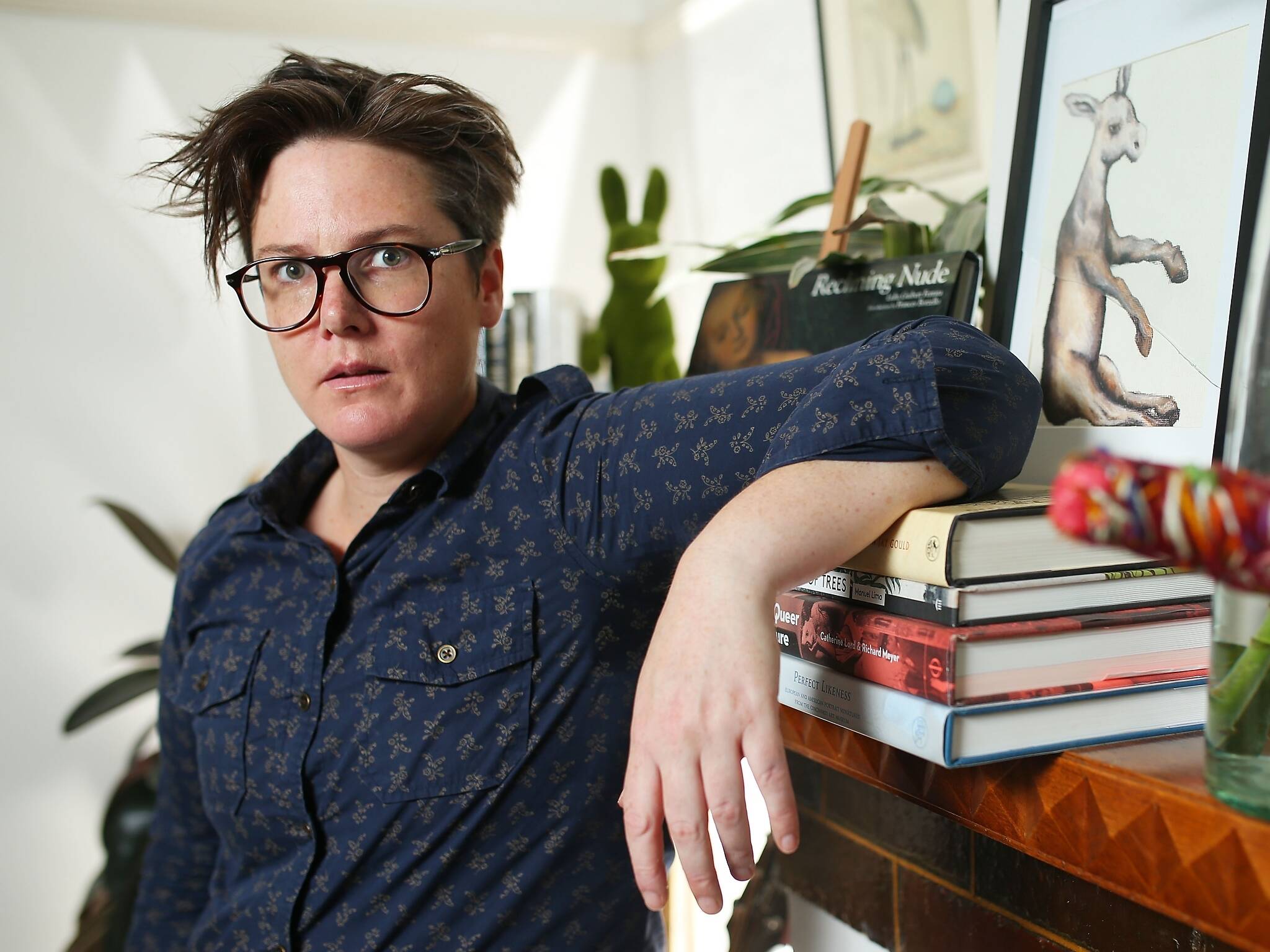 "I found that pottering is very conducive to my creative process"
Favouring tea over coffee, Gadsby serves from a teapot and lays out a bowl of strawberries with balsamic glaze. "Since the last festival I've carved this nice little life out," she says. "I got to the end of the Festival last year and I'd just broken up with my girlfriend and thought, 'I can't keep this cycle going, I need to change things up.' Previously, I'd continue to travel – three or four months in the UK. But I've stopped and it's really quite lovely."
Do you lose currency if you do that?
"Probably, but I had to balance out the pros and cons and there were too many cons. I've got a soft brain. I get anxiety and distressed from external stimuli quite easily, so if I'm in a constant state of self-protection – it's exhausting. So, I might lose currency, but I won't top myself."
Catch Hannah Gadsby: Dogmatic at the Melbourne International Comedy Festival.
---
Career highlights

2006: Won Triple J's Raw Comedy Award
2006: Took out second place for the So You Think You're Funny Award at the Edinburgh Fringe Festival
2007: Won Best Emerging Comedy Award at the Adelaide Fringe Festival
2008: Was a Moosehead Award recipient
2012: Joins Adam Hills Tonight team
2014: Joined Josh Thomas's show Please Like Me to play Hannah
Did you know: Gadsby has a degree in Art History and Curatorship from ANU and occasionally runs arts tours at the NGV.