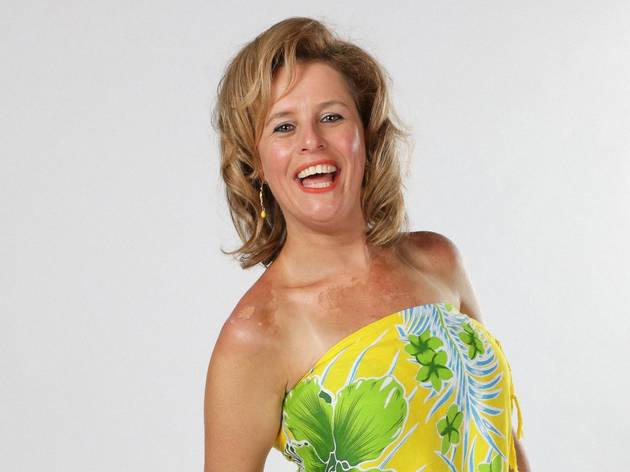 Time Out says
Join the crackpot fashion-forward presenter from the comfort of her suburban home this weekend
Which of Australia's comic characters is coping best with all this lockdown drama, do you reckon?
Kath & Kim's Sharon Strzelecki is perma-stressed as it is, but would probs ride it out comfort eating while watching old netball matches. Possibly with her new BFF Kim Kardashian. And at least Kiki has her anthropomorphised vagina to keep her company in Kikki and Kitty.
We're guessing the world's least got it together fashion guru Helen Bidou (who looks a lot like celebrated comedian Anne Edmonds... funny that) is a quivering mess. We first fell in love with Bidou as the 'fashion krackspert' on ABC morning TV spoof Get Krack!n, but it's fair to say she's not the most well-adjusted star.
Always hovering on the verge of an emotional breakdown, and often spilling right over like a way-too generous martini, this makeup application skit is a prime example.
You'll be able to check in on her yourself digitally this weekend, care of everyone's favourite iso-platform Zoom. Hosting two out-there sessions of new iso-show Bidou Zoom from the confines of her north-western suburbs home, she'll offer songs, sarongs, and highly dubious advice on dating and medical interventions.
All you have to do is jump on the comedy.com.au website, purchase a $20 ticket for Friday May 1 at 7pm or Saturday May 2 at 8.30pm, then Eventbrite will send you a link to Zoom with Bidou. Doors open half an hour before kick-off, with cocktails BYO.
"Be warned, I can see into your house and I know if you're wearing a tracksuit," she cautions Time In viewers considering joining her.
So, is she coping? "I'm great," she squeaks a little too hysterically. "I'm taking everything online. Today I've done yoga, Pilates, boxercise, meditation, learnt French and renovated the bathroom."
Far be it from us to suggest all this activity could be under the influence of class-A confection, but Bidou's definitely highly strung. She confides in Time In that the current situation has deprived her of a major gig.
"My television show on 9Life called Bitches That Flip has been postponed," she bemoans. "It was a reality TV show that mixed flipping houses with wealthy housewives."
We'll have to wait and see if that one ever eventuates, but for the meantime, have a read of this five-star review of her 2018 Melbourne International Comedy Festival show Enter the Spinnaker Lounge. Helen Razer says it induced "laughter so physical it destroys all motor control," adding that "she's an elaborate hysteric whose suburban origin story feels as complete as Dame Edna's, far better charted than that of either Kath or Kim."
Details