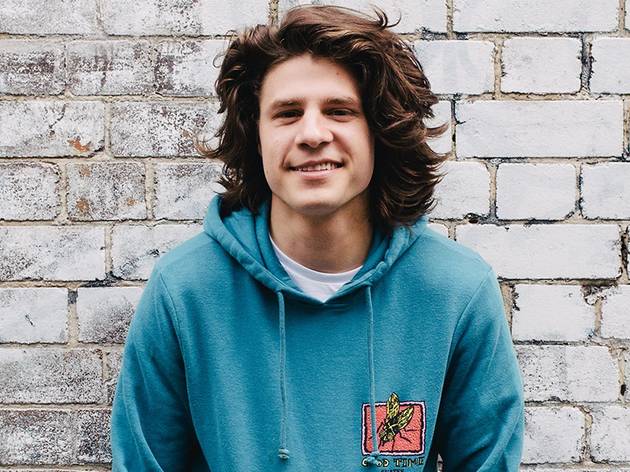 Time Out says
The winner of MICF's 2019 Best Newcomer award is back and still churning out laughter
Any show that starts with a finger up the bum has promise from the get-go. Blake Freeman's offering for Melbourne International Comedy Festival 2021 has more than just promise; it has a wandering odd hour of constant, occasionally WTF laughs courtesy of Freeman's charming tone and laidback energy.
Despite Freeman's relaxed delivery – it feels like your mate at a house party has just grabbed a soapbox – jokes in the show move fast with just the occasional whiff of structure holding the show together. Honestly, it doesn't even need it – and true to that, the show doesn't have a title, lest you think you're in for anything other than a wild ride of pointing out the world's oddities through Freeman's singular perspective. I haven't thought about Hotdogs from Big Brother for years, and now I can't stop thinking about him, and what he's made out of.
The show is extremely self-aware, with Freeman going so far as to call himself out on jokes well before the audience has the chance. When a bit doesn't get quite the response he'd like – it's funny but not knee-slapping funny – he's the first to point it out and convert the awkwardness into even bigger guffaws. And while this show is largely a mishmash of snippets spanning Stephen Hawking to sex shops, inheritance to realising at 25 that everything is fucked, Freeman also proves he can tell a truly funny long-form joke, with his tale of sleep paralysis and Hamish Blake easily the highlight of the show.
The chilled-out humour goes over a treat with the audience, whom Freeman is unafraid to lasso into his bits. It works because he's got that casual rapport and a smooth ability to ad lib. In fact, many of his planned jokes feature seemingly spontaneous addendums, and it's hard to tell whether he's really just thought of it on the spot – as he says – or it's just part of the act. Regardless, there's a hot basket of footnotes to jokes that really add some extra spice to an already well-seasoned performance.
It's unusual that a lack of filter between brain and mouth is a good thing – but I'd be lying if I didn't sort of love getting prior notice to the show's finale.
Details