Frida Deguise and Sallie J Don: the Blonde and the Bombshell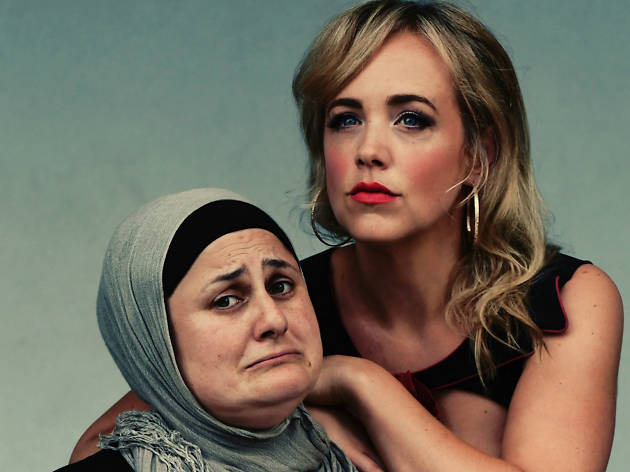 Two of comedy's up and coming stars offer some very different takes on Australian life in a punchy double act
You're probably going to relate to Frida Deguise or Sallie J Don, but not both. The comedians' two-woman show is a tongue-in-cheek takedown of Australian suburbia from two very different perspectives. It's a chalk-and-cheese pairing – Deguise is a Melbourne-born, Australian-Lebanese Muslim, and Don a private school-educated Anglo-Aussie with family in Mosman. Both however are unafraid of poking fun at their own cultural stereotypes – or as we say in Australia, taking the piss.
Up first, Deguise is quick to get stuck into jokes about being stereotyped – a word she confesses she did not know when she started stand-up. From leaving backpacks unguarded to getting stopped by security at Paddington town hall, Deguise has found a comedic niche and works it. Pauline Hanson of course gets a mention, with Deguise suggesting a (plausible) unrequited love story as the reason for Hanson's political stance. But while Deguise's background and faith make up a lot of her material, she's more than just a one-joke pony, with her material on working in retail and having a hoarder husband some of her best.
On the other side of the latte line Sallie J Don makes light work of the upper-middle echelons of Australia. Hey, it's not easy coming from a white, well-off family in Australia – as Don points out, her education at a girls' Christian school meant her sex education was extremely lacking (perhaps asking about 'which hole it goes into' during geography probably didn't help). Life's not all pinot grigio brunches at the top, and Don doesn't pull any punches when it comes to teasing her Malcolm Turnbull-loving relatives.
Though it would have been interesting to see a little more of the duo performing together, Deguise and Don still put on a show that is as shaking-my-head hilarious as it is brutally honest. Be warned: you will be asked if you have chlamydia.