Miles Munn: I Love Comedy review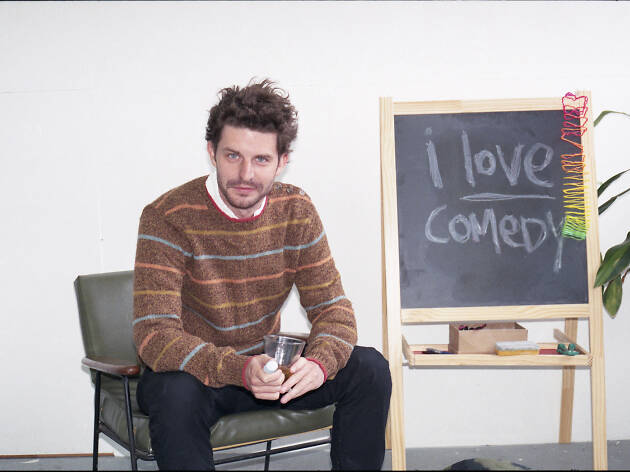 Time Out says
The Melbourne comedian returns with a new set of nutty satire for the Comedy Festival
Anyone new to the comic stylings of Miles Munn, or who may have accidentally stumbled up from Lonsdale St on a whim, might be forgiven for mistaking him for the most awkward of rookies. Munn's stage persona is so hesitant and stilted, his shows so rambling and discursive, it pushes the audience's discomfort to almost painful places. But it's largely a ruse; he's a sneaky satirist under the inept and shambling facade.
His new show, I Love Comedy, starts the way his previous show Romance Novel did. Munn is already on the stage, and mumbles to us about the signs we should look for that the show has begun. Of course, this goes on long enough for us to realise this is the show, that the non-sequiturs and the drawn-out jokes without a punchline, are going to make up the bulk of the hour. If you're looking for punchy, slick material that comes with built in cymbal crash, you'll know you're not in the right place right about now.
What you get instead is something more subtle, more subversive and, if you're in the mood, more delicious. Munn begins with "dating humour" that segues so quickly into "divorce humour" it's hard to remember the bridge. He claims to know nothing about either topic, and this seems to bear out when he concocts a fictional scenario involving married couple Martha and Bobby, who fight at a party, break up and reconnect in less than salubrious circumstances some time later.
It's a fairly standard set-up for an extended riff on dating and divorce, but Munn is clearly not interested in set-ups or standards for that matter. Even riffs sound too deliberate for the kind of nutty mind-wanderings of this comic. His tale – which involves a classy masked orgy in an abandoned French chateau, a labyrinthine association with an Alt-right men's wrestling team, and a particularly unpleasant meeting with a sleazy academic – comes to very little, but manages to range over an impressive array of hot-button topics.
And this is where Munn's sensibility starts to pay off. His loser persona is clearly a schtick, but it lets him slide in some telling commentary around the shifting dynamics of identity – he claims that "hot privilege" is actually at the top of the privilege chain, trumping race, sexuality and class – and the widening gap between the sexes. He skewers the left and the right without planting a flag on either side, and he even brings in a hilarious reference to Hannah Gadsby's game-changing show Nannette that manages to make the joke entirely on him.
For all his caginess, Munn is playing with the same matches as Gadsby, even if he doesn't set the place alight like she did. I Love Comedy is obviously an ironic title, and serves to underline the self-excoriation necessary to the comedian's craft. Watching this fledgling comic as he throws up sparks is certainly fascinating, but he'll be dynamite when that fuel really starts to burn.
Details
Users say