Sarah Keyworth: Dark Horse review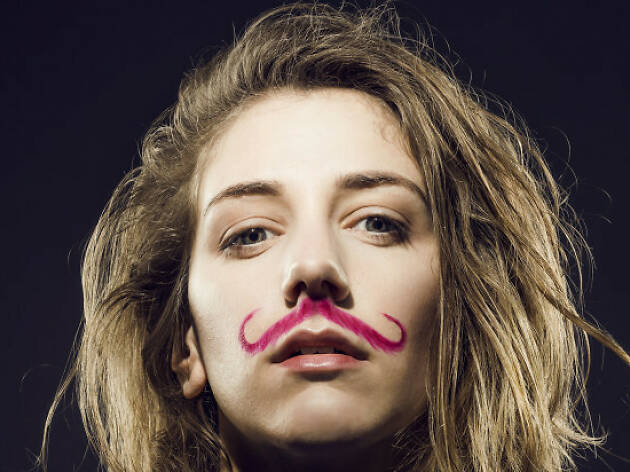 Time Out says
The rising star of British stand-up is bringing her acclaimed show to Melbourne International Comedy Festival
There's a long tradition of queer stand-up comedians using their painful experiences as a young person as fodder for jokes. There's something about growing up outside of society's norms that makes you question those norms and stretch their limits. Which is, coincidentally, exactly what a lot of comedy is built on.
British stand-up Sarah Keyworth, who was nominated for Best Newcomer at last year's Edinburgh Comedy Awards with this show, has got plenty to draw on from her own personal life. She had all sorts of labels applied to her when she was growing up: "tomboy", the "man beast", and even "Nedvěd" (a reference to Pavel Nedvěd, a Czech soccer player with whom Keyworth is happy to admit she shared a strong resemblance). Eventually, she did her best to fit the expectations society has of young women and ended up finding another, unexpected crushing label applied to her: "slut".
So far, so standard. As funny and charming as Keyworth is with her diminutive stance and politeness, we've heard these sorts of stories on stand-up stages before.
But it's when her anecdotes move to the two posh young humans she cared for as a nanny that she really hits her stride. When she first met Roly, a young girl, and Baxter, her brother, they were unstoppable. Roly was completely fearless and uncompromising. She was a proper girly girl – into pink frilly things and everything – but with the confidence and swagger of a mafia boss.
But now Roly is growing up, she's starting to change and retreat. She's started to hear the words that get applied to girls like her and wants to make sure nobody can call her "bossy" or "slutty". Roly's parents are great, but Keyworth finds herself unexpectedly acting as a shield between Roly and all of the same bullshit that she faced growing up.
It's a point well made: a girl doesn't have to be a "tomboy" like Keyworth to find herself under enormous societal pressure to conform. The obvious comparison to be made here is with Hannah Gadsby's Nanette; there's a plea at the heart of both shows to allow young people to discover their place in the world without constantly telling them how they should act, dress and identify. But while Gadsby came to her show with an understandable fury, Keyworth's passion is gentler, springing forth from her love for Roly. And she's gentler with her audience; she understands that we might screw up they/them pronouns for non-binary people and struggle to cast off the gender lens we were taught to use as young people. But she wants us to do better, and she makes this plea with compassion, nuance and plenty of laughs. For a debut solo show, this is hugely impressive stuff.
Details