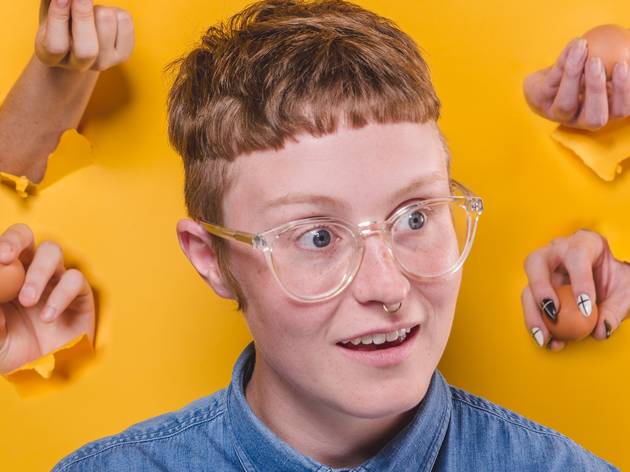 Time Out says
Scout Boxall owns their "egg head" in an absolutely chaotic MICF show
Scout Boxall's personality is their hair. It's a skin-tight rug that circles around their scalp, cutting off above the ear like an ill-fitting beanie – something Scout terms a 360-degree fringe. And previously, when Scout was young, they were fitted with an Amelie-inspired bob-cut and was christened by bullies as 'egg head'. Scout has made the term their own, however, thus the title of the show: Good Egg – a perfect gender-neutral term of endearment. Rest assured, Scout shows restraint in using only one egg pun in the show, and it's a deeply commendable act of self-control, considering how ridiculously easy it is to crack an egg joke.
But self-control is not exercised anywhere else in Good Egg – quite the opposite. It's chaos. As Scout acknowledges in the very beginning, there is no through line. Some bits are brilliant, others fall flat. A nun fitness routine drags on, but an Enya-invoked hypnosis of a school shooter? Pure art. A dreadful smut reading that morphs seamlessly into an endless rendition of The Last Post is magnificently horrific.
At that point, Scout reassures: "This is as cooked as it gets." But they are absolutely wrong. There is a bit in Good Egg that made this reviewer cringe so hard they felt their teeth sink back into their gums.
There is a sense of rueful anguish that pervades the routine, but bravely Scout does it all with admirable panache, skating from skit to skit with a series of dramatic props and costumes, and an apologetic grimace.
Apart from the moments of cringe, the best bits are surreal, inspired – such as the part in which Scout tests the voices of different objects. If the waves of an ocean sound from a seashell, then what comes out of a wine glass? A sriracha bottle? A pringles can?
As with everything else in Good Egg, it will not be what you expect.
Details