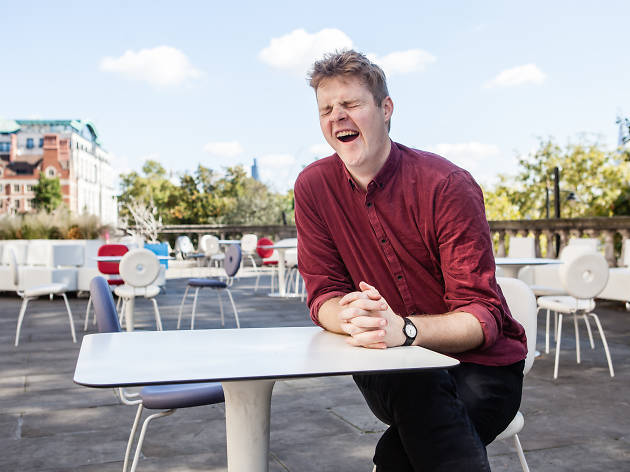 Touring with Tom Ballard
Travelling the country, making audiences laugh every night, keeping the material fresh – is a career on the road gruelling, or are touring comedians living the dream?
"Some say I'm a hero, and I can't deny that. Work up to one hour a day in front of people who love me and who laugh and who pay me money to talk about my dick? It's pretty tough, but someone's gotta do it."
Tom Ballard is too intelligent and self-aware to complain that making people laugh for a living is a tough gig. What he can admit, however, is that touring the country would be a lot easier on his body if he didn't drink "every fucking night".
"That's the danger of Adelaide – it's too fun!" he says, speaking to Time Out halfway into his Adelaide Fringe tour. "The weather's great, the Garden of Unearthly Delights [festival hub] is a paradise, there's a million bars, and all my friends are in town. After the first five nights, I took one night off [drinking] and I was actually was a human being the next day."
This year, Ballard is running the full Australian comedy route, starting from Perth Fringeworld in January, then going through Adelaide Fringe, Brisbane Comedy Festival, the Melbourne International Comedy Festival and the Sydney Comedy Festival, which finishes in May. Four solid months of the same show, with minimal nights off.
"In comedy, your body doesn't need to be a temple," says Ballard, chuckling. But if the physical side of touring doesn't pose the greatest challenge, what does?
Becoming a robot, apparently. "There's kind of a bizarre dissociative element to comedy where if you know the material well, it's actually possible for your mouth and body to be regurgitating the material and then in your head to be thinking, 'hmm, I wonder what I'm going to eat next'?'" he says.
"There's kind of a bizarre dissociative element to comedy"
Ballard admits that he used "lock in" certain phrases or inflections that worked well with audiences. "But that's a terrible way to do comedy," he says. "You'll see the greats – Lawrence Mooney, Greg Fleet, Judith Lucy – and the guts of the same bit are there, but they're changed little things, or finding new phrasing, or doing it in a different way that keeps it fresh," he says. "That's a big learning curve, and that's something I'm just figuring out now, in my ninth comedy festival."
In Melbourne, Ballard is performing two shows. By the time he brings us The World Keeps Happening, which sees him delving into whether society is truly on the verge of moral collapse, he'll have performed it countless times. It's his other show, the Moosehead-backed Boundless Plains to Share, that he's a little less comfortable with right now. He describes the show as a 'comedy lecture' with an "explicit agenda to explain the situation of how we got to this horrible point with refugees."
"It feels a bit more like the next step as opposed to a crazy experiment," he says. "I am a politically active person… and I find myself engaging and thinking about this stuff all the time. To me it's about saying to people, 'This is the kind of stuff I'm going to be talking about and hey, if a dick joke comes up, it'll go in the show.'"
Catch Tom Ballard at the Melbourne International Comedy Festival with his two shows: Boundless Plains to Share and The World Keeps Happening.
---
Career highlights
2006: Was a national finalist in the Melbourne International Comedy Festival's Raw Comedy
2009: Performed his debut stand-up show, which was nominated for a Golden Gibbo Award at MICF
2010: Became the host of Triple J's weekday breakfast show with Alex Dyson
2015: Hosted an LGBT-focused episode of Q&A which featured an interview with same-sex marriage opponent and Christian Democratic Party leader Fred Nile
2015: Nominated for Best Newcomer Comedy Award at the Edinburgh Fringe Festival
Did you know: In 2011, Tom Ballard made it onto SameSame.com.au's top 25 most influential gay and lesbian Australians, alongside ex-boyfriend Josh Thomas