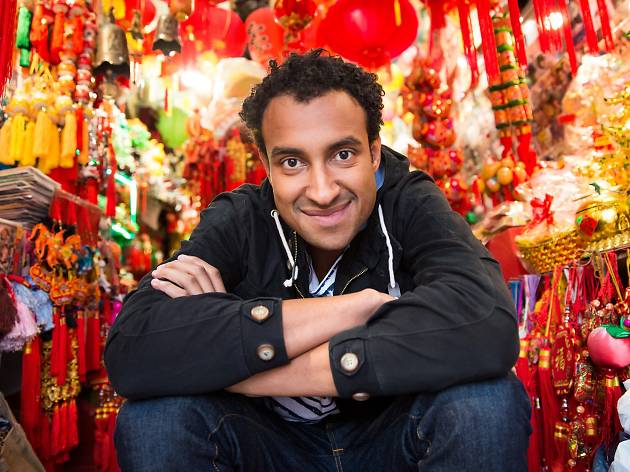 Writing a show with Matt Okine
Between a morning radio slot and becoming a household name in stand-up, the Sydney-based comic still finds time to write new material
During the week, Matt Okine's day starts at 4.30am, when he begrudgingly leaves his partner in bed and gets ready for his Triple J breakfast show that he co-hosts with Alex Dyson. "This has been my life for more than two years," he says. "You almost wish there's a crowd of people mourning the pain of getting up for work." Thankfully, the Brisbane-born, Sydney-based comic speaks to Time Out at a more sociable hour ahead of his comedy festival circuit this year, which starts in Brisbane in March and wraps up in Perth in May.
"I do the day in two halves: first the radio show then the comedy gig at both ends of the day. Between 2pm to 5pm, I try to turn off everything, close all the windows and do my best to pretend that it's nighttime to get some shut-eye. It's hard to get my full eight hours, but I can't do much more than that other than sticking glow-in-the-dark stars on the ceiling."
Okine's shows come together over time, piece by piece. He describes writing new jokes to making new acquaintances. "There are people you meet that you're not sure about – they're the kinds of jokes I'd write down to mull over later. Then there are people that you just fall head-over-heels for: these jokes are like catchy songs; I don't need to write them down." New material get road-tested in the small club shows Okine does months before the festival circuit. If there was a risk of using up all the best stuff on radio the next morning, Okine has a solution to that. "This is the first time I've ever admitted it, but I have separate notes [for radio and stand-up shows]. My radio list has throwaway comments like: 'Someone mistook me as the brown guy on the Subway ads'."
"Some jokes are like catchy songs; I don't need to write them down"
Years of comedy club gigs have moulded Okine's highly personal style of comedy. "I remember doing really dark and angsty jokes, and lame one-liners because I'd seen another comedian do it and it worked for them," he says. "Over time, your work starts to reflect who you are. Last year my show was inherently personal, because it was about a break-up. This time, I'm doing more observational-style work, and I'm exploring the question: 'Is the person I am now the person I want to be?'"
Of course, there are downsides to his creative process; Okine laments the mercilessness of social media. He describes the awkwardness of testing out new material when the Twitterverse can be so quick to slam a bad joke and the creativity-killing capacity of memes. "They say video killed the radio star, I think memes kills the observational comedian. I've seen memes of my own jokes made by rival radio stations on Facebook, but people don't know that you've done this joke five years ago and you'll sound so petty if you bring it up. This why you have to keep coming up with new stuff and why it has to come from your personal experience."
Catch Matt Okine at the Melbourne International Comedy Festival.
---
Career highlights
2012 Won Best Newcomer award at the Melbourne International Comedy Festival
2013: Join Alex Dyson as host of the Triple J breakfast program
2015: Won Director's Choice at the Melbourne International Comedy Festival
2015: Won the ARIA for Best Comedy Release for Live at the Enmore Theatre
Did you know: Okine has musical side project called Boilermakers, where he raps with long-time collaborator Dinnertime Duke