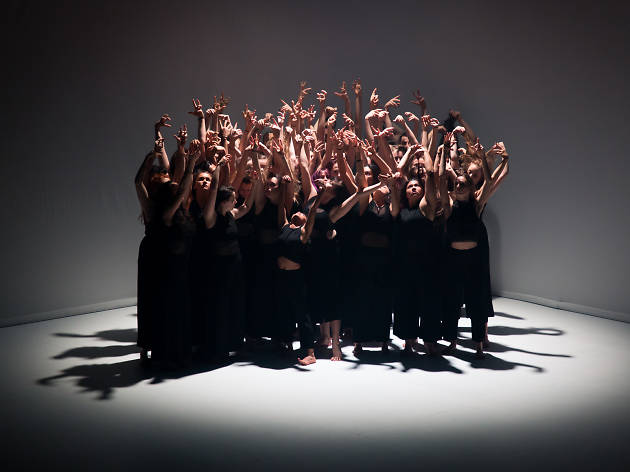 Time Out says
The Stephanie Lake Company is bringing its large-scale dance work back for Melbourne Festival
Stephanie Lake's spectacular Colossus premiered in 2018 as part of Melbourne Fringe and is returning in 2019 for Melbourne Festival. Read our five-star review of the original season below.
Nigh on 50 bodies lie in a massive circle on the Fairfax stage, their feet pointed inward and their arms stretched out; it'd be the perfect image of an open sunflower but for the costumes, which are entirely black. As the circle pulsates and breathes, bodies contracting and expanding with the rhythm of that breath, a sense of a great primordial being emerges – one with enormous power, all the more dangerous for being latent. Stephanie Lake's Colossus will unleash that power, mould it and bunch it, and throw it around the space, in ways that are thrilling and frightening and entirely unforgettable. This is a Melbourne Fringe show the world deserves to see.

Lake's background as a dancer includes long stints with Chunky Move and Lucy Guerin Inc, and while this has certainly informed her choreographic style – specifically, the way the movement seems to flow unbidden from a sudden point of contact, a physical expression of Newtonian Law – it doesn't explain the almost preternatural gift she has for harnessing the dancer's body to a centralised aesthetic. This work could even be seen as a challenge she's thrown down to herself: to unify and orchestrate an insane number of bodies in a ludicrously limited space.

On a technical level, Colossus is mind boggling. Group movement is either languid and fluid, or shifting suddenly into the impossibly tight and rigid, but never does an individual look out of synch, never does a single gesture seem out of place. There's a great, organic heartbeat at the centre of the piece, which can facilitate wild mood swings as well as fiendish configurations. And yet, for all that, individual dancers do emerge, characters that are beautifully articulated and immaculately drawn. This tension between group and individual is hardly accidental; it's the thematic lifeblood of the work.

Early on, we are shown the power of the individual over the masses, as one dancer uses the intricacies of her own hand gestures to conduct the movement of groups. This is a configuration that is repeated throughout the piece, but it doesn't always hold the same meaning or lean towards the same effect. Initially, it reads like an image of the oligarchy, of absolute power contorting and corrupting the people to its own ends. But later it feels gentler, more benign and transcendent. Sometimes the mass of bodies seem possessed, their limbs flailing uncontrollably; it's hard not to think of the dancing plague that struck Strasbourg in 1518. Sometimes, the mass of bodies turns on an individual, screeching and malevolent; here it's hard not to think of the Roman poet Cinna, torn to pieces by the mob.

And yet, totally apart from this political reading, there emerges another, equally powerful one: the entire company of dancers as an allegory of the body itself. Here, individuals emerge as floating free radicals or links in a chain of bodily reactions, neither malevolent nor benevolent but merely natural. It's quite a stunning idea, these heaving mass of bodies coming to represent a single organism, as well as the body politic.

The production is so focussed and articulate that it's no wonder every technical aspect is pitch perfect: Harriet Oxley's aforementioned black costumes are freeing but disciplined; Bosco Shaw's lighting design, with its magic lantern effects and stark contrasts, is wonderful; and Robin Fox's sound composition is a marvel, rhythmic and ritualistic, profoundly effective.

Colossus simply means giant statue. It's a curious title, reaching to an ancient past, talking of towering and fixed things. Colossus the work doesn't necessarily feel towering and it certainly isn't fixed. It's mutable and relevant, and seems to go inwards as much as it extends out. But it does speak of a monumental talent, and Lake's work harnesses the kinetic energy of her extraordinary dancers to enduring effect. Fringe work is rarely this fine, and audiences should catch it in this intimate setting before it bestrides the narrow world.
Feeling hungry? Check out these offers from our Festival Feasts partners.
Details