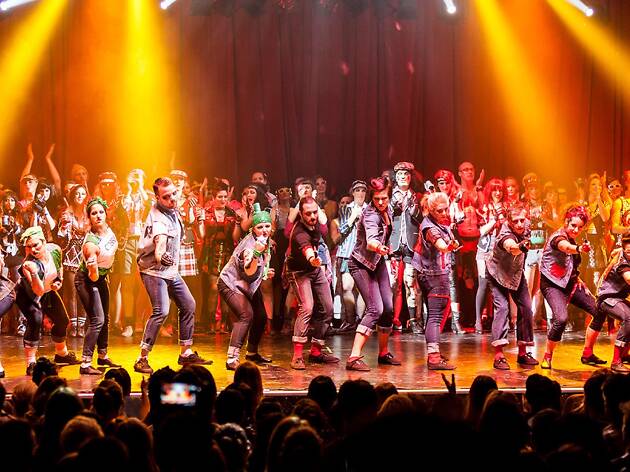 Meet the secret dancing divas of cult amateur dance troupe Body Electric
So you think you can dance? The members of this amateur dance troupe sure can – and they have the best time doing it
Citizens of Melbourne, they walk among us.
And while they may look just like you, talk like you, and go to work like you, they have a secret identity. They are the dancers of Body Electric, an amateur dance troupe made up of everyday folk who twice a year bedazzle themselves in unthinkable volumes of body glitter and sequins, and strut their stuff on stage in front of crowds of screaming fans.
Founded by local dance teacher and choreographer Jade Duffy, Body Electric began just over a decade ago and from humble beginnings has grown into a legendary Melbourne institution. Originally made up of just a handful of dancers, now Body Electric comprises hundreds of people from across Melbourne who head to Body Electric's Collingwood studio each week to learn high-energy choreography set to iconic pop bangers.
Their performances are a high-camp spectacle, with each of the 10 classes of 24 dancers displaying a distinct theatrical concept. Performers construct their own costumes, and the eye-popping creativity of this homemade fashion has become one of the shows' biggest attractions.
So who are these secret dancing divas? Well, they're everyone. They come from all walks of life, professions, ages, cultures and nationalities. Ahead of their biggest performance to date, 'Let's Go Crazy' at the Forum on December 15, Time Out caught up with five of Body Electric's members to find out why they love to move.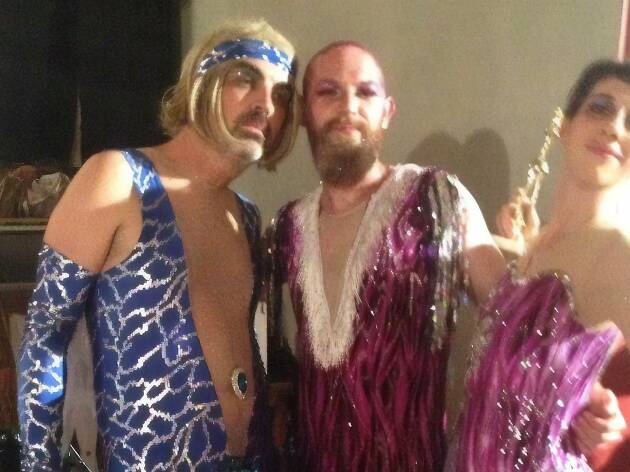 Photograph: Supplied
Aidan Halloran (far left), architect, Collingwood
I've been in Body Electric since it first started ten years ago. The very first show was a lot more low key than the shows are today. It was at the Spanish Club on Johnston Street, and I think we all rocked up thinking about 20 people would show up. But much to our surprise, it was a big crowd. They loved it, we had an amazing time, and I think from then on everyone involved has been hooked.
My main reason for dancing in Body Electric is to do something that I'm incredibly bad at, and to persevere at it. And I think, for most people, whatever their day gig is, they probably don't have a lot of opportunities to express themselves like that, outside of their comfort zone.
My professional life is all about rules and regulations and not making any mistakes. But Body Electric is the complete reverse of that – you don't have to be perfect.
You find a similar thing with the costume making, because the vast majority of us are total amateurs and that's part of the fun. We come up with weird and wonderful creations that a professional would never dream of because we're coming at the challenge from a completely different angle. And let's be honest, they only have to last for three minutes! As long as they don't totally disintegrate on stage, you're good.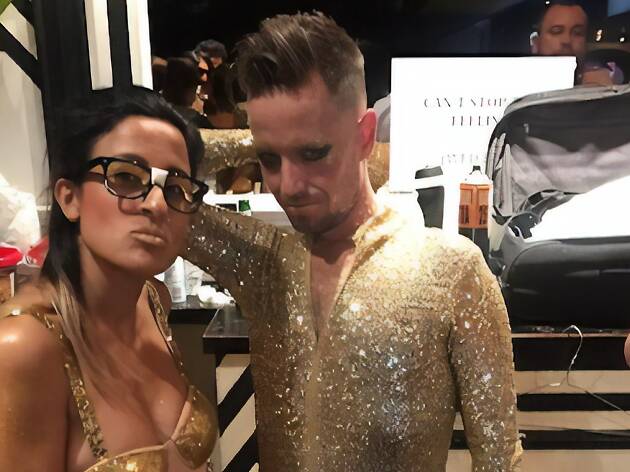 Photograph: Supplied
Diana Sayed (left), lead crisis campaigner for Amnesty International, Carlton
I discovered Body Electric through a friend of a friend. I'd originally been signed up to join the same class, but that was full. So, I had to join another time slot where I knew no one in the group. It was pretty intimidating in the first class, because I didn't know what the expectation would be, of my skills or dancing abilities. But at the same time, it felt like home, because I've always really loved to dance and perform.
For me, as something I can do outside of my human rights work, it's been a really valuable circuit breaker. That's probably the main thing that keeps me coming back. My job has a lot of management responsibilities that require me to be pretty focused and serious. And in the kind of work I'm involved with, it's inevitable that you take on a lot of the stresses of the world and the day. But that 8pm class every Wednesday gives me a sense of freedom that I don't think I'd find anywhere else. And also, to be able to meet people who aren't from the same professional circles is such an eye opener. To be able to get close to people who I probably would not have met otherwise, and challenge myself in this fun, campy, creative way, is really what it's all about.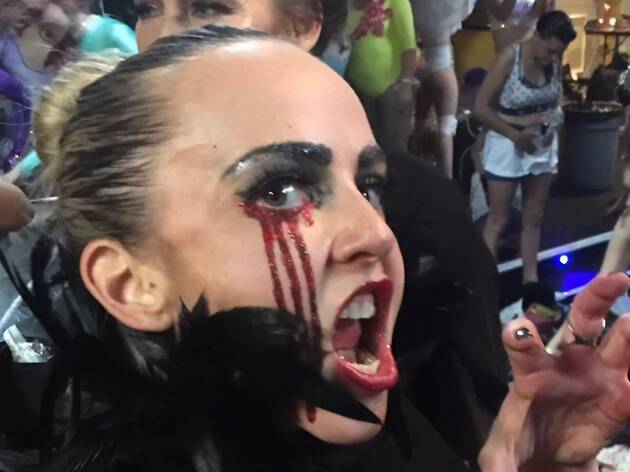 Photograph: Supplied
Liz Austin, Lawyer, Fitzroy North
A friend of mine showed me some pictures from one of the shows, and I thought straight away, "Oh my god, I have to do this." And that's something that really stands out, I think, about the kind of people that find their way to Body Electric. We're all from very different backgrounds, but we all share this similar, slightly crazy energy, that wants to get out on stage and perform. Finding likeminded people is not an easy thing to do – it's hard making new friends as an adult, right? Having a place to go where you know you're going to be greeted by a roomful of friendly faces, where you're doing this thing that has the potential to be slightly embarrassing, it breaks down some of the barriers and some of the cynicism we all have. You don't often get that chance as an adult.
Even though I'd seen all these pictures of the shows before I got involved, I hadn't really understood how much more there was to Body Electric than just dancing. The costume making, which is super intense, has helped me discover a creative outlet that I never knew I was capable of. If you could see my house right now, it looks like I'm living in a glittery sweatshop. I'm basically refusing to clean until after the show – there's no point sweeping up the sequins because they'll just appear again. But I don't care, because I love this part of Body Electric so much. There is no such thing as "too much". You can be as ridiculous and over the top as you want.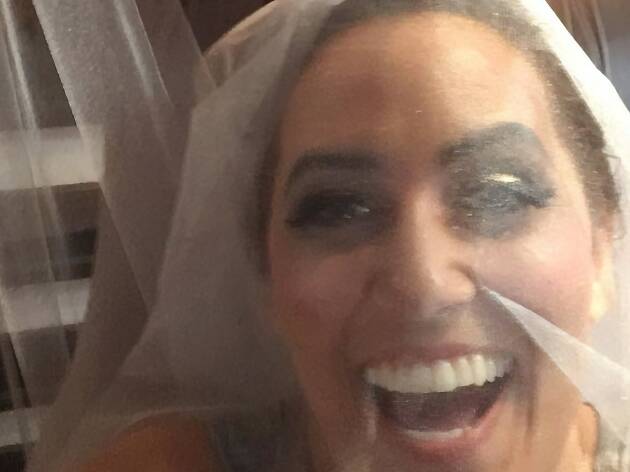 Photograph: Supplied
Masha Lewis, managing director, PricewaterhouseCoopers Australia, Caufield South
I've always danced, since I was a kid. So when my husband and I moved to Australia from the US four years ago, finding somewhere I could dance was really important. But I am not naturally a very creative person, in some ways. Each Body Electric semester when the costume assignments are announced, I'm really excited but also really terrified. And it can feel kind of overwhelming. But there's always so much support from my fellow dancers that by the end, I always feel really proud of the costume I've made, because it is a big challenge for me.
Outside of class I have a pretty demanding job and a young son, so Body Electric is an escape. In the middle of a high-stress, exhausting work week, I get to have an hour and half dancing, which makes me feel really good in itself. But also having a kid, and not having a lot of personal time, it's become really important to carve out time for myself. So, Body Electric has become a kind of sacred space for me.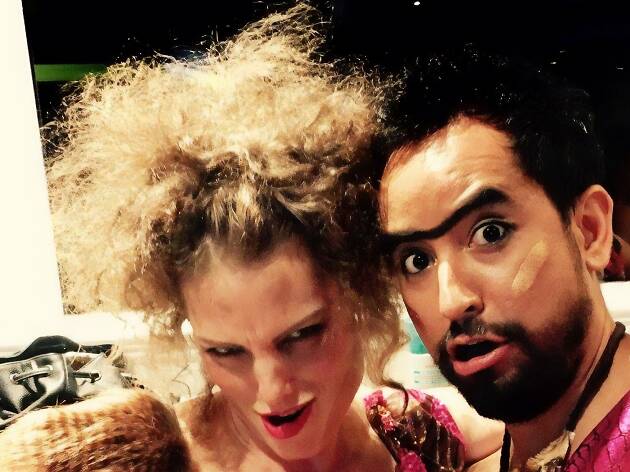 Photograph: Supplied
Raymond Biggs (right), software consultant, Brunswick
I actually went to stage school as a kid, up in Brisbane, between the ages of seven and 14. So even though I'd not performed much for quite a few years, it all came back to me quite naturally once I got into the studio. Costume making is something I'd never done before, so that was a bit of a shock. But it's turned into kind of a passion for me. During my first semester with Body Electric, I went out and bought this super basic sewing machine from Savers. It didn't really sew straight, it only had two speeds: on or off. And that kind of got me through a couple semesters. But then I upgraded to what I currently have, which is a pretty sweet sewing set-up, even if I do say so myself.
My work life is very straight-edged – it's a pretty serious industry. So Body Electric is a total change of scene. It uses a totally different part of my brain, and it's a chance to do something that's completely creative and physical. And since my work life pretty much solely consists of sitting at desk, having the chance to do basically the opposite of that has become a really important part of my life.