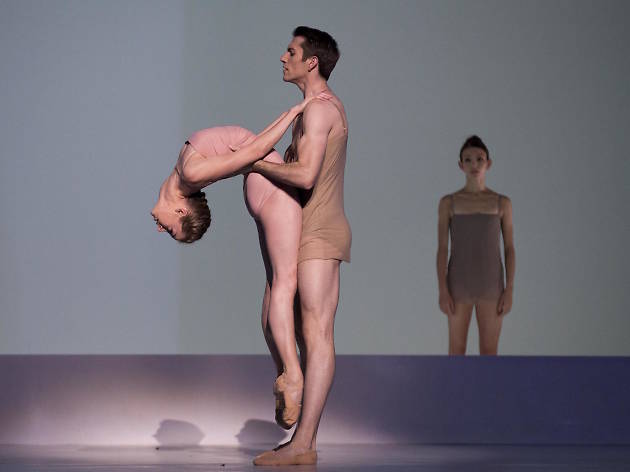 Time Out says
Volt is the Australian Ballet's electrifying new contemporary show
Update 17/03/20: Volt's Melbourne season ended early on Sunday, March 15 due to the closure of all Arts Centre venues. Ticketholders can exchange their tickets to a later performance or receive a full refund.
They talk of dancing on the precipice, but surely the phrase has never felt quite as immediate, as close to the bone as this. Australian Ballet's first show for the year, the triple bill Volt, opened on the cusp of a nation-wide shutdown of non-essential public gatherings of more than 500 people. The State Theatre has an official capacity of 2079. And still we came, and still we saw and still the company conquered. Reviews should never be written in the past tense, but this show was over even before it opened.

Australian Ballet is widely treasured for its grand narrative work, the cleaving to tradition and familiarity that enchants kids and secretly delights grandparents – and there is nothing intrinsically wrong with that. But true lovers of dance are known to favour their triple bills, which showcase brilliant contemporary choreography performed by the finest classically trained dancers in the country. Volt, wherever you might be lucky enough to encounter it, is electrifyingly good.

It is built on the rock of UK choreographic sensation Wayne McGregor, in particular his 2006 Royal Ballet commission Chroma. The company has performed it before, but there is something about its presentation here, the confidence and the precision with which the dancers attack it, that makes it feel like a premiere. McGregor's choreographic signature is highly original, even while it draws a direct line to past innovators such as Merce Cunningham (notably in his use of unconventional collaborators).

For Chroma, McGregor collaborated with British architect John Pawson and Jack White of the White Stripes, along with eclectic composer Joby Talbot. It's a fascinating title, because we think of colour as being colourful; this piece is performed in a white rounded room backed by a large rectangular window, and the dancers are dressed in various shades of beige, crepe and mauve. Moritz Junge's costumes drape the men and the women in identical slips, which would suggest a de-sexualised aesthetic. McGregor's dance is anything but.

His deep spinal dives, rapid shifting of limbs and lightening-fast arrangements of tableaux are highly sexual, playfully provocative. He is as interested in negative space as he is in dancers' bodies, and the piece takes much of its power from the ways bodies manipulate and then pull away from each other. In this new culture of "social distancing", the work takes on a searing sociological dimension that is fascinating to note.

McGregor's Dyad 1929 was created as a diptych, which makes its bookending here seem rather arbitrary (thematically, it would have made sense to include the other half, Dyad 1909). It has a lot of McGregor's genius though – those brilliant elongated lines suddenly angulated by a turning of a foot or hand – and is beautifully, almost ecstatically danced. One of the dancers is Alice Topp, and while she is lovely, it is by far her lesser contribution to the night.

That is because Topp is the choreographer and costume designer of the middle piece in this triple bill, Logos. It is the only premiere in the bill, and it's a world one. As a dancer who has long been inspired by McGregor, it represents a deep engagement with a fellow artist, as well as a bold statement of future intention. Darker and more immediate than McGregor's work, it nevertheless borrows or quotes from him in ways that make such sense dramatically that they never feel obsequious or derivative. The result is a kind of network of neurological pathways sparking between the works.

Logos is concerned with the ambivalence of sexual and gender roles: the playfulness that enervates McGregor's work is far more compromised and problematic in Topp's piece. Tenderness is lushly rendered, but very early on the male dancer in a pas de deux slaps his hand violently onto the stage, a signifier of violence and control. Topp is too clever a choreographer to allow the piece to resolve into mere allegory, so those suggestions of dominance shift and transform throughout, and a grand coup de theatre towards the end of the piece, superbly designed by John Buswell, is suitably breathtaking.

Volt is unlikely to receive another outing in Australia at this point, and while that may seem sad, it speaks most potently to the idea of theatrical performance as an ephemeral art form, and dance as its perhaps most gossamer iteration. But have no fear, McGregor's work is too good to fade, and Topp is emerging as one of the country's most promising and exciting artists. You may have missed this triple bill, but Topp is surely destined to create a full narrative ballet in the near future, so even the grandkids will come to appreciate her flowering genius.
Details