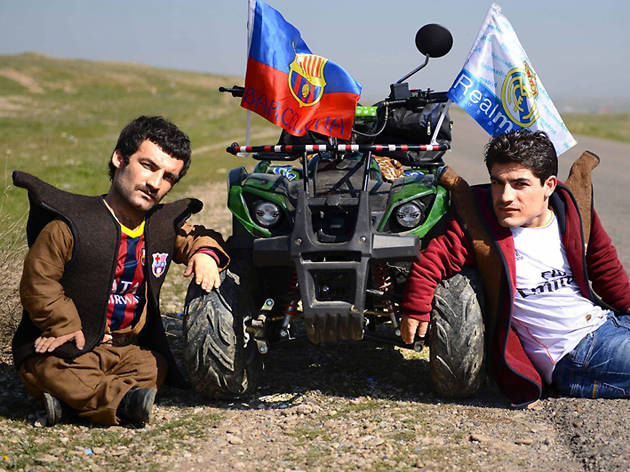 The 13th annual festival features Arab stories of romance, resilience, humour and adventure
The Arab Film Festival program this year has seven features and five short films from all over the Middle East (with one from Australia). The program offers an intimate look into Arab culture and showcases moving and eye-opening stories. "I'm most excited about diverse interpretations and methods of storytelling at this year's festival," says festival co-director, Fadia Abboud.
Halal Love from Lebanon will kick off the festival: a film with intertwining love stories and devout Muslims pursuing happiness while struggling to keep true to their faith.
Directed by Halkawt Mustafa, El Clasico is a traditional love story with a soccer twist. After asking a girl's father for her hand in marriage and being denied, Alan, a Kurdish dwarf, decides to deliver a pair of handmade shoes to Cristiano Ronaldo, hoping this feat will change the father's mind.
Other featured films include the much-awaited Bennesbeh Labokra, Chou?, recreated by the restoration of original Super 8 film shot over 35 years ago and once thought to be lost. The comedy takes place in a Hamra bar that plays host to various characters.
Nawara is an Egyptian drama that explores class war and social structures through the eyes of a housekeeper who works for an upper-class family.
A standout of the selection is Waiting for the Fall, a drama from Syria set in village where American air strikes are a constant, looming threat.
Another story set in wartime is Roshmia, the heart-tugging tale about an elderly Palestinian couple fighting the Israeli government in order to keep the rundown hovel they've lived in since 1965.
The short film 'Home' comes from Aussie director Shahin Alanezi and tells the tale of an Iraqi refugee who's worried her son is immersing himself so much in Australian culture he's forgetting where he came from.