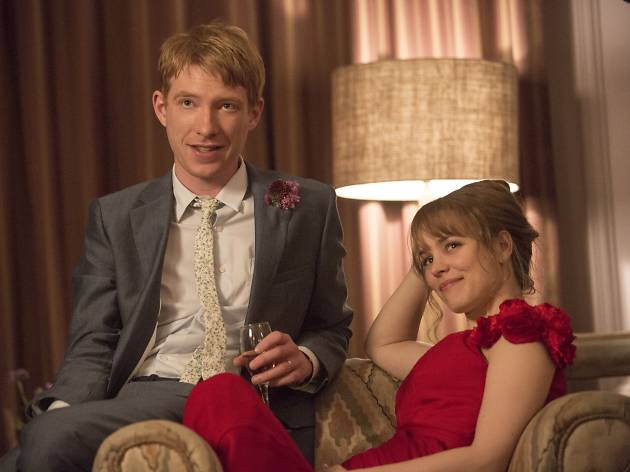 Domhnall Gleeson on working with Richard Curtis and how to pronounce his name
The son of an acting great steps into the limelight in the new comedy About Time
Remember the name Domhnall Gleeson: it belongs to one of the year's newly minted comedy stars. A Dublin-born redhead, son of actor Brendan Gleeson, you may recognise him as Ron Weasley's eldest brother Bill from the last two Harry Potter films, or as Levin to Keira Knightley's Anna Karenina. The 30 year old is about to star as the charmingly awkward Tim Lake in About Time – the clever new romantic comedy from the medium's best practitioner, Richard Curtis (Four Weddings and a Funeral, Love Actually).
On his 21st birthday, Tim is informed by his father (Bill Nighy) that he has the power to travel backwards in time – a skill Tim uses to try to win the heart of Mary (Rachel McAdams).
Before we start, how do I pronounce your name?
It's doe-nal, like tonal but with a D instead of a T.
Thank you. I think we have avoided some awkwardness there.
Yeah, the interview could have gone downhill very quickly if you'd dared to mispronounce my name. Don't worry, I'm used to some pretty extreme variations.
You've done Harry Potter and the Coen Brothers, but starring in a Richard Curtis film is a bit of a big deal isn't it?
I'm realising that now, the more I talk to journalists! But my job is not to judge the scale of the project but to take on the scale of the part and to do my best to make it work.
Still, it's a coup for someone not so well known.
I'm sure that's part of why Richard hired me, not some movie star. Because it's probably Richard's most heartfelt film, despite the time travel. [He didn't want] some movie star coming in and doing the normal thing that that movie star does.
Why most personal?
Because I think it sums up everything the man wants to say. It's about family. It's not about a boy and a girl fighting for an hour and a half and getting together in the last scene. It's really about how relationships make you stronger. Which sounds very serious, but there's room for lots of comedy too.
Why is it only the men in the family who have the power to go back in time? What would you say to the charge that it's a bit sexist?
I would say that only the men need it. Because the women don't mess things up so badly the first time around. [laughs]. Mary doesn't seem to need time travel as much as Tim does, because Tim is a constant mess.
You have great chemistry with Rachel McAdams – did you laugh a lot?
Every day on set with her was a total gift. She really radiates warmth and humour and all the things that were going to be required for the film. On one particular day there were quite a few babies around and they were going in and out of sugar withdrawal and other ones would just want to hold onto their mother. Trying to deal with that and do a scene at the same time was incredibly intense, but I laughed my way through the whole thing, as did Rachel.
I'm a big fan of your father…
As am I!
Did you grow up in a household that encouraged acting?
It was neither encouraged nor discouraged. All that was encouraged was doing whatever made you happy and whatever helped you express yourself. I was very lucky to grow up in a very happy house.
Do recall any set visits?
I did see him on set on Braveheart. And I went to the Harry Potter set – this was before I was in [the Harry Potter films]. I really loved his films I Went Down and The General. They made me want to write and direct; I didn't necessarily want to act. That came about by accident.
Can you name one thing you learned from your father about acting?
Being prepared to be unemployed for long periods of time.
If, like Tim, you could go back to a point in your life and do something differently, what would it be?
Richard keeps telling the story how when I auditioned for About Time I had a massive beard from Anna Karenina. So maybe I'd go back and get rid of the fucking beard! And then maybe he wouldn't keep telling people I looked like a monster from Deliverance the first time he met me. Which shows how deceitful the man is. I thought he thought I was great!