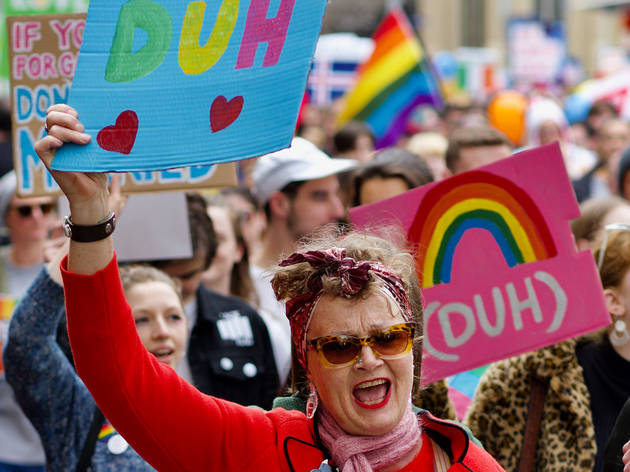 One year on since the Yes vote, three couples tell us their stories
Three same-sex couples talk about what has changed in the year since marriage equality became the law of the land
It's been a year since thousands of people stood shoulder to shoulder, bedecked in rainbow apparel, at the State Library and held their breath. You could hear a pin drop in the crowd as the Australian Statistician, perhaps recognising he was never going to get a moment in the sun like this one, talked for what seemed like an eternity about the mechanism of the postal survey to determine whether some Australians would be treated with the same dignity and human rights as others. When he finally got around to announcing the numbers, there was a second of pause and mental calculus ("Wait, was that number bigger than the other number he said?") and finally, the cathartic release as everyone realised: it was a resounding yes.
In the year since the vote, much has changed – and much hasn't – for same-sex couples. We talked to three Melbourne couples to find out what this year has been like.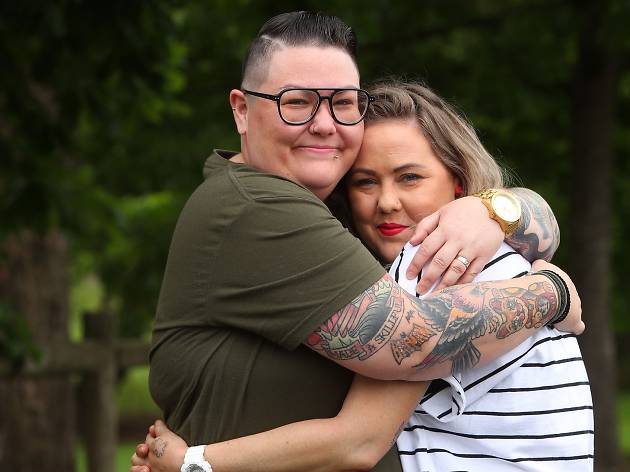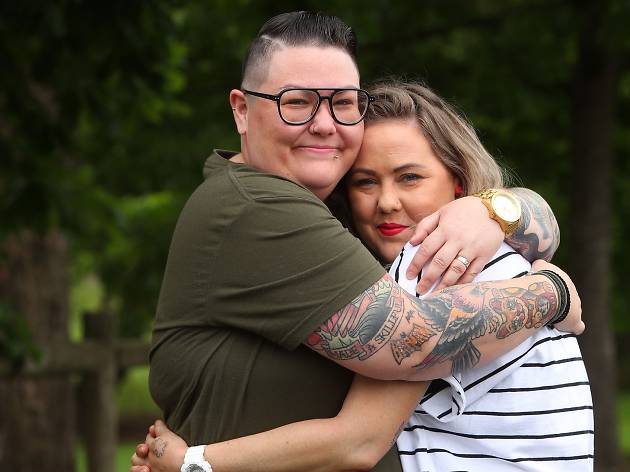 Photograph: Graham Denholm
Kasey and Vanessa Brown, Beaconsfield
During the plebiscite campaign last year, as many couples anxiously watched the polls, Kasey and Vanessa Brown were obsessed with another statistic: Kasey's lung function. Kasey (pictured above, right) has cystic fibrosis, and her lung function was hovering around 23 per cent. At one point it dipped to as low as 18 per cent. She needed a new pair of lungs, and if she didn't get a transplant soon she would almost certainly die.
They got married in Australia in 2014, after six years together. Although it was a very traditional wedding (Vanessa in a suit, Kasey in a white dress, they stayed separately the night before), legally it could only be a commitment ceremony. The name didn't matter to them, but in matters of life and death, the M-word has important legal implications. They got legally married in February 2018.
"We didn't know what was happening with Kasey and the transplant, and we really wanted that extra bit of security," says Vanessa. "Our wedding was our wedding.... When we did [the legal paperwork] it was only the two of us and our original celebrant."
That paperwork mattered enormously three months later, when Kasey got a life-saving transplant in May 2018. Their families are both very supportive of their relationship (Vanessa's sister broke up with a boyfriend on the spot because he was planning to vote no in the plebiscite), but their legal paperwork gave them security when Kasey was in hospital.
"Say my family were against Ness and me being married, they could have stopped her from having any say, they could have stopped her from coming in [to the hospital], they could have stopped anything," says Kasey.
"We were lucky that we didn't have any arsehole doctors, they would always let me be in the room," says Vanessa. "But the transplant team were a whole different team, they could say, 'you've got no legal right to be here.'." But they didn't have to test that.
"The security of the ICU door was so full on," Vanessa says. "Kasey was in ICU for three days. Now that I've got the official title, they said, 'who are you?' and I said, 'her wife', and it was straight in, no arguments."
The transplant itself wasn't the only time Kasey's life was in danger. "I've had procedures where they say to me, 'look, you might not wake up from this'," says Kasey. "So that was another scary part." Being legally married would have given Vanessa spousal rights, had the worst happened.
Kasey took her first breath into her new lungs less than 12 hours after the start of her transplant surgery. Her lung function in that first breath was 80 per cent – even as a child she had never had anything better than 60 per cent. These days her lungs are functioning at 90 per cent, and the couple are preparing for their second honeymoon. Kasey has never been allowed to travel overseas, but they are now planning on a trip to Mexico or the States when she's given the all-clear in another six months.
"My life's just been medical things for so long," says Kasey. "Now it's time to just enjoy."
There was a time when Kasey didn't want to go on the transplant list. "Friends passed away waiting, friends passed away after transplant. I looked at it and said that's just too much." She smiles at Vanessa. "And then you know when you meet someone, you're like, well, I've got to be around a bit longer."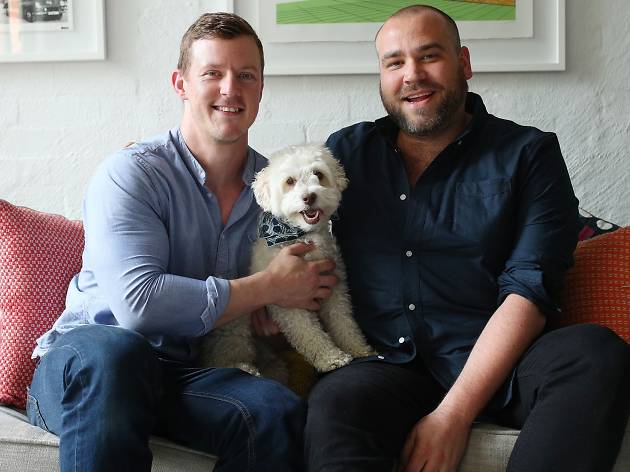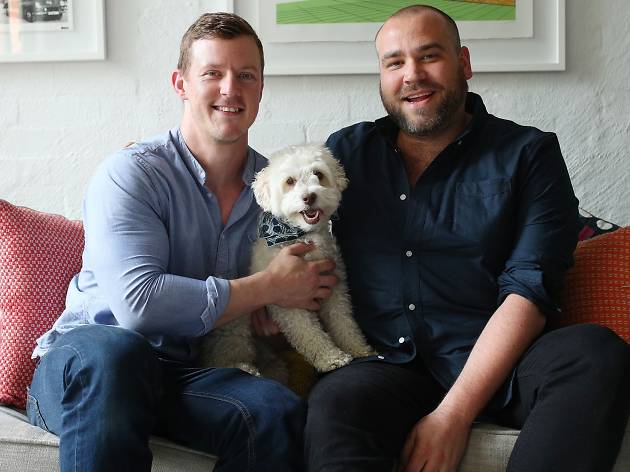 Photograph: Grant Denholm
Maxim and Toby Boon, Fitzroy North
Maxim and Toby Boon are celebrating their seventh wedding anniversary in January 2019, but up until last year they still had to mark 'single' on certain forms.
"There were a lot of times when you find the pen hovering over the box," says Toby (pictured above, right). "Do I want to tick the box and then make it technically wrong? Then it could void my visa… Or things like insurance, where they're looking for a reason, where they will find any way to void it if they can."
The couple married in the UK, but when they emigrated to Australia in 2014 their relationship was not recognised in their new home until after the plebiscite in 2017.
"The referendum on whether we as a community deserve equal dignity was very surreal," says Maxim. "We were like on one side of the glass looking in, but we were also so connected to it."
Maxim says trying to explain their marriage to immigration officials and other Australian bureaucrats was complicated.
"It was always a very strange thing for us as visa holders, because we had to create this sort of PowerPoint presentation with all these documents to prove our relationship was real… I think the fact that it wasn't law blew a lot of people's minds in the UK when I was talking about it, because they were like, 'This is the land of Priscilla Queen of the Desert and Mardi Gras.' There is this notion that this is a country that is mostly liberal."
The pair got engaged during a yearlong Australian sojourn in 2010, and even though their relationship was not legally recognised here, they had fallen in love with the country and wanted to return.
"I don't want to speak ill of the country I love and would like to be allowed to stay," says Toby. "But I think sometimes, with a lot of Australian laws, particularly coming from overseas, you think everything is fine and then you look under the rock."
Both say they feel more comfortable using the word 'husband' now than before the vote, and they don't get the quizzical looks and double takes they used to.
"But it feels a bit brittle, and that's a bit frightening," says Maxim. "In Ireland, when the law was changed, they wrote it into their constitution so it could never be reversed by any other government. This change could be revoked, it could be repealed by other governments."
Nothing could ever change the truth of their relationship, though. "It is an anchor for the next several decades of my life," says Maxim. "I can see the future, and I know two things for sure. One, I'll be with Toby, and two..." he turns to his husband. "I know what you'll look like – you'll look exactly like your dad."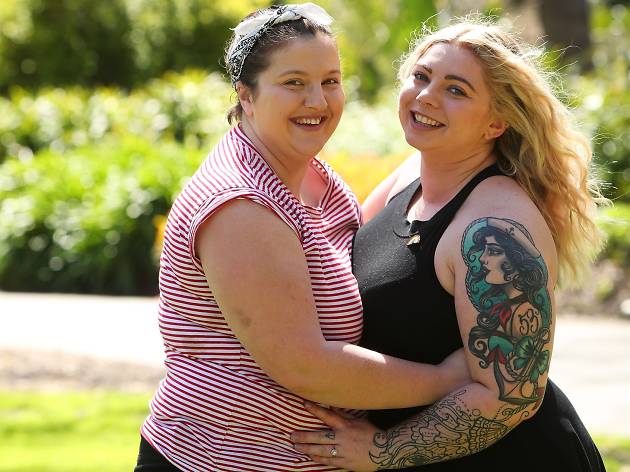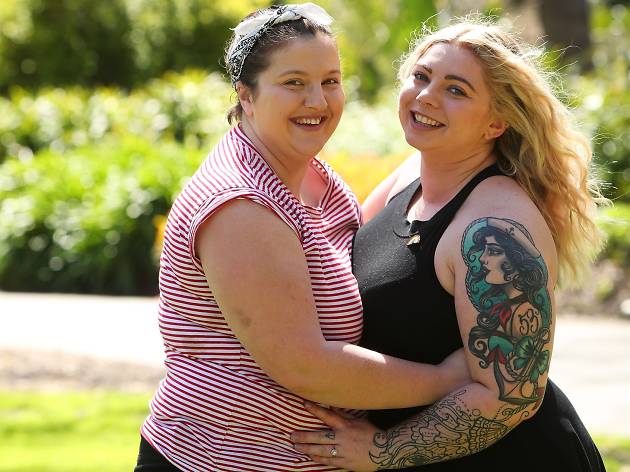 Photograph: Graham Denholm
Brooke Griffin and Kasey Kemp, Carrum Downs
When she was growing up, Brooke Griffin never thought she'd be able to get married.
"I never thought about the possibility of marriage," she says. "I thought it was out of the realm of possibility for me. Then I met Kasey, and I thought this was something worth fighting for."
Brooke (pictured above, left) proposed to Kasey on Christmas Eve 2017, just a month after the plebiscite results were announced.
"I was already thinking about it before the vote, I'd already picked a ring," Brooke says.
But that doesn't mean the couple were sure the results would be a yes. They joined many in the LGBTQIA community and their allies at Melbourne's State Library to watch the results come in.
"On the day I was feeling nervous, but then we got to the State Library and it felt great to have so many people on our side," says Kasey.
"Australia saying no would be saying who I am is not OK," says Brooke. "A no would have been a total kick back to when I was 15 and hating myself… It was overwhelming. It felt like I was a teenager, when I thought, 'what if it wasn't OK to be gay?' What if that was right?"
Marriage equality is now the law of the land, but planning a wedding as a same-sex couple isn't as easy as it is for an opposite-sex couple.
"I went to a wedding expo, and I had to cross out groom at every stall," says Brooke. "It was a horrible experience."
Choosing a photographer, celebrant, caterer and other wedding professionals has also been a fraught experience.
"We will stalk people's Instagram to see what they posted around the time of the vote," says Kasey. Anyone who posted support for the No campaign – or didn't post at all – won't be getting a call.
"Our wedding is only people close to us, not photographers who want to do a lesbian wedding to broaden their portfolio or whatever. We're just surrounding ourselves with people who love us," says Kasey.
The couple are getting married in early 2020, and they're looking forward to the next stage of their relationship.
When Brooke and Kasey started dating several years ago, Kasey came out to a close family member. "She had said if you want this, you can't have a marriage, kids. But I can have anything anyone can have. I am the same as everyone else."