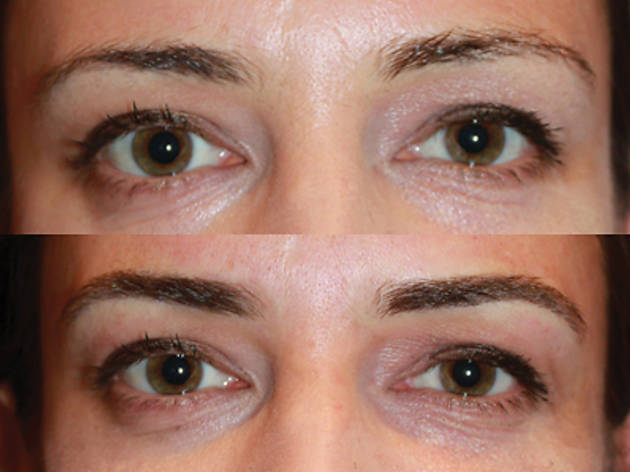 Get your brows tinted and trimmed, or go for a cosmetic tattoo on brows or eyelids
They say "the eyes have it" – but only if they've got the brows to back them up.
Our eyebrows frame the face and when done well can become a person's signature look – think Lauren Bacall's sleek curves, Kylie Minogue's arch, Brooke Shields' bold lines.
Over-plucking over the years causes brow baldness, as does growing older, while other people might lose their brows to chemotherapy or alopecia. This is where brow artist Amanda Jones comes in. Her semi-permanent tattoo work lasts between one and three years, and will restore brows to their natural thickness.
Jones started out as a hairdresser, setting up her own salon in 2003, before moving to Bay Street in 2007 and branching out into eyebrows. Now she works out of Clear Skin Care in Middle Brighton, focusing solely on brows.
It's something of a hereditary passion – Jones remembers her grandmother walking about the house with tweezers, keen to tidy any passing person. Jones's hairdressing past came in useful when it came to understanding colour theory and having an artistic flair. She learned to tattoo brows from three different practitioners, adapting their best techniques and ultimately formulating her own.
"Badly shaped eyebrows can make the most beautiful face unattractive, just as great eyebrows can enhance your appearance immensely," she says.
Jones uses a hand-held blade to etch the individual hair strokes, whereas most brow tattooists will use block colour – often with an unnatural effect. She also has a digital tattooing machine (quite unlike the gun-and-pedal combo body tattooists use) to colour correct someone's brows.
Before she starts, she applies topical anaesthetic cream to the brows. Fret not – there's no removal of your existing eyebrow hair during the process. The whole procedure takes two hours, to include the numbing cream taking effect and the tweezing and trimming of stray and straggly hairs afterwards. At times it was mildly uncomfortable, but for the most part, I didn't feel a thing.
After completion your brows will be slightly darker and thicker than the end result – which you'll see after about ten days – as the top layer of the tattoo needs to disintegrate, and the lines will then contract a couple of millimetres. Like any tattoo, the top layer needs to be kept clean and moist with Bepanthen cream, which is provided in the aftercare kit.
A follow-up appointment six weeks' later, and any touching up at this appointment is free of charge.
PRICE LIST
Consultation: Free
Eyebrow tattoo $510-$690
Brow tint $15
Brow shape $30-$35
Brow shape and tint $40-$45
Eyeliner tattoo $290-$650
Venue name:
Beautiful Brows
Contact:
Address:
124 Church St
Brighton
Melbourne
3186

Transport:
Nearby stations: Middle Brighton