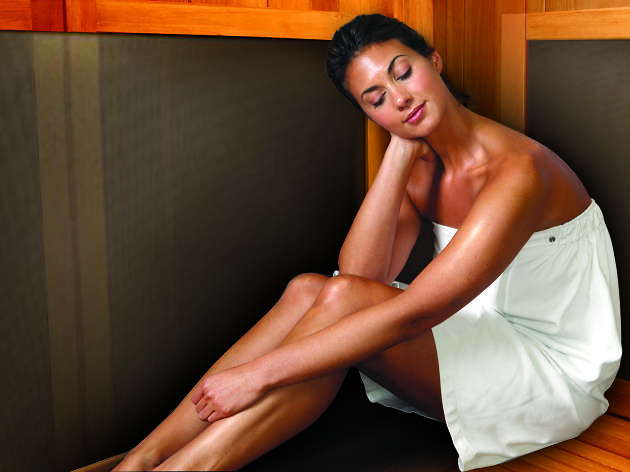 Try an alternative wellness therapy at Sunlighten
Sitting in a sauna is one of the most relaxing ways to work up a sweat
[Sponsored] While commonplace in Scandinavia, saunas are a bit of a novelty in the Antipodes. Which is only to our detriment: the steamy timber rooms are thought to greatly improve wellness. Think you're not reaching your peak wellness? Before you jet off to Finland for a quick steam head over to Sunlighten in South Melbourne.
Located just down from the Park Street/Clarendon Street tram stop, Sunlighten offers five different sauna rooms to help you reach your full wellness potential. Unlike traditional saunas, Sunlighten uses infrared technology to heat their cozy wooden sauna rooms. The difference means less intense heat and less humidity while still delivering all the benefits.
Uninitiated with the sauna experience? Bring a buddy along for support. There are saunas for between one and three people. Check into either the white or purple sauna rooms if you're bringing your pals along, or for a horizontal, solo sauna sweat there's the one person sauna capsule. And don't worry – there's none of the stereotypical mixed-gender sauna nudity that you see in Northern European communal saunas. At Sunlighten everyone is just dandy in their fresh, fluffy towels.
Sweating it out in an infrared sauna isn't the only alternative wellness therapy Sunlighten offers. You can also relax into an AirPod for some hyperbaric oxygen therapy. The gentle pressure of the one person chamber is purported to help improve oxygen levels in your blood and therefore improve your overall health in a number of ways.
If you're looking for something to complement your existing wellness routine, infrared saunas could be for you. They've already got a cult following in the global alternative therapy community, with fans claiming they can help with everything from skin care, detox, pain relief and weight loss. Plus, taking time out of your day to sit in a warm room in undeniably relaxing. And by using infrared rather than steam, Sunlighten saunas are ideal at any time of the year.
Time Out readers can get Sunlighten's Effortless Wellness package for $325 as well as receive a free copy of Health & Wellness Melbourne for a limited time (until the end of Jan 2018). That means five sauna sessions, five AirPod sessions and lots of wellness gains. You can also book a regular five session sauna pass and get a free balanceME probiotic powder for a limited time.
To find out more information or to book a session visit the Sunlighten website.