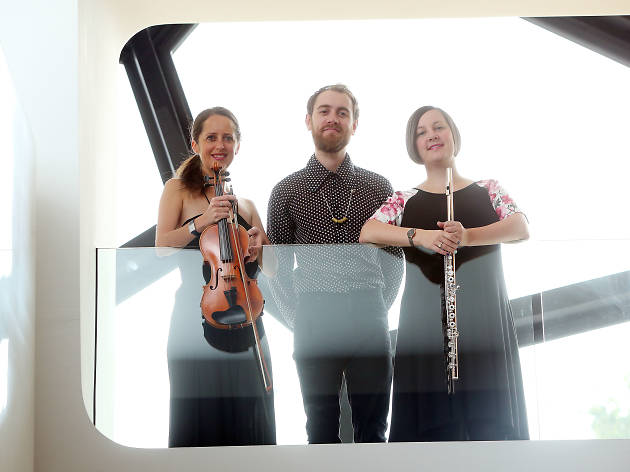 Evan Lawson, artistic director of the Forest Collective
Ahead of the Metropolis New Music Festival, Lawson puts a spotlight on a little understood, but very big genre
As a genre, "new music" is difficult to define (in fact, some people say it defies description). "It's such a tough one, but the way I see it, new music is just music of our time – notated music that appears in concert halls and is written today," says Lawson, a young conductor and one of the faces of new music. "A person who attends classical music concerts would hear the words 'new music' and they'd probably conjure up music from the 1950s onwards, that's plinky, plonky, avant garde weird stuff. That's certainly part of it, but it could be singer-songwriters writing music for orchestras and choirs, or it could be someone who's highly trained in western-art music writing very complex, new boundary-pushing music or it could be someone who's making beautiful, minimal pop music."
Since 1999 the Metropolis New Music Festival has explored the fascinating and broad world of new music. Most of the program stars the Melbourne Symphony Orchestra but for the last couple of years applications have been sought from other musos to join the bill. To its credit, the Forest Collective has made the cut for the last three.
The theme for this year's festival is the city life, but the Forest Collective home in on a particular facet; the sexy aspect of the hustle and bustle. With that in mind, some of the program will include sex sounds, some of it will happen in the dark, and it will be set against a visual art backdrop by Jake Preval, a Melbourne artist who has provided them with provocative imagery including a pic of a muscular, male nude. "It's a little risqué," Lawson says. "I hope some people feel uncomfortable."
Lawson knows where he'd like new music to head. "I look at companies like Chunky Move in the dance world – it's incredibly successful, well resourced and well-loved," he says. "In the visual art world, take Ai Weiwei's exhibition at the NGV for instance, a huge number of people went to that. Contemporary music just doesn't have the same grasp that contemporary arts, dance or theatre have. My hope is that it will."
Lawson also hopes for a bigger, braver audience. "I'd love to see people taking more risks and going to more concerts that contain new music," he says. "I think people get a little bit afraid that it's either going to be Mozart or the opposite – crazy and difficult, but for every piece of music out there that is difficult and hard going and boundary pushing, there's a work that elegant, listenable and tuneful."
Catch the Forest Collective at the Recital Centre, Wed May 18.