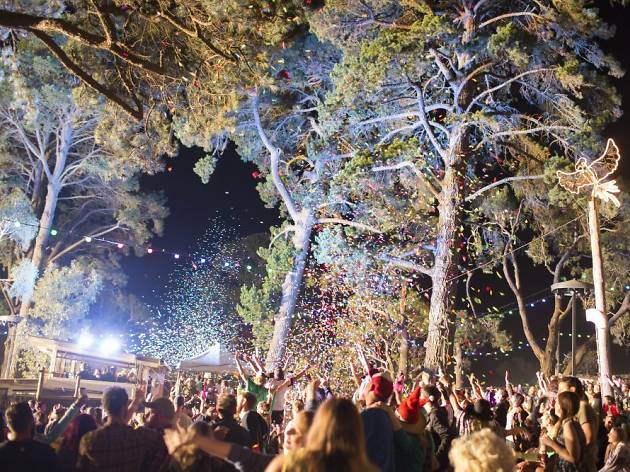 The supernatural Golden Plains festival is around the corner
The sister festival to December's Meredith Music Festival is held at the dazzling Supernatural Amphitheatre in Meredith, a small township just over an hour outside Melbourne. Golden Plains boasts one stage, no corporate sponsorship, a famed 'no dickhead policy' and eclectic line-ups that put scrappy local musicians beside international indie acts.
So let's cut to the chase, shall we?
The line-up for 2018 is a tasty selection of big-name headliners, off-the-radar talents, and local acts. The Supernatural Amphitheatre won't know what's hit it.
Leading the pack are Aussie electro-pioneers The Avalanches. Since reforming to create Wildflower (their first album since 2000's seminal Since I Left You), they've played the world over, including a huge set at Sugar Mountain earlier this year, which saw crowds bouncing to 'Frontier Psychiatrist' like it was the dawn of the new millennium. We can't even imagine what the atmosphere will be like when they take to the 'Sup at midnight on Saturday night.
Also on the bill will be New York indie darlings Grizzly Bear, who recently released their latest record Painted Ruins. Then, there's LA jazz luminary Kamasi Washington, who'll hit the stage with a full band. Joining him will be Sydney rockers The Preatures, British experimentalist King Krule, Melbourne singer-songwriter Jen Cloher and Seattle artist Perfume Genius.
The full line-up is below.
Grizzly Bear
The Avalanches
Kamasi Washington
The Preatures
King Krule
Waterfall Person
The Black Angels
Floating Points
Jen Cloher
Wet Lips
Lee Fields and the Expressions
Batpiss
Objekt
Perfume Genius
Kaiit
Rocket Science
Thundercat
Baker Boy
Adrian Sherwood
Toni Yotzi
Tropical Fuckstorm